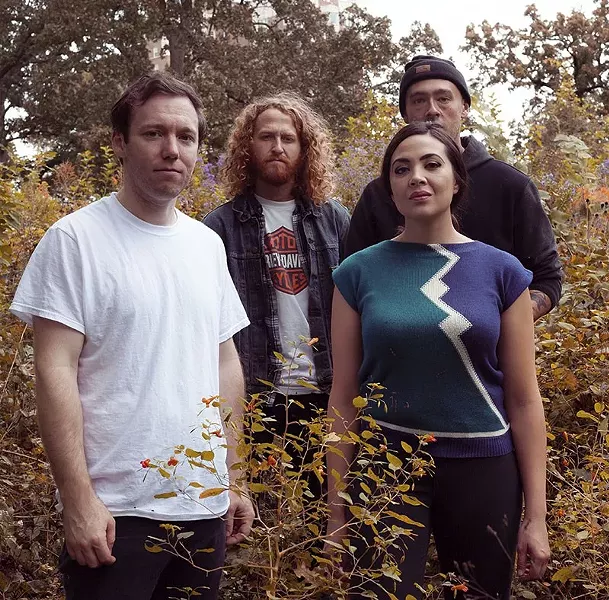 Press photo courtesy of the band
American Wrestlers is on its way to the top.
St. Louis act American Wrestlers is on the rise. For those who haven't been paying attention, the band, led by Scottish-born, St. Louis-settled songwriter Gary McClure, saw itself signed to the respected Fat Possum label in 2015,
before it even played a single show
— or even had a full lineup. (McClure played all the instruments, save for a drum machine, on the group's self-titled LP.)
After welcoming additional musicians to form a full band and performing a high-profile slot at this year's LouFest, American Wrestlers released its latest,
Goodbye Terrible Youth
, on November 4. RFT Music's Christian Schaeffer had this to say in that week's
Homespun column
:
The past eighteen months have seen an accelerated maturation process for American Wrestlers, which is now a full-fledged foursome capable of translating his initial home recordings into nervy, muscular songs that can bristle with fuzz or peel back to reveal tender, tuneful centers. On its sophomore release, Goodbye Terrible Youth, the band has amplified the forcefulness of its grunge-era antecedents while narrowing in on an effervescent lightness that highlights McClure's high tenor voice.
Now, just a week and a half after its release, national media outlets are picking up on the superb album as well. Just yesterday, Wired published a blog post with the headline "
These Are the 6 Albums You Must Listen to Now
." Writer Brian Raftery had this to say:
American Wrestlers' 2015 debut was a low-fi la-la-land of crisp, twisting guitar lines and smeared hooks; it sounded like your favorite '80s Walkman having a fever dream. But for Goodbye Terrible Youth, the group's amped-up follow-up, frontman and songwriter Gary McClure has doubled down on spectral keyboards and fuzz-muscled riffs—pretty much always a good idea. "Give Up" is a soft-power-pop jam that starts out like the Cure's "Friday I'm in Love," and ends up like Elton John's "Saturday Night's Alright For Fighting," while "Vote Thatcher" is a synth-hymn so gorgeous, you may not notice its stark-hearted lyrics. Equal parts diffuse and direct, Youth ages nicely with each listen.
American Wrestlers has some top-notch, big-name company alongside it on the list — including A Tribe Called Quest, Lady Gaga and Alicia Keys. Speedy Ortiz singer Sadie Dupuis's solo project, Sad13, and Anderson .Paak's duo, NxWorries, round out the list's up-and-comers.
Stream three of the tracks off
Goodbye Terrible Youth
below: