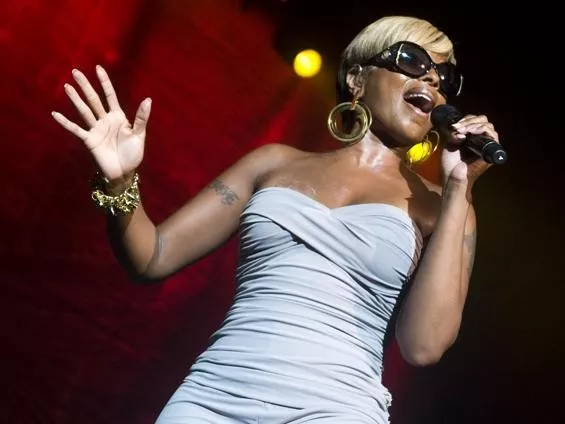 Photo by Jon Gitchoff
Mary J. Blige will perform at Scottrade Center on Saturday, November 12.
For the time being, art and music have not yet been banned by our government, meaning you can still go out and catch some music this weekend, if the events of November 8 haven't left you in a permanently immobilized crumpled pile. Good times!
Tonight sees the release of Aquitaine's latest,
Transformation
, at the Duck Room at Blueberry Hill. KDHX DJ Chris Ward's Acorns to Oaks project will perform as well — a relatively rare treat. Mary J. Blige comes to Scottrade Center on Saturday, and Sloan makes its way to the Duck Room (also on Saturday). Check out our full picks for the week below:




FRIDAY, NOVEMBER 11
Aquitaine
w/ Acorns to Oaks
9 p.m., $8. Blueberry Hill - The Duck Room, 6504 Delmar Blvd., University City, 314-727-4444.
By Christian Schaeffer
For Aquitaine, a rock & roll quartet built around its members' shared love of Brit-pop, shoegaze and fizzy, fuzzy power-pop, its initial releases were a few quick-hit EPs that sought to capture the band's live energy. Namely, giving a sonically swirled and rhythmically punchy platform for guitarist and singer Will Hildebrandt's slightly detached, thoroughly post-punk delivery. For the band's new album
Transformation
, to be released at this show, Aquitaine underwent a lineup shift that saw two founding members, guitarist Gerald Good and drummer Chris Luckett, leave the band. Two well-seasoned musicians fill their roles on the aptly named new album, with Graham Day (of Prune and others) on lead guitar and Bob McMahon (an
RFT
contributor who also normally fronts Other People) on drums. According to founding member and bassist Dave Collett, this infusion of new talent not only allowed Aquitaine to carry on; both Day and McMahon offered their songwriting and, in McMahon's case, vocal talents to the new album.
The Potomac Accord
w/ Off-Ox, The Pat Sajak Assassins
9 p.m., free. Schlafly Tap Room, 2100 Locust St., St. Louis, 314-241-2337.
By Roy Kasten
Whatever direction piano-oriented indie rock takes in St. Louis, the Potomac Accord will be there, if only unconsciously, in shadows and echoes. Formed as a trio in 2000, the band, led by quavering singer, guitarist and keyboardist Andy Benn and drummer Jerry Green, released three studio albums: 2001's
Silver Line On a Black Sea,
2003's
In One-Hundred Years the Prize Will Be Forgotten
and this year's
Beams.
Somewhere between New Order and Godspeed You! Black Emperor, the band erupts into Neil Young guitar grinds and post-jazz improvisations when you'd least expect it.
SATURDAY, NOVEMBER 12
Mary J. Blige
w/ Maxwell, Ro James
6 p.m., $39-$199.50. Scottrade Center, 1401 Clark Ave., St. Louis, 314-241-1888.
By Calvin Cox
From
this 2010 show review
: After intermission, the lights went up to reveal a NYC skyline backdrop for MJB's set as she sang her version of Game's "Hate it or Love it." Mary's set featured a bigger band, more background singers and a glowing mic stand. She proceeded to run through her illustrious catalog, usually performing just one verse of a song before moving on to the next. She played "Be Happy," "You Remind Me" and "Real Love" before breaking out into her own dance solo, while the crowd chanted "Go Mary!" It had a very '90's vibe; and just in case you'd forgotten, Mary can move. Given the quality of her performance and the breadth of her setlist, you would be hard-pressed to find a fan who didn't leave satisfied.
Sloan
8 p.m., $20-$23. Blueberry Hill - The Duck Room, 6504 Delmar Blvd., University City, 314-727-4444.
By Roy Kasten
Having twenty years, a dozen albums, some 30 singles and a small library of critical praise behind you does tend to cloud the judgment. But who was going to tell Sloan a double album, with four sides evenly split between the band members, wasn't exactly a next-level maker? As it turns out,
Commonwealth
is like a greatest-hits collection with no hits, packed with the Toronto (by way of Halifax, Nova Scotia) band's bracing, near-synthesis of psychedelia, power-pop and evocative balladry — and a single side that stretches to eighteen minutes of jamming abstraction (the drummer's concept). It's not too often that Sloan plays St. Louis. Seize the night.
Dan Vapid And The Cheats
w/ HipShot Killer, Guy Morgan, Eaten Back To Life
7 p.m., $10-$12. Fubar, 3108 Locust St, St. Louis, 314-289-9050.
By Daniel Hill
Lament not the travesty that is now Screeching Weasel, fronted by girl-punching asshole Ben Weasel — guitarist/bassist Dan Vapid promptly quit the band following that incident at SXSW and re-emerged with Dan Vapid and the Cheats, whose tunes are just as catchy and fun, but without the misogyny and aggression.
The Lonely Biscuits
9 p.m., $12. Off Broadway, 3509 Lemp Ave., St. Louis, 314-773-3363.
By Harry Hall
The members of the Lonely Biscuits met at Belmont University in 2011, and their college-band identity shines strongly in their distinctive mix of hip-hop, funk, rap and indie rock. Calling to mind Dispatch, Beastie Boys and Sublime, the band has since broken out of the campus circuit when they won College Artist of the Year from MTVu in 2013. The Nashville-based group continues to find a perfect blend of catchy and chill in its more pop-sounding single "Talk About." The Lonely Biscuits are on the up-and-up in their music careers, while keeping a kind of good-spirited innocence, never taking themselves too seriously that they can't have fun in performance.
SUNDAY, NOVEMBER 13
Alejandro Escovedo
8 p.m., $25-$35. Delmar Hall, 6133 Delmar Blvd., St. Louis, 314-726-6161.
By Harry Hall
Alejandro Escovedo began his music career back in the 1970s, when he played with the Nuns, who helped kick-start the first-wave San Francisco punk scene. The brother of Pete and Coke Escovedo (percussionists for various Santana groups) and the uncle of Sheila E., a major collaborator with Prince, Alejandro has been putting out consistently impressive records for over forty years. Full of driving, dirty guitars and honest lyrics, Escovedo's most recent album
Burn Something Beautiful
proves he can't often be beat with those fun, foot-tapping tunes of which Springsteen would be proud (check out
the adorable video
of them performing "Always a Friend"). Escovedo has battled Hepatitis-C, but at 65 he still has a lot of songs to sing, including those he'll perform this Sunday at Delmar Hall.