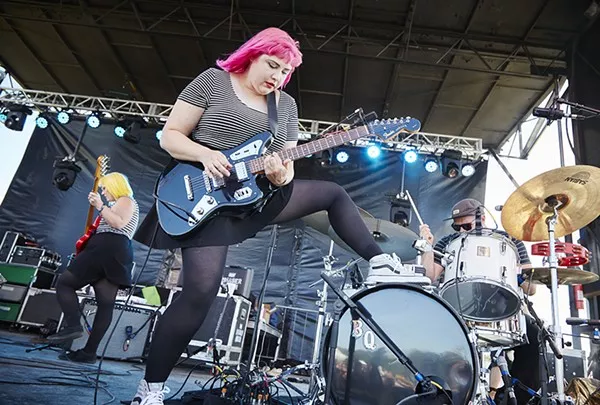 Photo by Steve Truesdell
Bruiser Queen will perform ay Off Broadway this Friday.
This weekend sees multiple record release shows from some of St. Louis' most acclaimed artists — a great time to be a fan of St. Louis music, but a lousy time for the indecisive. Bruiser Queen will release its latest,
Telepathic Mind
, at Off Broadway on Friday, while across town Mvstermind will release the
Cusp
EP at Delmar Hall. Saturday is equally tricky, with Bug Chaser dropping its latest,
Lord and Legends
, at Off Broadway while Prairie Rehab goes big with a double LP release at Schlafly Tap Room. To make matters worse (better), both shows are free!
Don't forget about Woopsie Fest, taking over Fubar for the whole weekend, or the Schwag's 25th anniversary show at Delmar Hall. Check out our full picks below:




FRIDAY, OCTOBER 21
Bruiser Queen Record Release
w/ Crushed Out, The Homewreckers
9 p.m., $10. Off Broadway, 3509 Lemp Ave., St. Louis, 314-773-3363.
By Nick Horn
From
this 2016 LouFest review
: Next up was Bruiser Queen on the Tunespeak BMI Stage. The once-duo took the stage with recently added bassist Cory Perkins (better known for fronting fellow St. Louis punk act DinoFight) to deliver a punchy, mostly up-tempo rock set to the growing crowd. The group seemed exceptionally at-ease, with drummer Jason Potter engaged in laid-back banter with the audience. Potter says that while he initially felt a bit nervous at the prospect of playing in the unfamiliar environment, "Once we saw who was gonna come over and what kind of people were around, it was like, not only do we recognize a lot of these folks, but everyone was just kinda having fun and chilling."
Woopsie Fest
6 p.m. Friday, 2 p.m. Saturday and Sunday, $20-$75. Fubar, 3108 Locust St, St. Louis, 314-289-9050.
By Joseph Hess

Joshua "Patches" Minor and fellow St. Louisan Kirin Pax co-founded their promotion company, Constant Cocoon Booking, in the spring of 2015, hoping to help elevate lesser-known bands in the St. Louis area and booking dozens of shows across town. In recent months, the pair has thrown all of its efforts into Woopsie Fest, a massive three-day music festival with more than 60 bands — including out-of-town headlining acts Maps & Atlases, Dowsing and Mock Orange — set to take place across Fubar's two stages this weekend. In keeping with Constant Cocoon's mission, local acts make up roughly one-quarter of the lineup, ranging from newer groups such as Boys Club to mainstays such as Jr. Clooney and Staghorn.
Donny McCaslin Group
7:30 & 9 p.m. Friday Oct. 21 through Sunday Oct. 23, $30. Jazz At the Bistro, 634 N. Grand Blvd., St. Louis, 314-534-3663.
By Christian Schaeffer
When David Bowie died at the start of 2016, it wasn't hard to feel that there were some cosmic machinations at work with how the timing played out: He had just released his final album
Blackstar
two days before passing, leaving the mourning faithful to pick over its dense meditations on life and death. To support him on the recording, Bowie enlisted the Donny McCaslin Group, a jazz-tutored backing band who helped reach the dark corners of those recordings. McCaslin's forceful, burnished tone on the tenor sax was central to that final album — lead single "Lazarus" in particular — and the band has been playing some of Bowie's catalog on this tour, including a meditation on "Warsawa" arranged for saxophone and electric piano.
Mvstermind EP Release Show
w/ Danté Wolfe, J'Demul, Arshad Goods
7 p.m., $10-$12. Delmar Hall, 6133 Delmar Blvd., St. Louis, 314-726-6161.
By Nick Horn
A little less than five months ago, St. Louis producer, rapper, and sound engineer Mvstermind debuted the music video for his single, "Mali Moolah." By early July, the video had made its first appearance on BET Jams. Since then, "Mali Moolah" has been picked up by nearly all of the major music television networks. Friday night, Austin will officially release the rest of the EP containing "Mali Moolah," — entitled
Cusp
— at the Loop's newest music venue, Delmar Hall.
SATURDAY, OCTOBER 22

Tegan and Sara
8 p.m., $31-$36. The Pageant, 6161 Delmar Blvd., St. Louis, 314-726-6161.
By Ryan Wasoba
Tegan and Sara Quin are identical twins who have been playing music and writing songs together inseparably for more than two decades as (naturally) Tegan and Sara. The Canadian duo's 2004 album So Jealous raised its profile in the U.S., largely on the strength of "Walking With a Ghost," a no-nonsense, three chord, mid-tempo rocker. To longtime fans, Tegan and Sara's notoriety makes perfect sense. Each woman possesses a powerful voice and penchant for crafting thoughtful, charming and occasionally heartbreaking pop tunes; it's rare to find two songwriters as like-minded, even if they do share most of their genetics.


Bug Chaser Record Release
8 p.m., free. Off Broadway, 3509 Lemp Ave., St. Louis, 314-773-3363.
By Roy Kasten
The following blurb will self-destruct by the time you finish reading it — because Bug Chaser is an experimental black hole of noise and metal and general fucked-up-edness. The band takes whatever you think you might know about it and blasts it all to bits. Yeah, there's electronic freak-outs; yeah, there's skull-crushing guitars; yeah, there's a singer who wants to do violence to his vocal cords. But French art-pop? Kraut-rock cool? Electro-funk? Vintage arcade game improvisations? Yeah, it's all on the band's last album,
Electric Pockets I
. What do the members of Bug Chaser have planned for a sequel? Find out tonight at the release for
Lords and Legends
— or
stream the album on Bandcamp now
.
The Schwag 25th Anniversary Show
8 p.m., $10. Delmar Hall, 6133 Delmar Blvd., St. Louis, 314-726-6161.
By RFT Staff
For St. Louis and dozens of cities across the Midwest, the Schwag is goin' down the road the Grateful Dead paved decades ago, floating on the free-flowing spirit of the music. Let's face it, any hippie with a guitar can jam and call it a concert, but the Schwag's about more than that. They may use songs that originally flowed from another band's pen, but for 25 years they've made what's old new again for generations of people lucky enough to catch the spirit of Jerry and the boys the second time around.
Prairie Rehab CD Release Show
w/ Letter to Memphis
9 p.m., free. Schlafly Tap Room, 2100 Locust St., St. Louis, 314-241-2337. By
Christian Schaeffer
From this week's Homespun review: Idiomatic is a fun diversion for a band that can come off as self-serious and a little arid, though Conformateur offers the most complete vision of the group to date. Williams' voice has never been forceful, but here she sinks into the language more fully — these songs feel less like a genre exercise, due in likelihood to their flesh-and-bone importance to the singer and the ramifications of this new stage in her and Swartz's life. She says that these songs are inspired by "the idea of destroying their worlds to create another one."
SUNDAY, OCTOBER 23
Suicidal Tendencies
w/ Madball, Havok
7 p.m., $25-$30. Pop's Nightclub, 401 Monsanto Ave., East St. Louis, 618-274-6720.
By Daniel Hill
For nearly 40 years, Mike "Cyco Miko" Muir has been leading the Venice, California-based crossover act Suicidal Tendencies through all manner of lineup changes. The latest of those shifts sees the legendary Dave Lombardo — he of Slayer fame — stepping in on the skins for September's
World Gone Mad
(which Muir has suggested might be ST's final album). Lombardo is widely regarded as one of the best metal drummers of all time; his work with Slayer laid some of the earliest foundations for the melding of punk and thrash metal that ST still peddles today. Lombardo is a full-time member of the band now, and will be performing with the group at this show. A better fit one could not find. NYHC legends Madball and Denver thrashers Havok will open the show, and are not to be missed.
Slaid Cleaves
7:30 p.m., $20-$23. Off Broadway, 3509 Lemp Ave., St. Louis, 314-773-3363.
By Roy Kasten
When surveying the Texas school of songwriters, the name Slaid Cleaves rarely makes the roll call. But he really should be at the front of the class. Though he grew up in Maine, Cleaves' home base has long been Austin (he wrote one of the great Austin barroom songs in "Horseshoe Lounge") and he has absorbed the lessons of the deans — Townes Van Zandt, Guy Clark and Billy Joe Shaver — in his own witty, bittersweet way. He's a consummate craftsman, a writer who never wastes a word, a spry singer and an underrated comic voice who rhymes Texas with "where nobody can text us." On stage, he always gives a master class in just how far a great song can go.