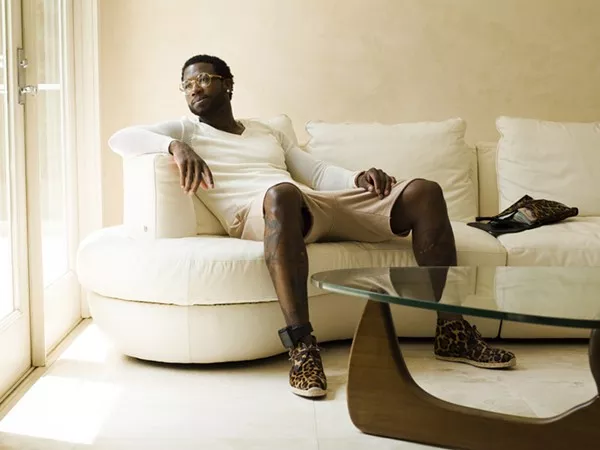 Photo by Jonathon Mannion
Gucci Mane will perform at the Ambassador on Saturday, December 3.
Oh hell yeah: It's light-jacket weather. The best weather of the year. Pull on your favorite sweatshirt. Grab that dope denim jacket. The world is your oyster, because it is 60 degrees outside.
You know what's hard? Coming up with stuff to write in the intro to these posts every week, that's what. I gotta talk about the weather a lot. At least THIS week is exciting, jacket-wise.
It is also exciting concert-wise (segue slam-dunk!). The Get Up Kids come to the Firebird on Friday — emo revivalists, take note! Gucci Mane is out of jail and coming to the Ambassador on Saturday — face tattoo enthusiasts, take note! Shonen Knife will perform at the Firebird on Sunday — Japanophiles take note! Check out the rest of our picks below:

FRIDAY, OCTOBER 14
The Get Up Kids
8 p.m., $18-$22. The Firebird, 2706 Olive St., St. Louis, 314-535-0353.
By Ryan Wasoba
From
this 2011 show review
: "Remember when we used to play here all the time?" asked Get Up Kids guitarist Jim Suptic before the band moseyed into "Overdue." Its closing line "You're a few years overdue, I spent them waiting here for you" neatly summed up the attitude of the nostalgic audience. The evening was all about the memories. The crowd shouted along with singer Matt Pryor on classics like "I'm A Loner Dottie, A Rebel" and "No Love" while presumably remembering the high school romances that the songs once described. Until the end of its set, the Get Up Kids rigidly alternated between the oldies from its
Four Minute Mile
and
Something To Write Home About
records and cuts from 2011's comeback album
These Are Rules
. Sentimental attachments aside, the band's new songs sounded best.
SATURDAY OCTOBER 15
Gucci Mane
8 p.m., $40-$60. Ambassador, 9800 Halls Ferry Road, North St. Louis County, 314-869-9090.
By Daniel Hill
The press photos accompanying Gucci Mane's latest album, July's
Everybody Looking
, see the Atlanta rapper sitting in a room with off-white walls and furniture, clad in similar colors, looking pensive. The room is bathed in soft sunlight, and Gucci is wearing glasses, lost in thought. Based on his appearance here he could easily be confused for a capital-S Serious Artist, if not for the ice cream cone tattooed on his face or the house-arrest bracelet on his leg. As it goes,
Everybody Looking
is more of the same hard-as-fuck trap rap that made Big Guwap a star — and that's a good thing.
Ray Wylie Hubbard
8 p.m., $20-$35. Off Broadway, 3509 Lemp Ave., St. Louis, 314-773-3363.
By Roy Kasten
Thank the old blues gods that Ray Wylie Hubbard never became a preacher or a grifter or, as is often the case, one and the same. He'd convert you, rob you blind and leave you howling in tongues and shaking on the floor. Or at least that's the mission of
The Grifter's Hymnal
, the songwriter's 2012 mean, lowdown, but somehow redemptive errand into the country and electric blues wilderness. The guitars slide and scrape, the rhythms rock and roll, and the words, as always, burn through with the wit and wisdom of a bona fide Texas maestro. Hubbard doesn't get to St. Louis often, so mark your calendar if you're a fan of young Americana poets like Ryan Bingham or Hayes Carll. They'd be nowhere without him.
Bob Schneider
7 p.m., Old Rock House, 1200 S. 7th St., St. Louis, 314-588-0505.
By Roy Kasten
Even with his used-car-salesman name and pop sentimentality — song title "The World Exploded Into Love" isn't ironic — Bob Schneider still belongs to the Texas songwriter tradition, and not just because he remakes blues progressions in his own anti-hipster image. Or because he leads a band that fuses twang and rock 'n' roll like ZZ Top did when still on top of the charts. Schneider cares about songcraft — be the compositions satirical or bittersweet — even when he lets the yacht rock flow. Hoist a piña colada or just a longneck with him in concert; his stories and humor always have the bite and charm of his native Austin.
Rick Springfield
w/ Loverboy, Tommy Tutone 7 p.m., $45-$90. Family Arena, 2002 Arena Parkway, St Charles, 636-896-4200.
By RFT Staff
Some may find the rabid devotion of Rick Springfield's fans perplexing, but if his seveteen Top 40 hits, including "Jessie's Girl", or his run on
General Hospital
as Dr. Noah Drake didn't convince you, watching him blast out live performances with straight-on charisma most certainly will. Somewhere in between the introvert plagued with lifelong depression and the 60-something extrovert who still performs 80 to 100 high energy concerts a year lies the real Rick Springfield, and for most fans that amounts to much more than a celebrity crush.
The Bump & Hustle
w/ Shiro Schwarz, DJ MAKossa, Nappy DJ Needles
9 p.m., $5. Blank Space, 2847 Cherokee St., St. Louis.
By Mabel Suen
On the third Saturday of each month, Blank Space overflows with a varied crowd of enthusiastic attendees, ready to mingle and dance during its monthly the Bump & Hustle event. What's the draw, exactly? Piles and piles of vinyl. Resident DJs MAKossa and Needles have years of collective experience with mixing and matching tracks under their belts, melding funk, soul, boogie, disco, hip-hop, psych and more. This Saturday's show also includes a live performance by Mexico city-based funk duo Shiro Schwarz, making for an extra special affair.
SUNDAY OCTOBER 16
Shonen Knife
8 p.m., $12-$15. The Firebird, 2706 Olive St., St. Louis, 314-535-0353.
By Niles Baranowski
Since 1981, Shonen Knife has been providing the aural equivalent of a Hello Kitty lunch box to hipster stereos everywhere. Yes, you read that year correctly. The Knife has been dishing out its brand of half-broken-English, food-obsessed power-pop longer than some listeners have been alive. The all-girl Japanese group has been "cute" for longer than Madonna's been "sexy," outlasted their best-known patron (Kurt Cobain, who took them on the road before
Nevermind
broke) and probably opened the door for Japanese rock in the United States. Seeing them live in all their kawaii (Japanese for "cute") glory is like a sugar rush straight to the eardrums.
Hoots & Hellmouth
6 p.m., $10. The Bootleg, 4140 Manchester Ave. 314-775-0775.
By Roy Kasten
Hoots & Hellmouth is a string band that plays rock & roll, with nods to the Holy Modal Rounders and the Avett Brothers, but with a knack for biting social critique and an abandon that doesn't sacrifice chops or cohesion, even as the foursome leaps above the stage and stomps the floorboards to splinters. This is a group determined to make something wholly its own out of string-band blues, DIY punk, and tent-revival wailing and harmonizing.