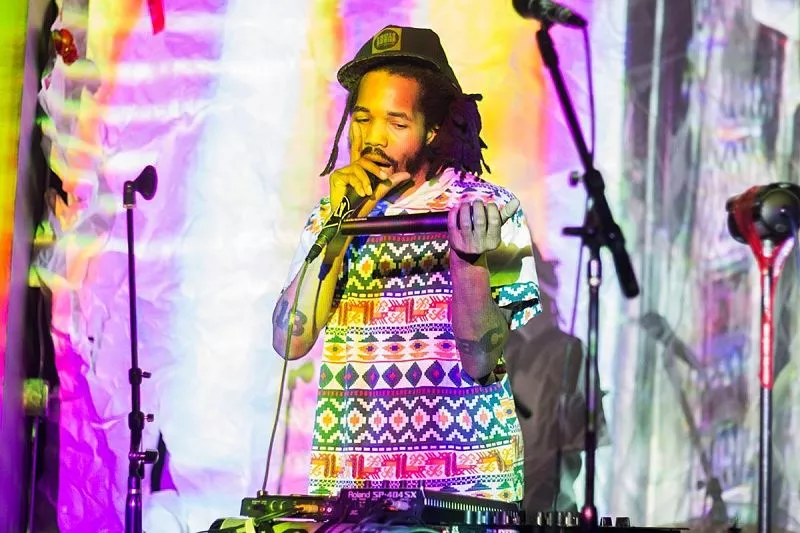 Photo by Mabel Suen
18andCounting will perform at the Luminary this Saturday as part of the LAB series.
Acts of varying levels of nostalgia — from Pennywise to Scarface allllllll the way to Vanilla Ice — besiege St. Louis this week, in addition to some special performances by some of our finer local artists. 18andCounting gets a night as part of the Luminary's LAB series, fully taking over the venue with his restless art. Meanwhile Fire Dog celebrates its tin anniversary with a show at Off Broadway. Check out our full picks below.


FRIDAY, OCTOBER 7
Pennywise
w/ Strung Out, Unwritten Law, Runaway Kids
7 p.m., $25-$30. Delmar Hall, 6133 Delmar Blvd., St. Louis, 314-726-6161.
By Jonah Bayer
Pennywise isn't so much a band these days as it is an institution. For more decades, the Southern California act has pioneered the genre of melodic punk rock — and although it's never had the mainstream success of peers such as the Offspring or Green Day, neither old age nor parenthood has succeeded in tempering the band's aggression. This year's tour celebrates 1995's About Time, which the band will be playing in its entirety alongside other classics. Stop by to sing along, start a circle pit and relive the '90s.
Scarface
9 p.m., $25-$35. The Marquee Restaurant & Lounge, 1911 Locust St, St. Louis, 314-436-8889.
By Daniel Hill

Your favorite rapper's favorite rapper, Scarface, has been thrilling crowds with his dextrous lyricism and dirty-South style for over 25 years. The rapper came from a musical family, learning to play bass from his uncle at a young age before finding hip-hop and joining the esteemed Rap-A-Lot Records in 1989 as a member of the legendary Geto Boys. 'Face's success soon overshadowed that of his crew, and a series of solo records throughout the '90s earned him spots on numerous "top lyricists of all time" and "greatest MCs" lists. The rapper is currently touring in support of his latest, last September's
Deeply Rooted
, which features appearances by Akon, Nas, Rick Ross and John Legend.
Vanilla Ice
w/ Salt-N-Pepa, Coolio, Kid 'n Play, Young MC, All-4-One
7 p.m., $26-$76. Chaifetz Arena, 1 S. Compton Ave., St. Louis, 314-977-5000.
By Robert Wilonsky

Robert Van Winkle, better knwon to the world as Vanilla Ice, will never let you forget who he was, what he was — a phenomenon, a chart-topper, a pinup. "A trailblazer," he likes to say, and he's not far off. In 1991, he was only the second white rapper to make the pop charts, after the Beastie Boys — only they didn't sell 17 million copies of their debut. He did, back when he was
To the Extreme
. "If you really understood the whole story, you'd give it a lot more credit," he says. "You would. You'd give me a lot more respect and everything. I'm a true pioneer of hip-hop."
SATURDAY, OCTOBER 8
Unknown Hinson
8 p.m., $20. The Ready Room, 4195 Manchester Ave, St. Louis, 314-833-3929.
By Daniel Hill
It is unclear whether Unknown Hinson got a boost to his popularity with the resurgence of vampires in popular culture, brought about largely by the
Twilight
series of movies and books — Hinson's brand of vampirism is more of the "country troubadour" variety and less "sparkly brooding teen hunk." No matter; high school trends come and go, but the kind of hilarious story-songs Hinson peddles are timeless. Named after his father — "says right there on my birth certificate. Mama: Miss Hinson. Daddy: Unknown" — Unknown Hinson has been lighting up the stage with his wit (and his .38) since 1993, when his human surrogate Stuart Daniel Baker first picked up the fangs for a Charlotte, North Carolina-based public-access program. The show only lasted a couple of years, but Hinson, vampire that he is, lives on. (Hinson may be best known for his role on Adult Swim's
Squidbillies
program, providing the voice of drunken hillbilly squid Early Cuyler.)
The Growlers
8 p.m., $20. Off Broadway, 3509 Lemp Ave., St. Louis, 314­-773­-3363.
By Harry Hall
The Growlers call their distinctive sound of nostalgic and distorted surf pop "beach goth," and they hold a festival each fall to celebrate their reverb-heavy created category. The band's just released
City Club
album, produced by Julian Casablancas of the Strokes, has caused some fans to fret over the evolution of their music. Listen to "Night Ride" and you can automatically hear that the band has grown up and begun to shed some of its simplistic garage-rock roots for synths and a sometimes-cleaner funk. They've traded the innocent, hopeful love tunes on 2013's
Hung at Heart
for more intricate and matured nightlife songs. Despite the squabbles of beach goth purists, The Growlers continue to deliver a distinctive sound, taking their own genre into new electric directions.
18andCounting
: LAB Series
9 p.m., $10. The Luminary, 2701 Cherokee St, St. Louis.
By Rick Giordano
Although he has previously won RFT Music awards for both Best Solo Project and Best DJ, 18andCounting is far from limited to these two creative avenues alone. The moniker also umbrellas the Art Institute graduate's many other creative offspring, which include painting, sculpture, design and frequent collaboration with like-minded musicians of all varieties. Thoughtful rhymes concerning real life and real frustrations flow over unrestrained, experimental beats that not only operate outside the box, but seem to deny its existence altogether. From violins to vocoders, nothing is off-limits. The posturing often endemic to hip-hop is absent, with expression, creativity and genuine concern serving as the main motivators. Described by the artist as "an excuse to do as much as necessary," the current momentum of 18andCounting suggests there is still a hefty workload demanding to be done.
SUNDAY, OCTOBER 9
Fire Dog
6 p.m., $10. Off Broadway, 3509 Lemp Ave., St. Louis. 314-773-3363.
By Christian Schaeffer
Married couples who make it to their ten-year anniversary are, by tradition, supposed to gift one another something made of tin or aluminum. That sounds like a raw deal, unless your shanty needs re-roofing or you're really, really jonesing for a six-pack of PBR. Bands that make it to the ten-year mark have no such gift-giving tradition, so Fire Dog, the effusively positive rock trio led by Mark Pagano, is gifting its fans with a Sunday-evening cornucopia of music, fellowship and good vibes. The trio will kick off the event at 6 p.m. by playing songs from its 2015 children's album For the Kids before turning over the stage to both Rats & People Motion Picture Orchestra and AndroBeat. Fire Dog will return to play a more rock-oriented set and the night will end with a dance party helmed by DJ MAKossa. It promises to be a varied evening of music compliments of a band celebrating its first decade, and it will certainly be better than getting a hunk of tin.
Bronze Radio Return
8 p.m., $13-­$15. Delmar Hall, 6133 Delmar Blvd., St. Louis, 314-­726-­6161.
By Harry Hall
The Apple Effect is the phenomenon by which relatively unknown bands reach stunning levels of popularity after being featured in major brand advertisements. Some might say that these bands (of which Feist is a prime example) have an unfair advantage in the music industry, chosen at random to be ingrained in the national consciousness. But the fact is that the songs corporations choose to feature have to be pretty damn catchy. You might not have heard of the band Bronze Radio Return, but it's likely that you have actually heard them; their two hit numbers, "Further On" and "Shake, Shake, Shake," have been featured in ads for brands including Nissan, Starbucks and Home Depot, and they have over 26 million streams on Spotify as a result. The sextet released
Light Me Up
in 2015, carrying what they call their valuable "pop sensibility" to the indie dance music scene. Sounding now like a slightly more roots version of Neon Trees, Bronze Radio Return brings it's catchy sing-and-danceable sound to the recently christened Delmar Hall this Sunday.