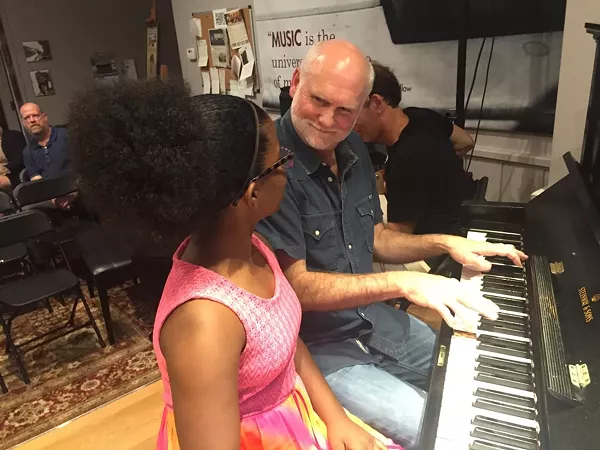 COURTESY OF PIANOS FOR PEOPLE
Music lessons can change a child's life.
The presence of a piano in a home can do a lot for a family. It can act as a symbol of cohesion, a reminder of shared family history, and perhaps most importantly, a physical constant: A piano will always be there if someone wants to sit down and just play. It can provide an escape from reality or a way to express it. An acoustic piano in the home is "a living reminder of music and the arts as a way and place to engage."
Those are the words of Tom Townsend, the co-founder of Pianos for People, a ST. Louis non-profit created in 2012 to collect unused pianos and donate them to homes, schools, and organizations in need. Tom and Jeanne Knowles Townsend, Joe Jackson, and Patricia Eastman formed Pianos for People after the loss of the Townsend's 21-year old son, Alex, who was a pianist and artist.
"Pianos were and are being destroyed," Townsend notes. "So the goal is: Let's turn those trucks around," save the pianos and place them where it matters.
"There are a lot pianos out there not in use," Townsend adds, "and there are a lot of families without music in the house." So far, Pianos for People has donated around 175 pianos to shelters, schools, and homes with children, veterans, or single parents – lately, they've consistently placed two pianos per month.
These instruments can provide discernible effects for children in school settings. "[Music practice] can have a very direct impact on grades, on academics, especially on math scores," Townsend notes.
Pianos can also help draw students into schools. Townsend tells the story of a student in Richmond Heights who was living in a homeless shelter and having a hard time in school. After Pianos for People set up a piano in the hallway near the principal's office, the boy began coming in early. "It gave him a personal place to go and explore, just like any hobby."
Now a high school graduate, the young man continues to play. And since that time, Pianos for People has also donated a piano to the shelter this student lived in, encouraging the same engagement with other children.
Pianos for People also provides group and individual piano teaching for St. Louis students, now serving more than 80 children in after-school and Saturday programs at the organization's studio on Cherokee Street.
"There are some students who are homeless or near-homeless who see that regular Pianos for People appointment… [as something] that they can count on," Townsend says. "Whatever they have been through, they will know that we'll be there on that Tuesday night or that Saturday morning."
Co-founder Patricia Eastman teaches at Webster and St. Louis University, and through her connections Pianos for People hires professional piano instructors. "We're proud of the fact that they pay nothing, and get piano staff that are paid that are piano educators from Webster and SLU," says Townsend.
It's not all scales, though. Townsend himself plays jazz and blues piano by ear; he never learned to read music. He will often show students licks he knows by heart, introducing them to new and interesting ways of playing outside of classical piano confines.
Personal empowerment, says Townsend, is as important as creating great musicians. Playing piano is not just a hobby, but a way for children to figure out "what they can contribute to the world."
Pianos for People has been named the 2017 Arts Innovator of the Year by the St. Louis Arts and Education Council, an award they will receive in January. There were more than 64 nominations for the seven honorees, and the Arts Innovator award is a new category this year, says Kate Francis, the council's vice president of development. They created this honor to recognize up and coming organizations, like Pianos for People, "doing their work fairly quietly," so as "to really raise their profile in the community."
Pianos for People has been growing since 2012 and Townsend is optimistic about the positive effects the organization can have in St. Louis. Executive director Sheena Duncan, formerly a senior manager with institutions including the Sydney Symphony Orchestra in Australia, has brought her knowledge of infrastructure and organization skills to facilitate the fundraising system of private donors, grants, and the Evening of 100 Fingers (an event featuring ten pianists of different genres) that allows Pianos for People to operate and expand.
To that end, Pianos for People has opened up a second school in Ferguson just in the past few weeks.
"For all those kids who aren't the athletes, aren't the star basketball player or the star football player, there are so many people who don't have a realistic outlet for their own personal pride and sense of accomplishment," Townsend says. "And many of these people are closet musicians, who don't even know it."