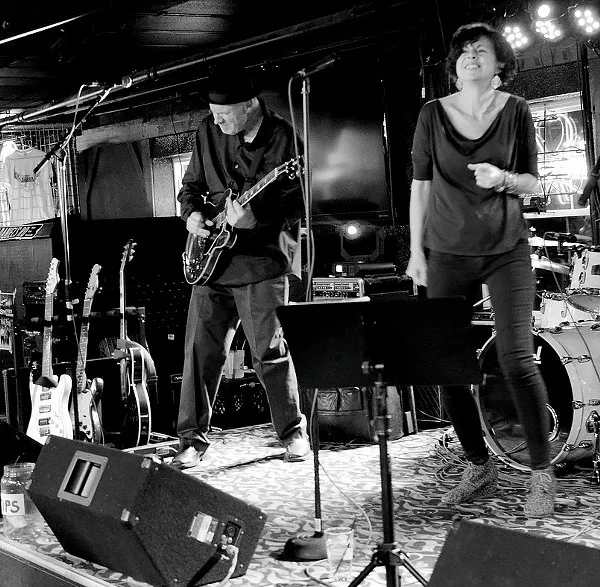 Photo courtesy of the Green McDonough Band
The Green McDonough Band will perform at BB's Jazz, Blues & Soups on Saturday night.
This weekend marks the first-ever Murmuration Festival brought to you by the Brian Cohen, founder of LouFest, and the Cortex district. In addition to ten out-of-the-box musical acts, the fest will bring TED-style talks and discussions — as Cohen puts it in
this week's music feature
, "If you're in St. Louis this weekend and you have a curious mind, I think this is where you want to be.
Murmuration isn't the only game in town though — watch for stops by the likes of Beck, Method Man & Redman and Pat Metheny as well. Check out our full picks below:




FRIDAY, SEPTEMBER 23

Taking Back Sunday
w/ You Blew It!
8 p.m., $35-$40. The Ready Room, 4195 Manchester Ave, St. Louis, 314-833-3929.
By Scott Heisel
For a few years in the mid-'00s, it was good to be Adam Lazzara. The Taking Back Sunday frontman was the king of the burgeoning third-wave emo scene while being embroiled in a feud with scenemates Brand New, former bandmates Shaun Cooper and John Nolan, and pretty much every ex-girlfriend he ever had. (And as we all know, controversy sells records — or at least T-shirts.) Now, Lazzara's put most of those ghosts to rest, and although his band might not be at the top of the Warped Tour heap anymore popularity-wise, from a musical standpoint, it's still topnotch.
Beck
8 p.m., $56.50-$96.50. Peabody Opera House, 1400 Market St, St. Louis, 314-241-1888.
By Randall Roberts
It's been said: He sounds like everything and he smashes it all together, and people either gush or guffaw, amazed or annoyed that not only does he sing and rhyme and compose and steal, he also acts. He acts a fool, a playa, a B-Boy, a robot and a rogue; a dumbass womanizer and a Quiet Storm seducer. He's discovered the power and humor inside the falsetto and abuses them to no end. He's polished the booty-licious power of funk and the Family Stone, of Stax horns and electro, then messes it all up until it's Beck and only Beck.
St. Louis Folk and Roots Festival
Friday and Saturday, 8 p.m., $25­-$60. The Sheldon, 3648 Washington Blvd., St. Louis, 314­-533-­9900.
By Harry Hall
The St. Louis Folk and Roots Festival spans Thursday to Sunday, with a fiddle contest, folk workshops and a square dance on Saturday and Sunday, and the main performances on Friday and Saturday. Headliner Elephant Revival brings its distinctive Celtic-folk sound to the Sheldon on Saturday night. The quintet's 2016 album
Petals
, produced by Sam Kassirer (Langhorne Slim, Josh Ritter), once again demonstrates the band's versatility across all permutations of folk; they're the (sometimes) subdued Scottish sister of the Decemberists, if you will. More traditional country-folk bands like one-man Hubby Jenkins, banjo-guitar duo Jim Kweshin & Geoff Muldaur, quartet Chatham County Line and more fill out the festival at the Sheldon and KDHX a mile down Washington Avenue.
SATURDAY, SEPTEMBER 24

Green-McDonough Blues Band
10 p.m., $5. BB's Jazz, Blues & Soups, 700 S. Broadway, St. Louis, 314-436-5222.
By Roy Kasten
Led by Rich McDonough, an electrifying guitarist who has been making his mark on the St. Louis blues scene for more than four decades, the Green McDonough Band is a relatively new quartet. Featuring the tough vocals of singer and songwriter Laura Green, the band takes the no-holds-barred electric-blues sound of Elmore James and Buddy Guy and cranks it up to eleven. The group's rhythm section can get an outdoor festival moving — the foursome has already done dates in Europe, with more planned — and makes a welcome addition to the reliable troop of bands keeping our blues district jumping.
Murmuration Festival
w/ Flying Lotus, Tycho, Deerhoof, Yacht, Dan Deacon, Suuns, Prince Rama, Sky Pony, Ice, Yowie
Saturday and Sunday, noon. Cortex One, 4320 Forest Park Ave., St. Louis, 314-531-4500.
By Roy Kasten
A joint venture between the Cortex Innovation Hub and LouFest founder Brian Cohen, Murmuration (the word is a synonym for both murmuring and a flock of starlings) aims to fuse TED-like panel discussions, techy expos, public art, science demonstrations and ten bands that only the most assiduous Pitchfork readers and art-school hopefuls will immediately recognize. Murmuration, in short, poses no threat to Ribfest. Read more about the new festival in
this week's music feature
.
The Pines
8 p.m., $10­-$12. Off Broadway, 3509 Lemp Ave., St. Louis, 314­773­-3363.
By Harry Hall
The Pines are a self-consciously Midwestern band, with their 2016 album
Above the Prairie
combining sweeping acoustics, soft-spoken electric guitars and vocals, and a folk-American lyrical poetry from frontmen David Huckfelt and Benson Ramsey. Settling down from their earlier upbeat rock-folk albums, Huckfelt and Ramsey have set themselves toward a hybrid sort of folk music, both earthy and surreal, a reflective, mystical approach to the timeless country roots themes of time, change and beauty, even including the spoken performance of Native American poet John Trudell in their last track, "Time Dreams." The Pines play on their own Saturday night, but their attitude and so-far untarnished Midwestern spirit will certainly, gently, please.
Method Man & Redman
8 p.m., $27-$29. Pop's Nightclub, 401 Monsanto Ave., East St. Louis, 618-274-6720.
By Daniel Hill
It's been seventeen years since Method Man and Redman released their collaborative LP
Blackout!
together, best-known for the indelible hit "Da Rockwilder." It's been fifteen years since the duo released their stoner film
How High
, which has since become something of a pothead cult classic. It's been twelve years since
Method & Red
, which was, well, a lackluster TV show (hey, they can't all be winners). In other words, we've been fascinated with the adorable bromance between the Wu-Tang legend and the Def Squad Doctor for a long time now, and with good reason — the chemistry between the two is undeniable, especially when they hit the live stage together.
SUNDAY, SEPTEMBER 25
Adia Victoria
7 p.m., $10-$12. Off Broadway, 3509 Lemp Ave., St. Louis, 314-773-3363.
By Christian Schaeffer
When Sister Rosetta Tharpe plugged in her cream-colored Gibson SG, she grabbed the electric guitar — a tool of the devil — and then took it to church. Adia Victoria favors the same axe and channels some of that same ragged, bluesy energy, though on a song like "Heathen" it's clear that Victoria sets her sights beyond the pulpit. The South Carolina native sings her songs with mysterious, beguiling intensity on the wages of sin — both personal and, increasingly, societal. A sparsely attended club show last year found Victoria no less engaging than in front of a packed house, and her rendition of the Billie Holliday bone-chiller "Strange Fruit" was just one of her musical contributions to the conversation surrounding race, identity and white supremacy.
Pat Metheny
W/ Antonio Sanchez, Linda Oh, Gwilym Simcock
7 p.m., $55-­$100. The Sheldon, 3648 Washington Blvd., St. Louis, 314-­533­9900.
By Harry Hall
Imagine a guitar with four necks, two sound holes, and 42 criss-crossing strings with as much apparent order as a cubist painting. This is the Pikasso Guitar. Now imagine the guitarist who can play this instrument, strumming two necks at a time, tapping frets on a third and mixing in some percussion on the body. This is Pat Metheny, who will be gracing the Sheldon this Sunday along with Antonio Sanchez on drums, Linda Oh on bass, and Gwilym Simcock on the piano. To define Metheny's musical motifs in any way would certainly neglect some influential component of his oeuvre. He has been a shining star of jazz guitar since the 1970s, winning twenty Grammys and recording with a myriad of eminent musicians, from the minimalist composer Steve Reich to David Bowie. His current tour introduces his act indeterminately as "An Evening with Pat Metheny," but you can be sure that whatever Metheny plays, the music will be in some way profound.