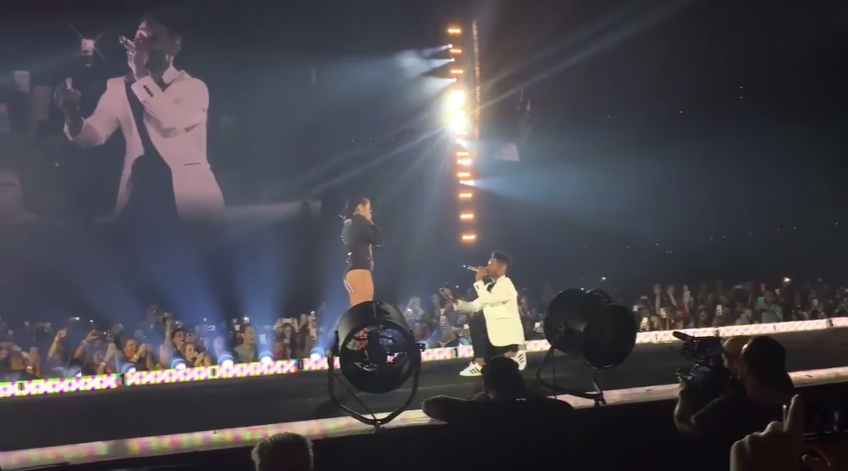 Screenshot from video below.
He liked it, so he put a ring on it.
Ashley Everett is no stranger to the attention of a large crowd.
As superstar Beyonce's dance captain, Everett regularly performs complicated choreographed dance routines in front of tens of thousands of people. If stage fright were an issue, she's in the wrong line of work.
But at Saturday night's concert at the Dome in St. Louis, Everett found that all the eyes in the room were on her for a much more personal reason: a marriage proposal.
Immediately following her performance of "Single Ladies," Queen Bey handed the microphone off to John Silver, one of her backup dancers and a St. Louis native.
Silver surprised Everett by taking her hand and addressing the crowd.
"She's my queen, so I feel like it's only right to come out here in my hometown and show you guys what the epitome of a young woman looks like that knows how to deal with all the nonsense and the B.S. of a St. Louis n-i-g-g-a," he said, spelling out the letters of the last word. "So baby, I know you think I don't express my love to you in front of everybody. So I thought, what better time than now?"
With that, he dropped to one knee and produced a ring. To the audience's applause, Everett said yes.
"Shocked is an understatement," Everett later wrote in an Instagram post. "I'm so overly excited for this new chapter in our lives and of course I can't wait to be your WIFE!!!"
Before that could happen though, the show had to go on.
"Now let's see you do the choreography after that," a delighted Beyoncé joked onstage. Good thing Everett is a pro.
Watch a video of the proposal below. Congrats to the happy couple!