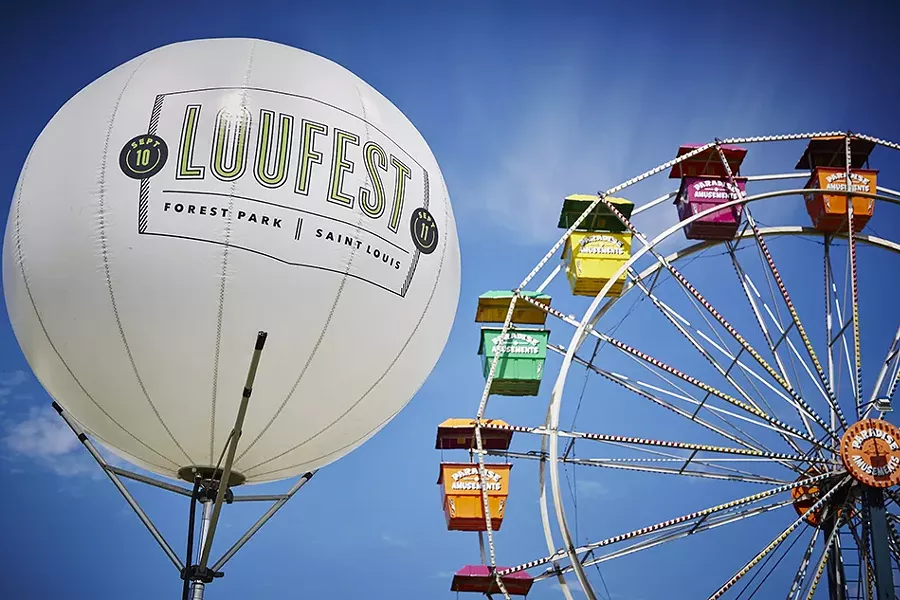 Photo by Steve Truesdell
Maybe the skies could be darker and more ominous too; that might help.
LouFest day one is in the can and, for the most part, it went off with out a hitch. Forest Park spent all day teeming with thousands of attendees, the music sounded great and the weather was amazing. Heading in to day two, we expect more of the same.
But it wasn't all peaches and cream. As with any undertaking of this size, there were some problems — big ones. Here are ten ways LouFest is lacking in 2016:
1. Where is the heatstroke?
Everyone knows outdoor music festivals are supposed to be grueling, hellish battles between mankind and that unrelenting bitch Mother Nature, with attendees dropping like flies in the overbearing heat. Yet this year's fest has hovered in the 70s, with a cool breeze whipping through the fields of Forest Park. What gives?
2. Why do I still have all of my things?
OK, I've been to many festivals before, and I know that I'm supposed to lose track of absolutely all of my belongings before day's end. But LouFest is offering secure lockers to put your stuff in, and therefore I still have all of my shit. C'mon, really?
3. Is there an open-air drug market here or what?
I had like one sketchy looking dude offer me a pill I could not identify and
that's it
. LouFest, how are you supposed to have a steady stream of overdosed, tweaking teens dragged out on stretchers if you're keeping a lid on the drug trade? I thought this was a music festival!
4.
There is mud, but there is no mud wrestling.
Not that "wrestling" is what I'm really looking for, but I would definitely like to see more people covered from head to toe in grime on LouFest's second day. Yes everyone's shoes are ruined, but you can do more. Remember Woodstock? Sleep face down in mud! LouFest organizers, it would be greatly appreciated if you would send your staffers around to push people down onto the ground every now and again, at the very least. Sheesh.
5. It is very difficult to stay dehydrated.
A water bottle filling station?? How am I supposed to drop dead in a field in light of such considerations? Man, get it together, LouFest.
6. I don't even have a good excuse to stay home and play video games instead of going.
With this year's addition of the StartBar arcade, it is impossible to allow my overwhelming laziness to take over and force me to rot my brains in front of an X-Box all day long. Now I can attend the fest
and
play video games? WTF!
7. There are too many food options.
There's like a whole damn city of food vendors — far too many to decide between. I will starve to death due to my own indecisive nature. Thanks a lot, LouFest.
8. Not enough crappy bands.
Seriously, the lineup is too good this year, and the schedule too thoughtfully crafted. When am I supposed to get a break to go sleep in my car for a while?
9. Too many port-a-potties.
I didn't even have time to build up an emergency urination situation while waiting in those short lines. Removing 3/4ths of the facilities on the grounds would make for better people-watching.
10. Not nearly enough to complain about.
LouFest, don't you realize that people absolutely love to bitch?
You're really not giving us much to work with here!
See also: These Bands Rocked LouFest 2016 on Saturday