A big new nightclub complex is coming to Laclede's Landing this fall — with two different bar concepts, a stage for live music shows and a vape shop all in the works.
The Roaring 20s (807 N. 2nd Street) will be located in the three-story, 23,000-square-foot building that until recently held the Royal Dumpe Dinner Theatre and, years before that, the Big Bang dueling piano bar. Under the vision of its new tenants, it will include a first-floor bar called the Blind Pig, complete with a restaurant; a second-floor nightclub called Noir, with a black-and-white-movie theme; and a third-floor space capable of hosting rock shows or theater productions. Downtown's only vape shape, Speakeasy Vaporium, will be located just inside the first-floor entry — and will be open for daytime hours as well.
Kent Hutchison is the owner for Speakeasy Vapor and the spokesman for the project. The owner is Elliot Winter, previously known for this involvement with Seven Zero Eight, which was also located on the Landing. Hutchison describes Winter as hoping to cater to a crowd that's more sophisticated than the average St. Louis club.
[Update: We corrected this paragraph after publication. See editor's note at the bottom of the post.]
Showing off the space, he enthuses over the vintage detail. The wood on the main bar on the first floor came from an old steamboat; the stained glass on the ceiling overhead, from an old church in Florissant. Exposed brick and hardwood floors abound throughout. The renovations they're planning are minimal — a few details here and there to update the space or play up the vintage theme. But the bones of the place are in excellent shape.
Tiffany Bertel, who has four years' experience in the industry, will be the general manager. Bertel says she's excited about "bringing new life back to the Landing."
Roaring 20s has
a Facebook page
and
an indiegogo campaign
with vintage giveaways. The owners are hoping to be open by late September and are already making plans for a New Year's Eve extravaganza. For presale info and pre-opening specials, check out
their Eventbrite page
.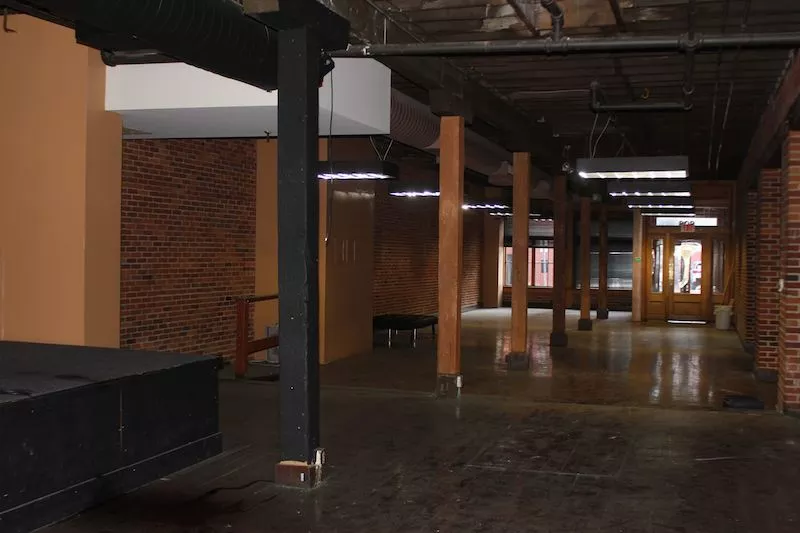 PHOTO BY SARAH FENSKE
The second floor space includes classic exposed brick walls and wood floors.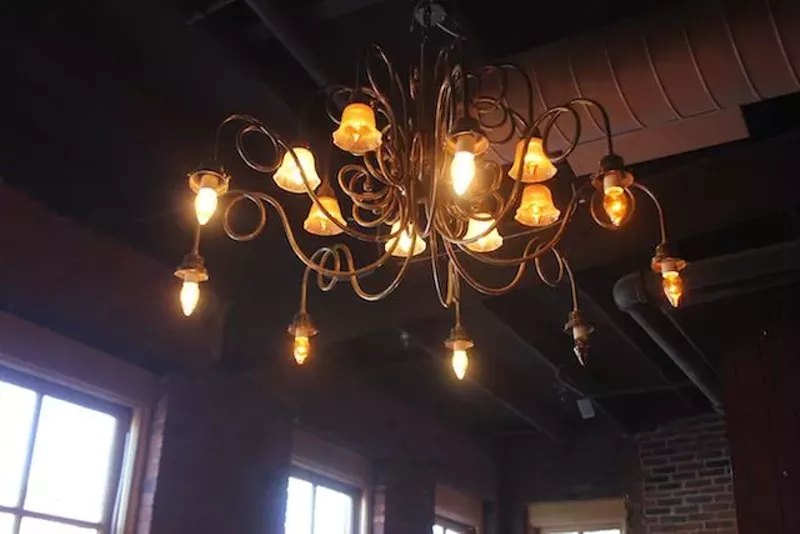 PHOTO BY SARAH FENSKE
A third-floor chandelier.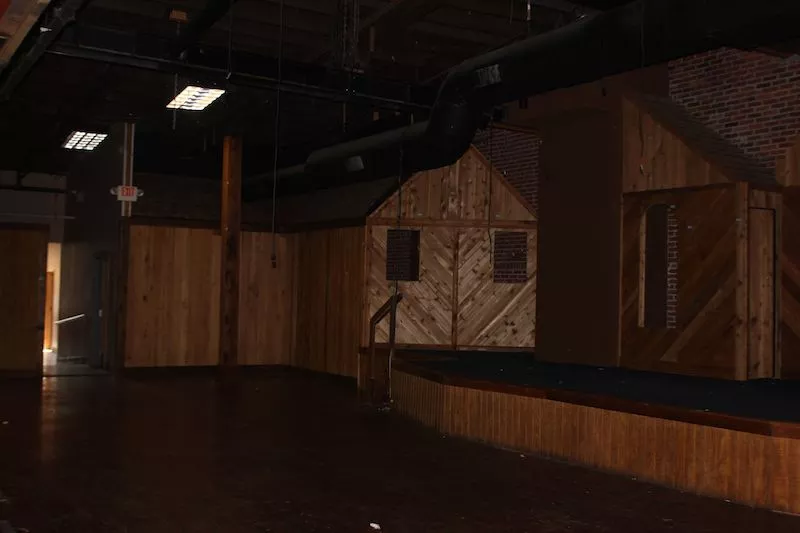 PHOTO BY SARAH FENSKE
The third-floor stage. The third floor also includes a separate bar area.
Editor's note: A previous version of this story wrongly described ownership of the Roaring 20s. The owners are not a group of investors, as we previously indicated. Elliot Winter now says he is the sole owner. We regret the error.
We welcome tips and feedback. Email the author at sarah.fenske@riverfronttimes.com