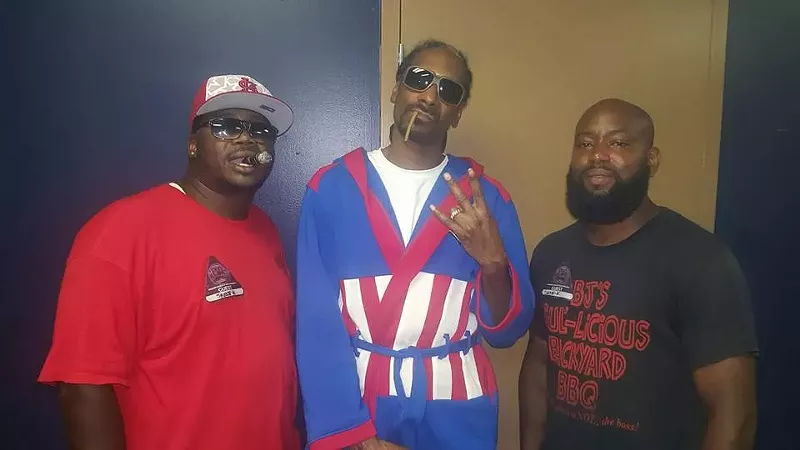 Photo courtesy of BJ'S Gul-licious Backyard BBQ
BJ's owner Bernie Lee Gray Jr. (left) and chef Kenneth Gregory II (right) with Snoop Dizzle himself.
He who would underestimate the appetite of a very stoned Snoop Dogg would be making a grave miscalculation.
The legendary Long Beach rapper came to St. Louis last week as part of the High Road Tour with Wiz Khalifa, packing Hollywood Casino Amphitheatre to the gills on Wednesday night. The following day, Sugarfire Smokehouse shared a video of
Big Snoop smoking on a blunt, clad in a Sugarfire T-shirt and speaking highly of St. Louis' barbecue
.
"St. Louis, y'all alright with me," he says between puffs. "Great fucking show. And the barbecue was good!"
You'd think that would be the end of it — Sugarfire surely has the goods to satisfy even a Snoop-sized case of the munchies, right?
Think again.
A few hours after
our story about Snoop Dogg's Sugarfire experience
went live, we started getting comments and messages about another local purveyor of smoked meats: BJ's Gul-licious Backyard BBQ, whose "BBQ Bus" serves hungry carnivores all over the St. Louis region.
"Uhhhh....last I saw (and know for a fact), BJ'S Gul-licious Backyard BBQ fed Snoop Dogg. The night of his concert, delivered directly to Hollywood Amphitheatre by Mr. BJ himself and Chef Ken," read one comment on the story.
A commenter who appeared to be
Mike Johnson of Sugarfire
then jumped in, writing, "We brought out BBQ for all of snoops and wiz's people, 80 in total, including individual orders specifically for snoop and wiz. Sounds like BJ took some out for them too, that's great, he has great BBQ too. Our order was for the aftershow, maybe bj's was earlier?"
Turns out, that's exactly the case. According to Deborah Hopkins, vice president of operations at BJ's, Snoop's camp put in an order for barbecue to feed six people before the show, reportedly on the recommendation of St. Louis rapper Nelly, a frequent customer. Bernie Lee Gray Jr., a.k.a. BJ, delivered the food himself along with chef Kenneth Gregory II.
They even got to hang out backstage for a while as well, as evidenced by this Instagram selfie-video Snoop uploaded of himself smoking a blunt and getting his hair braided (Gray and Gregory can be seen in the background, lounging on a couch):
In all, the evening was a welcome highlight for the BBQ purveyors, who have had a terrible run of misfortune lately. As they've attempted to set up a new brick-and-mortar location in north city, BJ's
has been the victim of suspected arson
, with one of its trucks and a dumpster set ablaze in two separate incidents.
"They set our dumpster on fire about a week prior, and we moved into the building back in February to start working in it," Gray told KMOV
in a story dated August 19
. "And someone tried to break in twice. It's been some major setbacks for us."
Gray's family has set up a
GoFundMe page
to help defray the cost of those setbacks; at press time it has raised nearly $2,000 in just six days.
If only Snoop would come back through town, he could probably help them out with the rest of the money through the considerable strength of his appetite alone. Hell, he could apparently keep our whole city's BBQ industry afloat.
Come back anytime, Snoop — there's plenty more meat where that came from!