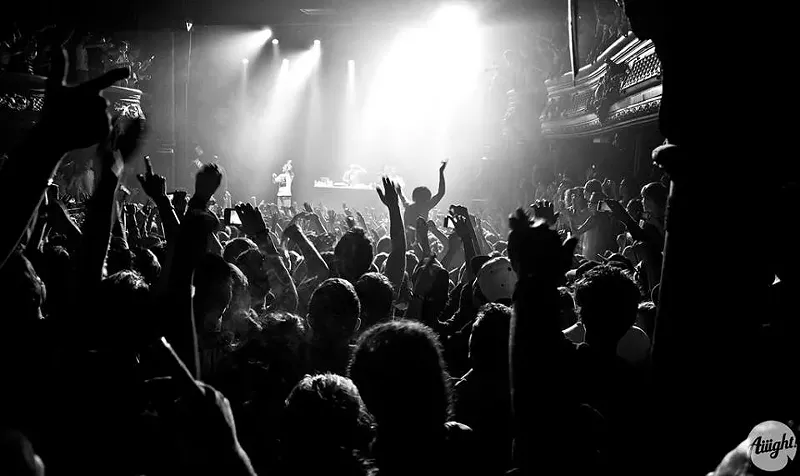 Photo provided by Sean Childs

As most musicians know, being a part of a band consists of a
lot more than just performing and writing songs. In fact, those aspects aren't
even the half of it. There are many components that go into being successful in
the entertainment industry, from photography to booking to merchandise
design. Finding someone to do this for your band can be tough. Finding someone
that fits your band's specific style can be even tougher.


Luckily for emerging artists and seasoned performers alike,
local innovator Sean Childs is simplifying this process. His
website, Bandunition, launched just under two months ago and is poised to make
a big splash in the music world.

"When I was in a band, I would spend hours
on Google or Yahoo trying to find people who could do the stuff that we couldn't do," says Childs, former member of the locally
based band Airplanes.
Photo provided by Sean Childs
Childs specifically recalls spending a hefty chunk of time
trying to find a photographer to simply take some photos of his band, among
other annoyances. This frustration inspired him to create Bandunition, a
concept that has been in the works since 2015.


For now, the website offers a directory of any tool a band
may need. Users can browse through an interactive map that shows where each service is located. The map includes the locations of studios, producers,
merch
designers and printers, videographers, photographers and more. An easy click on
each location gives all the information needed right at the user's fingertips.


Childs started out by adding each service himself, but as time has
gone on others have begun adding themselves as well. If your company has a Facebook
page, you can copy and paste its URL into the site and have everything transferred
over in seconds. As of right now the website has over 100 companies listed, a number that is growing with each passing week. And it doesn't stop there.


"The goal is to make Bandunition a one-stop shop," says
Childs. "It's still in its first stage, but by its completion we hope that
bands can find companies, reach out to them and make purchases all through the
site."


While he has a lot of work to do, the product that Childs
has created thus far is commendable. This website streamlines
the process of finding companies to complete each aspect of making a successful
band — not just for locals, but for musicians everywhere.


"We're based in St. Louis, but we want to make it easy for
everyone," says Childs. "There are a lot of people who do good work in
California, the UK, Canada and more. We want to showcase quality places, not
just places that are close by."


These companies that Childs refers to are already up on the
site, with locations based in California, Utah, Texas, New York and more
represented. He even has a few international companies listed.
You don't have to be considered a pro to be featured on his site
– everything from high-end groups to at-home companies are represented for
bands at all differing stages of their career.


"Bands come in tiers. Some are pro, some our touring, some
are about to be signed, but there's also smaller bands made up of high
schoolers," says Childs. "Same thing goes for services – there's a good range on
our site, and there's always going to be a band that fits perfectly with what you do
."


The beauty of Bandunition lies in much more than simplifying
the meticulous process of putting together a band. It inspires these bands to
keep persevering by matching them with people that bolster their confidence
and move them forward. Almost everyone knows that creating a band is hard, much
less making that band successful. Bandunition helps to make the next step that
much easier.


"It's not just about the site," Childs says. "I'm in this to
help out the bands in St. Louis, as well. There's so much creativity and talent in our
town. Anything I can do to help that growth makes me happy."