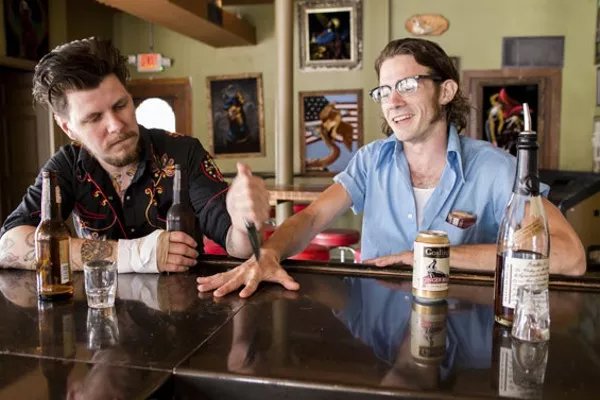 Photo by Robert Rohe
Mike Leahy and Chris Baricevic of Tortuga, who will perform at Off Broadway on Friday.
By matter of happenstance, the vast majority of our picks for the best shows in town this weekend feature local performers. And why not? This town is bursting at the seams with musical talent. The Big Muddy Records Big Summer Picnic is sure to be a blast, featuring tons of acts and even a pig roast. Pretty Little Empire returns to the stage of Off Broadway with a new lineup after a period of relative inactivity. Hylidae releases its latest as well. Support local music, chumps! Check out our full picks below:


FRIDAY, AUGUST 19
Pretty Little Empire
w/ Joan of Dark
9 p.m., $10. Off Broadway, 3509 Lemp Ave., St. Louis, 314-773-3363.
By Roy Kasten
Of all the bands to emerge out of St. Louis' rock scene in the last ten years, Pretty Little Empire may turn out to be the most enduring and musically compelling. Other candidates have garnered greater attention, but none have taken harmony, melody, fury and grace as far as this quartet. Whether crafting dreamy acoustic ballads or breaking out shoegazing waves of sound, PLE has always been about emotion, sonically and lyrically translating it without pretense. Since the departure of original drummer Evan O'Neil two years ago, the band has performed infrequently and its members have explored other projects. PLE's return this week, with Jonathan Taylor of the Provels joining the rhythm section, could be the local show of the summer. New St. Louis rock band Joan of Dark — featuring members of Arson For Candy, the Skekses, Née and the McGees — opens with what singer Ellen Herget calls "lo-fi live dance music."
I Actually
w/ Mountain Doom, Grand House
9 p.m., $7. The Heavy Anchor, 5226 Gravois Ave., St. Louis, 314-352-5226.
By Joseph Hess
I Actually prove that alternative rock isn't just a byproduct of the overblown grunge movement via early '90s record companies pushing up every band with loud guitars and a southern drawl. If anything, the genre is as alive and well as ever, with radio ready gems being cut on the local level every year. This band might be relatively young, but its sound has aged into a gritty, heavy hitter.
The Gorge
w/ Family, Quaere Verum, Ashes and Iron, A Dark Orbit 8 p.m., $10. The Firebird, 2706 Olive St., St. Louis, 314-535-0353.
By Annie Zaleski
Progressive metal is difficult to do well, because the line between fucking-sweet riffage and cheeseball posturing is very, very narrow. Thankfully, the members of the Gorge — guitarist/vocalist Phil Ring, guitarist Joe Bowers, bassist Chris Turnbaugh and drummer Jerry Mazzuca — have always fallen on the correct (read: totally sweet) side of the genre. The reason is simple: They're no-frills players who understand the value of restraint and dynamics, and employ meticulous arrangements that also hint at frantic mathcore and technical metal. These strengths come through loud and clear on the Gorge's most recent album,
Thousand Year Fire
. The album's power-drill drumming, jackhammer guitars and roaring vocals should please Baroness and Mastodon fans who aren't stoked on how those bands have evolved.
Hylidae Record Release
w/ Larva, Demonlover
8 p.m., $10. 2720 Cherokee Performing Arts Center. 2720 Cherokee St., St. Louis. 314-875-0233.
By Christian Schaffer
Jon Burkhart's debut recording as Hylidae, Intransitive, came out last year. It formally introduced an artist with an unabashed love for the rhythms and intent of dance music, but also graced with a willingness to whittle away at the genre's tentpoles. But where that record was imbued with some of the Moog's near-organic warmth, his new self-titled record, released today, embraces a new workflow (rackmount synths, a hardware sequencer) and the resulting move toward slightly colder and harsher sounds.
Spin Cycle
feat. Steve Tuohy & Jason Ruff
9 p.m., Free. Lucha, 522 N Grand Blvd., St. Louis, 314-833-9993.
By Natalie Rao
House and techno group Spin Cycle is bringing the deep, underground sound to a fresh venue this weekend. Opened just under two years ago, Lucha is a Mexican soul food restaurant by day but, this weekend, will be a unique spot for some unique sound by night. Steve Tuohy of Inicio STL, a group influenced by soulful, techno beats is performing, and guaranteed to bring the deep house that Spin Cycle is known for. Recent addition Jason Ruff, hailing all the way from San Diego, will be complementing Tuohy's sound with some west coast influences of his own. Resident DJ's Aaron Jacobs, Bradford James and Spike Stephens will be opening amidst custom visuals also designed by Stephens. Plus, who doesn't love a free show?

Silent Soirée
feat. DJ Mahf, Nappy DJ Needles, Alexis Tucci and many more
9 p.m., $10. The Bootleg at Atomic Cowboy, 4140 Manchester Ave., 314-775-0775.
By Natalie Rao
This event is unique in the fact that it's silent, literally. Silent discos are a concept often implemented at music festivals or other large events where attendees must be wearing a pair of headphones to hear the tunes. Headsets are handed out at the start of the event and are connected to any number of channels for users to switch between while they groove. Silent Soirée will feature three separate channels of unique music from local talent. Only 300 headsets are available, guaranteeing that this event will be one to sell out quick.
SATURDAY, AUGUST 20
The Big Muddy Records Big Summer Picnic
w/ Johnny Walker and the All Seeing Eyes, Maximum Effort, Arson for Candy, Tortuga, The Loot Rock Gang, Kristo and the Strange Places, Bob Reuter's Alley Ghost, The Hobosexuals, Rum Drum Ramblers, Sidney Street Shakers, The Hooten Hallers
1 p.m., $10. Off Broadway, 3509 Lemp Ave., St. Louis, 314-773-3363.
By Christian Schaeffer
For any independent record label, making it to the ten-year mark is a damned eternity. In the case of local label Big Muddy Records, a laser-focus on local and regional roots music with nary an eye toward commercial viability should have been a detriment rather than a calling card, but this year the label made it to double-digits on the backs of an inter-connected ecosystem of hard-playing, hard-touring bands. The label's yearly Big Summer Picnic will feature a dozen bands, including the Loot Rock Gang, Tortuga, Arson for Candy and the Sidney Street Shakers. It that's not enough, the crew will be roasting a 100-pound hog to keep you sated between sets at this all-day event.
SUNDAY, AUGUST 21

Love Jones "The Band"
8:30 p.m., $10. BB's Jazz, Blues & Soups, 700 S. Broadway, St. Louis, 314-436-5222.
By Roy Kasten
Specializing in covers of hits from the '60s to the present — including a fine version of Gnarls Barkley's "Crazy" — Love Jones "The Band" is first and foremost a band of serious musicians. Singer Gypsy Brown may hold much of the spotlight, but keyboardist V. Kent Jones, drummer Ryan Jones and guitarist Tracy Mitchell all take turns on the mic, while bassist Melvin Moore keeps every piece of soul, jazz and funk — from the familiar to the stuff out of left field — sounding smooth and groovy. The band also slips in more than a few original numbers just to keep the audience guessing.