PHOTO COURTESY OF MARK RICHMAN
The Beatles '66: Mark Richman was there.
Mark Richman was twenty years old when he talked his way into the opportunity of a lifetime — wheedling his way past a policeman and into the corps of photographers
shooting the Beatles
'
August 21, 1966, concert at Busch Stadium.
The photographs he snapped that day, which he says are the only color photos of the Beatles' final tour, have earned him tons of attention from Beatles collectors. (You can
see them online here
; the one above is reprinted with his permission.) They'll even be featured in the
upcoming Eight Days a Week documentary
, which also netted him a pretty penny.
So when Richman, now 70, returned to a different iteration of Busch Stadium this weekend for McCartney's solo show, he had high hopes. But they were dashed.
Many of the problems weren't due to Sir Paul himself. Richman was annoyed by the size of the patrons near him, which rendered seating a bit too close for comfort — a problem not helped by the fact that seats on the field, where he was sitting just twenty rows back from the stage, were zip-tied together so people couldn't adjust them. He was also annoyed by the way the crowd took to its feet, and stayed there throughout the show, blocking his view — and the 6'5" drunk dancing wildly in front of him.
But most of all, it was the song selection that got him.
"He said he'd do a bunch of Beatles songs," he says. "That's what I was waiting to hear. But he left out about twenty of my favorites" — among them, "Ticket to Ride," "Eight Days a Week," "All My Lovin'" and "I Saw Her Standing There."
"He's shifting his music to a younger audience, trying to sell more albums," he says. "My suggestion would be that on the next tour, he'd announce he's doing nothing but Beatles songs. He'd sell out in five minutes."
(Still, there's at least one non-Beatles song Richman was excited to hear: "If he hadn't done 'Live and Let Die,' I'd be marching in front of the place!")
Incidentally, it's not only photos from the Beatles' 1966 show that have made Richman money. Because he didn't end up using his ticket to get in, he was able to sell it to a rabid collector for a staggering $2,240 back in the '90s — a price he named after calculating exactly how much it would cost to take his elderly mother on the cruise of her dreams. "He said, 'You'll have a check in the mail tomorrow,'" Rich recalls. "I took my mom on the cruise and we had a great time." (For more stories,
listen to Rich's interview with Jamie Allman of ABC-30
.)
So there's no hard feelings for McCartney. Not at all. And as a
performer himself
, Richman says he doesn't want to be negative. But he's starting to wonder why he paid $275 to watch a show on a giant screen — a far worse experience than he could have had at home in front of his 50-inch television.
"No more stadium shows for me," he says.
Hey, at least he went out on top.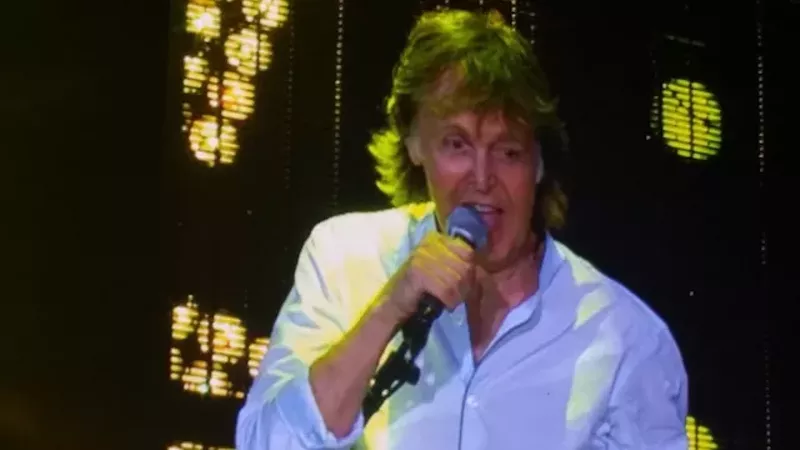 PHOTO COURTESY OF MARK RICHMAN
The 2016 version just wasn't the same.

See also: 50 Years Ago This Month, the Beatles Played Their Only St. Louis Concert — and Hated Every Minute of It

We welcome tips and feedback. Email the author at [email protected]