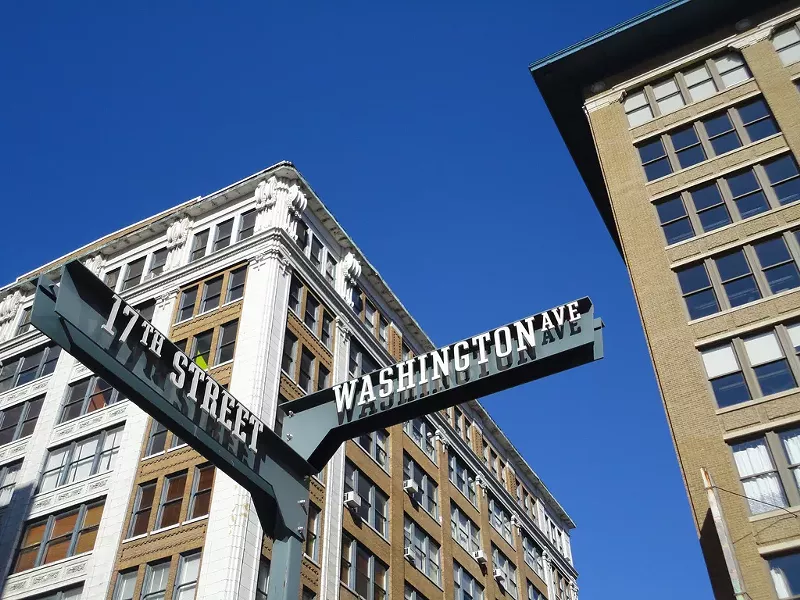 These days, Washington Avenue more or less provides the focal point for St. Louis' downtown nightlife — and on game nights, Ballpark Village provides a similar focus. But barflies looking for something a bit different need to walk a few blocks in any direction. Just a bit off the main party circuit, you'll find bars where you can play arcade games, bars where you can sample an extensive selection of wine, beer and cheese, low-key pubs, blues bars, and even a real-life speakeasy.
Here is our list of ten quirky, cool and downright interesting downtown bars outside Washington Avenue and Ballpark Village. Why not check one out this weekend?
Photo courtesy of Thaxton Speakeasy
The Thaxton Speakeasy: Start the car, I know a whoopee spot/Where the gin is cold but the piano's hot.
1. The Thaxton Speakeasy
The
Thaxton Speakeasy
(1009 Olive Street, no phone)
is basically a time machine disguised as a bar. On some nights, the clientele will even go so far as to dress right out of the Prohibition era. The place requires a password to get in (
see the website for more details
), but it's worth it: It's truly stunning inside. The mood is usually fun and the dance floor is often packed. (The music is not period-specific, thank God, so you won't need to brush off your Charleston.) The best part, however, might be the doorman who talks around letting you in for a few minutes. He's a real joker. This speakeasy is only open Thursday through Saturday from 9 p.m. till 1:30 a.m., so get there on the dot, password in hand.
Kavahn Mansouri
The Crack Fox: Conformists need not apply.
2. The Crack Fox
A downtown bar that encourages all to let their freak flag fly?
The Crack Fox
(1114 Olive Street, 314-621-6900)
offers a rare respite downtown for those who didn't belong to a fraternity and have no interest in working for the man. It's a narrow, dark bar filled with live music, karaoke and even burlesque shows if you head down on the right night. Drinks are plentiful and relatively cheap. The decor of the bar is something else: the actual bar is brimming with eye catchers and interesting trinkets, while the opposite wall is lined with boudoir photos of women. The Crack Fox is definitely high on the list of downtown bars that will leave you with a great story to tell come Monday.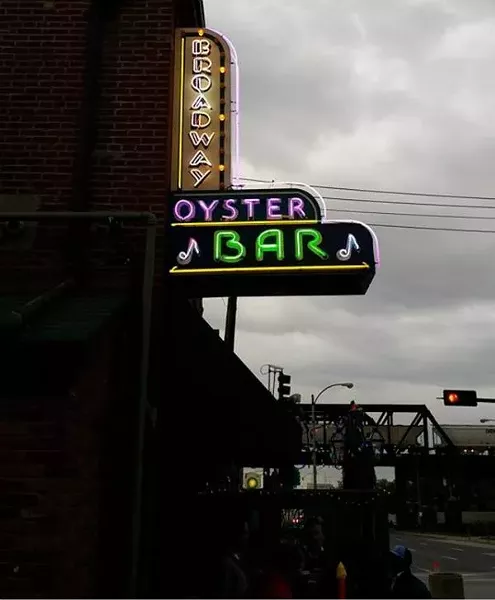 RFT File Photo
Broadway Oyster Bar: An intimate environment for tunes, brews and food.
3. Broadway Oyster Bar

Perched close to Busch Stadium in St. Louis' blues triangle,
Broadway Oyster Bar
(736 S. Broadway, 314-621-8811)
has one of the most pleasant patios to sit and listen to music downtown. On weekends, there's almost always a band playing, and in the earlier hours it makes for an intimate environment to catch some tunes, brews and food. This inside bar has a good amount of seating, and on nice days and evenings the staff will open up the shutters facing the street. It's a perfect spot to pregame, or post-game after a Cardinals victory.
Kavahn Mansouri
Beale on Broadway keeps the blues playing seven nights a week.
4. Beale on Broadway
Beale on Broadway
(701 S. Broadway, 314-621-7880)
is one of the best places in St. Louis to catch the blues, with authentic sets seven days a week. The bar, which sits not far from Busch Stadium on the southern edge of downtown, touts some serious talent and offers incredibly tasty food and beverages for all clientele, whether they're drowning their sorrows or just taking in the act. Beale has a rather large patio with plenty of seating. It also has both inside and outside stages, keeping the show going no matter what the weather's like.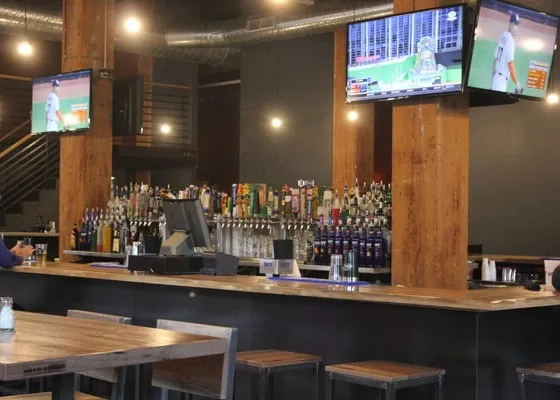 Nancy Stiles
The Wheelhouse has become one of the hottest spots in all of downtown.
5. Wheelhouse
If you find yourself downtown and in the mood to party hard, but all the early bars are closing, head over to the
Wheelhouse
(1000 Spruce Street, 314-833-3653).
A hotspot for local celebrities and people just generally looking to rage, the Wheelhouse is a sports bar by weekday and a nightlife hub on the weekends. During the day it's worth stopping by to check out the robust menu, although we should warn that the place is frequently packed after sporting events downtown. Plan on some shoulder-to-shoulder bumping as you try get a drink — but isn't that a small price to pay to keep it going 'til 3 a.m.?
Turn the page for more great downtown bars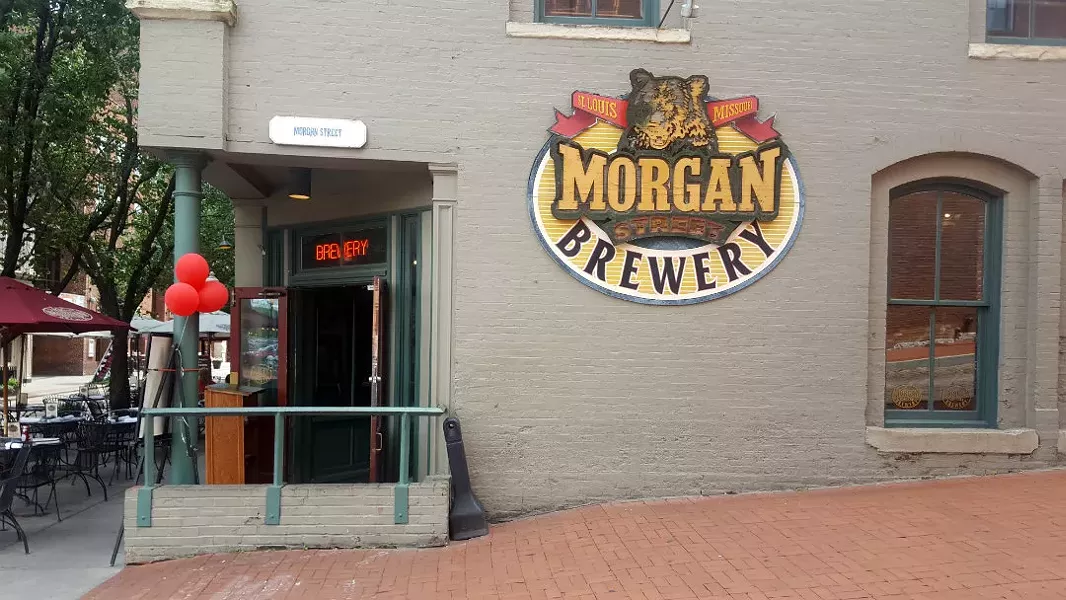 Kavahn Mansouri
Morgan Street Brewery: A good reminder to visit the Landing.

6. Morgan Street Brewery
Morgan Street Brewery
(721 N. 2nd Street, 314-231-9970)
is one of the finest establishments in Laclede's Landing. A good place to eat a hearty meal (the pasta is far too much for one sitting,) and try some of the home brew beers straight from the tap, the brewery also touts a Monday through Sunday 2:30 a.m. closing time. That alone earns itself a spot on late night bar stops downtown.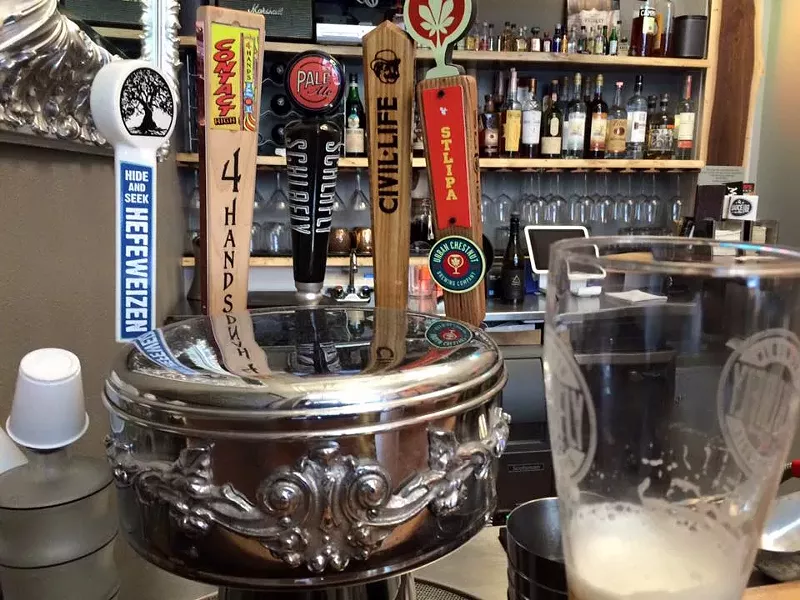 Photo courtesy of Tiny Bar
Tiny Bar's name is no exxageration.
7. Tiny Bar
Bars can be big, small, narrow, wide, even two stories. But most bars don't make their fun size their raison d'etre like
Tiny Bar
(1008 Locust Street, 314-800-7218)
. The
RFT's Best New Bar of 2015
sits on on Locust Street, in the lobby of the PR/marketing firm Elasticity, and is only 250 square feet ... in total. In fact, it's easy to miss if you're not paying attention. The small size also carries over to the bar's motif, with a mural honoring pint-size
St. Louis Brown (for a minute) Eddie Gaedel
. Needless to say, have a drink here and you'll be getting comfortable with the bar's friendly staff and interesting clientele. There are only approximately ten seats in the entire bar, give or take a few out on the sidewalk in front. Early bird gets the seat.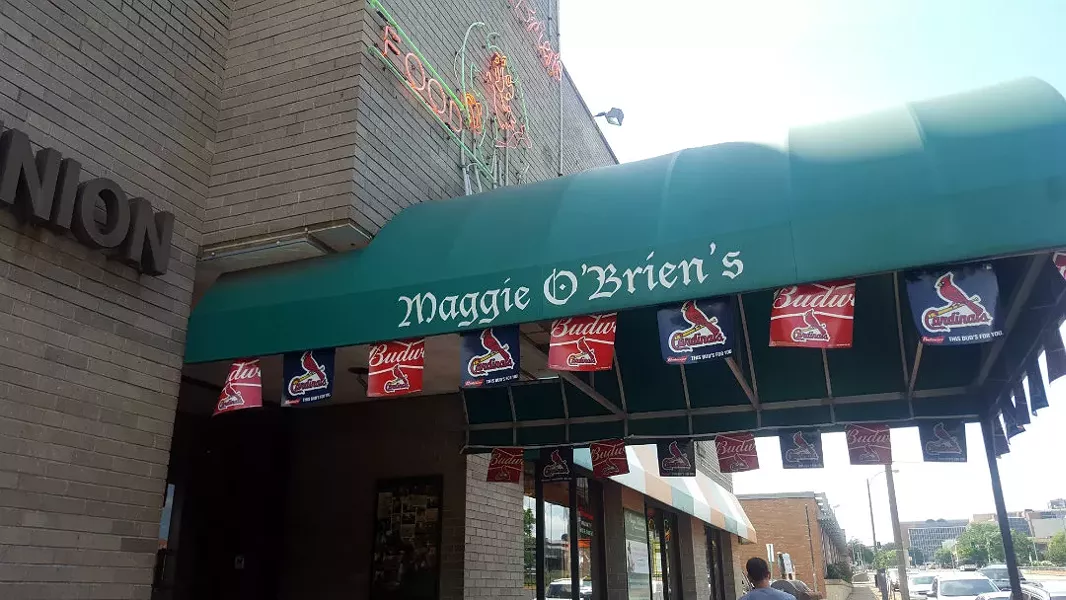 Kavahn Mansouri
Maggie O'Brien's: If you're feeling Irish downtown, this is the place to be.
8. Maggie O'Brien's
One of a few Irish pubs near the center of the city,
Maggie O'Brien's
(2000 Market Street, 314-421-1388
) is another spot that touts live music and offers a ton of TVs for watching sports, even if you can't make it to the game. Maggie's is open till 3 a.m. on Fridays and Saturday, and 'til 1 a.m. Tuesday to Thursday. While it's a bit of a hike to Busch Stadium from here, it's the perfect distance from Scottrade Center to facilitate pregaming before catching a Blues game. Drinks are reasonably priced and the kitchen offers some Irish-inspired bar food for those looking to have a bite to eat as well.
Jennifer Silverberg
Bridge Tap House & Wine Bar: For a more civilized place to drink downtown.
9. Bridge Tap House & Wine Bar
A two-story stunner,
Bridge Tap House
(1004 Locust Street, 314-241-8141)
is one of downtown St. Louis's most elegant bars. The bar setup, wooden finishes and stairs leading to the second floor are all striking, with eye-catching chandeliers drawing your attention up to the high ceilings. If it weren't for all the booze, the bar's wooden decor and the ladder used to fetch drinks might make believe you were in a library. Quieter and more romantic than other bars downtown, Bridge Tap House would make a great spot for a first date, with an interesting cheese selection and smart menu from prolific restaurateur Dave Bailey.
Photo by Natalie Rao
Games beckon you to Start Bar.
10. Start Bar
The newest addition to St. Louis' nightlife,
Start Bar
(1000 Spruce Street, 314-376-4453)
offers something completely different. It's a hideaway for nerds to do what they do best, drink and game. Start Bar is brimming with arcade machines, touting near the entrance the motto, "Coins rule everything around me." The Wu-Tang would be proud of this new St. Louis institution, which was created by the owners of Wheelhouse. Head down to Start Bar if you need your fill of arcade games, fully stocked Nintendo 64s and pinball machines. And keep your eyes peeled — they're planning a pinball tournament soon.