This past weekend, the sentient pile of Gadsden flags that calls itself Ted Nugent came to St. Louis for a performance at River City Casino. In advance of the show, I took the opportunity to remind the general public that Ted Nugent is a festering garbage person, in a piece titled
"Reminder: Ted Nugent Is a Festering Garbage Person."
You know, good ol' fashioned public service journalism.
There were a few things I cited as reasons for this plainly accurate and verifiably truthful assessment. Most of them occurred within the last six months. Briefly, in bullet points, Nugent did the following:
1. Called first black president a "subhuman mongrel"
2. Called for Obama and Hillary Clinton to be hanged
3. Called a Hispanic man who disagreed with his political views a "beanochimp"
4. Opined that gun control is a Jewish conspiracy
5. Said that guns are better than women
6. Promoted and defended the use of the N-word, sharing racist memes
7. Took legal guardianship of a seventeen-year-old girl while he was in his thirties so that he could have sex with her without fear of reprisal from her parents
....Not to mention the lyrics to "Wang Dang Sweet Poontang" — goddamn, what a shitshow.
Anyway, Nugent, who presumably has a Google alert set up for his name and the word "garbage," caught wind of the article, and was not pleased: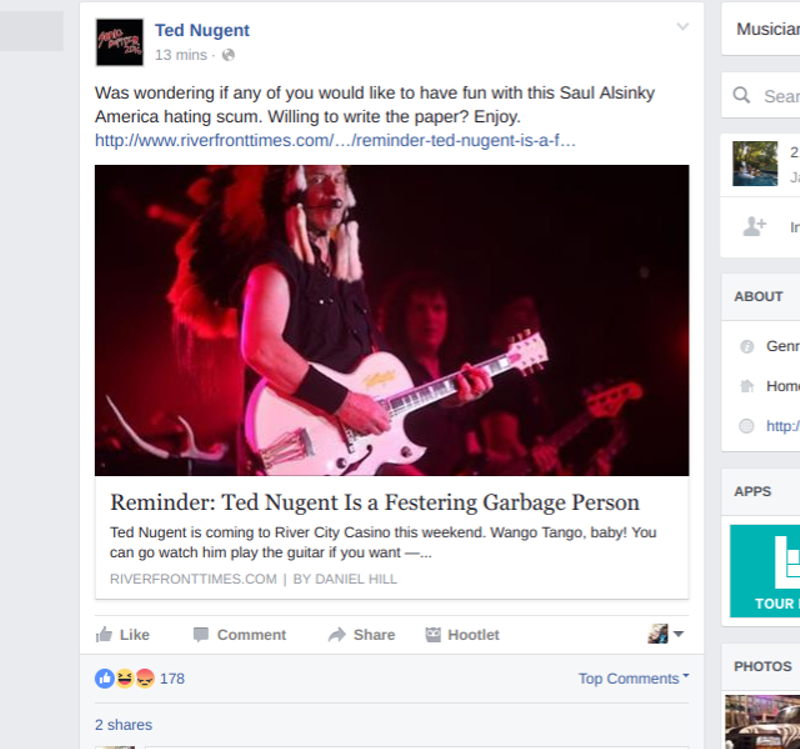 It should be noted, before we go any further, that nowhere in the article was there any mention of America, politics in general, conservatism/liberalism, etc. — just the horrible shit I listed above. Nothing that would get Saul "Alsinky" too excited.
But that doesn't matter. Soon, Uncle Ted's dumb fans launched a full-scale assault. (Please note: I'm not saying
all
of his fans are dumb, but the ones that reached out to me assuredly are. And probably most of the rest of them too.)
The response was pretty overwhelming (thanks for reading!). I'd like to respond to a few of the more colorful commenters here:

Hey guys, thanks for taking the time to address me by my full name! It seems like no one notices bylines anymore....
Ha! Shows what you know. I'm far too busy with my d!6k-sucking duties to put my tongue on anyone's boot.
My sister is fourteen ya freak. Took some dating tips from Mr. Nugent, huh?

Thank you all for your interest in my vagina.
English class never prepared me for an insult as strong as "jackwagon twatwaffle" — you win this round, Chipshot.

What article did you read? I think this comment was meant for someone else. Stay on topic, please.
Thank Christ I am not considered up to snuff to wipe Ted Nugent's ass. Sounds like a shitty job. (Also, yes, those "socialists" did kill tons of people in WW II, but I thought we were all in agreement the Nazis had to go?)
I don't know how Starbucks got roped into this but while we're on the subject, I have it on good authority that Nugent stopped by the 'Bucks in St. Louis before the show on Sunday. He ordered a Grande flat white with two pumps white mocha and he didn't tip.
Well do you want me to come outside or not? I'm confused. And why would a world full of zombies be a good thing?

"Scum Zombies": new band name; I called it.
How did my family get roped into this?
Sorry to any dog shit maggots who might have been offended.
....What?

How did my satanism get roped into this?
Do they make golden douche bags? For what purpose?

That's MISTER Mangina to you, Doug.
If anyone at CNN is reading this, I am apparently employable. Special skills: baiting Ted Nugent.
This, truly, is my very favorite of all the comments.
I'll have you know I rip huge farts. Good day, sir.

Uh....yeah, sure. That's what I was saying.
There were more — literally hundreds more, filling Facebook and my email inbox as well. But I quite frankly don't have the time to keep this up. I must continue my quest to destroy America by using journalism to make fun of musicians with insane views who were beyond washed up decades ago.
It's the "Alsinky" way!
Daniel Hill is the RFT's music editor and he is better then the dog poo; follow him on Twitter @fatrobocop and @rftmusic.