PHOTO BY JOSEPH HESS
Hey you! Every tried Weber's Bar? "A pure and unadulterated drinker's oasis," it'll cure what ails.
Let other cities have their flashy clubs and mixology meccas. Here in St. Louis, we're happy with a bar stool, good company and a stiff drink. In short: Give us a dive bar and we're as happy as a pig in a bathtub of gin.
Now, in lesser cities, the "dive" label might connote something dirty or depressing. Not so St. Louis. In this hard-drinking metropolis, a dive bar is simply a place where the booze comes first. The patrons may be professionals or derelicts, but they're there to drink — no gimmicks, no games.
We had a great time exploring the myriad bars across the metro area that fit this description, from Carondelet to St. Charles, from the north Riverfront to Lemay Ferry. Use our comprehensive guide to plan your next day of drinking — or just get a good reminder to visit an old favorite.
South City Dive Bars (South of 40)
PHOTO BY DOYLE MURPHY
Silverleaf Lounge: a hidden treasure in North Hampton.
Silverleaf Lounge

You should probably just make the Silverleaf Lounge (3442 Hereford Street, 314-481-4080) your regular bar. The company is good, the confines cozy and the beer cheap and cold. Nearly hidden mid-block on a one-way street in the North Hampton neighborhood, the Silverleaf has been a destination for generations of St. Louis drinkers. The bar outmaneuvered the tyranny of Prohibition with a brief run as an ice cream parlor in the 1930s — the wooden coolers remain — but its true nature as a great neighborhood tavern is unmistakable. No less than Esquire wrote it up in 2015. Even with the national media attention, though, the location out of sight of Kingshighway commuters has kept the clientele to neighbors within walking distance and first responders, who are welcomed by owner Ron Damery, himself a retired firefighter. The entire place is the size of a living room with nine bar stools and four pub tables. Allegiances include America, the St. Louis Cardinals and Elvis Presley. Fortify yourself with a Ziploc bag of mild or spicy beef jerky for $2. Wash it down with a $1.50 Natural Light draft.

Barney's Sports Pub
Say what you will about strip mall bars, but they can be damned convenient. Sandwiched between a vape shop and a bank across the street from Target, Barney's Sport Pub (6027 Chippewa Street, 314-457-0240) is a rest stop halfway between being a responsible adult and saying "Screw it. Let's get plastered at lunch." You'll meet people of both persuasions in the sprawling Clifton Heights bar and grill. On a recent afternoon, patrons debated whether it was possible to drink yourself sober. (General consensus is yes, on day two.) Low, dark-wood ceilings run the long expanse of the bar and give it a heavy feeling, like a converted horse stable. You'll find pool tables, skeeball, video games and a half-dozen cork dart boards along a back wall. Plenty of televisions and literally dozens of drink specials support its sports bar claim. The food is passable pub fare, and there's a patio. Basically, it's got everything you need to disappear for an hour or twelve. Bonus: This one doesn't close until 3 a.m.
PHOTO BY SARAH FENSKE
The Cat's Meow has a cat theme, but also a Mardi Gras one.
The Cat's Meow
It may have a cutesy name, but the Cat's Meow (2600 S. 11th Street, 314-776-8617) is a place for some serious drinking. Tucked at the far end of Soulard, far from the frat-tastic action and party buses full of county revelers, it's a surprisingly big space with plenty of friendly regulars and a few cheap eats to soak up the booze (a package of crackers is a quarter; pistachios will set you back $1.25). There's a vague cat theme going on here — you can learn about "A Cat's Wisdom" from one piece of wall art — and an even more pronounced Mardi Gras one. Six-foot boas are on sale for $10, while five-foot ones are $5. That extra foot of feathers would easily buy you a strong drink here, with enough left over for a tip; spend wisely.
PHOTO BY KELLY GLUECK
Colorado Bob's Ship of Fools: You'll know it by the ship wrecked in the front yard.

Colorado Bob's Ship of Fools
Ahoy, matey! When you're crawling your way down Morgan Ford Road's row of low-key neighborhood bars, don't forget to dive into
Colorado Bob's Ship of Fools
(3457 Morgan Ford Road, 314-772-7564)
. You probably know this nautical-themed bar by that ship jettisoned out front. But what you may not know is that there actually is a Bob, a remarkable captain with wonderful stories and a kind heart. Bob's bar is full of familiar faces — and a crew that's among the best in town. Friendly banter and cheap drink specials ($10 buckets, $2.50 wells and $2.75 shot specials) both go well with the local food favorites on offer here, which include Imo's, TJ's, homemade jerky and, on a good night, some smoked chicken with Bob's award-winning BBQ rub.

Muser's Pub

Some days, you just need a bar. No crazy themes. No curated "identity." Just a place to sit on a stool and drink a cold beer. That's Muser's Pub (6594 Scanlan Avenue, 314-647-0804). The barroom is a big rectangle with a handful of tables scattered across thin blue carpet. Watch a game on TV, or don't. Throw some darts or play shuffleboard if you're feeling motivated. There are no taps. Regulars pour Stag and Natty Light into glasses, delivered without irony by perfectly pleasant bartenders. A frozen pizza is $8. Southern Comfort shots are $2. If you're looking for a bar in Lindenwood Park, Muser's will do the job.
PHOTO BY KELLY GLUECK
CBGB's: Have you tried the gin buckets?
CBGB
Looking to get some teenage kicks?
CBGB
(3163 S. Grand Boulevard, no phone number)
will take punk rockers back to the time when all they cared about was how dirty their Chucks looked and where to find the cheapest beer — and give younger drinkers a taste of the down and dirty fun they missed. Known for its loud and grungy local shows and cheap booze ($1.50 stags and massive $9 "gin buckets"), CBGBs gets patrons ready to jam and slam. It's dark as hell, though the shadows are concealing a decent game area (darts, shuffleboard, arcade games, pinball) to keep you occupied on the slower nights. Heads up to female patrons: the ladies bathroom has no dividers. But what could be more punk than pissing in front of a stranger?

Black Thorn Pub

Dark and nearly entirely covered by graffiti, Black Thorn Pub and Pizza (3735 Wyoming Street, 314-776-0534) is a true hidden gem. Tucked away on a quiet residential street in the heart of Tower Grove South, Black Thorn boasts drink prices on the steep side of dive scene, ranging from $1.75 PBR bottles to $4.75 tallboys. But it's not really about the booze. The alcohol is just here to keep patrons happy while they play games during the long wait for the best pizza in St. Louis. Black Thorn's Chicago-style pies may take up to an hour to procure, but they'll ruin Chicago for you. This deep-dish pizza has a savory, spicy sauce and a full inch of cheesy deliciousness. It's totally, and always, worth the wait.

Stella Blues
If you love the idea of Fast Eddie's, but hate the crowds and that drive east, Stella Blues (3269 Morgan Ford Road, 314-762-0144) is a rockin' alternative. Adorned with neon signs and eclectic memorabilia, Stella's also features a fun patio and a gritty pool room in the back. The cash-only bar is stocked with an array of bottled beers, and while there aren't any fancy cocktails, the bartenders can accommodate staple orders such as gin and tonics and whiskey sours. But though the drinks are less than $5, the real draw here is the kitchen, which is unusually good for such a low-key spot. The Korean pork kabobs ($1 each or four for $3) and beef kabobs ($4) can't be beat.

Super's Bungalow
Look, we know change can be scary, and the south city staple Super's Bungalow (5623 Leona Street) has gone through more than just a few nips and tucks this summer. The recent acquisition by former Adam's Smokehouse pitmaster Alex Cupp brings BBQ to the space via a new food component called the Stellar Hog. But rest assured, the new menu is meant to add to the dive bar ambiance, not take away from its down-low, neighborly feel. The fenced-in corner at Leona and Bates hides the no-frills biergarten, which remains clean and well-kept, while the renovations so far feature a full restoration of the bar to its 1940s glory and brand new hardwood floors. Beer and shots, however, still flow for a low, low rate. Some things never change, even after nearly 90 years.
PHOTO BY JOSEPH HESS
Frank's 1st Alarm has a firefighter theme.
Frank's 1st Alarm

The huge banner for Fireball Cinnamon Whisky is on the nose at a fireman's bar like Frank's 1st Alarm (7800 Virginia Avenue, 314-282-0193). After all, without fires (and fireballs) to fight, we wouldn't need firefighters. There are no man buns or skinny jeans to be seen here, although the hipster set would be as welcome as any other sort of drinker — just expect a sideways look if you order outside the divey standards. This snob-free fireman's haunt is especially old-school, offering karaoke, pool and a well-lit backroom for darts and video-gaming. The wheels may sound a little squeaky and the paint may have started to fade, but Frank's serves its function as a vehicle for cold beer, booze and good company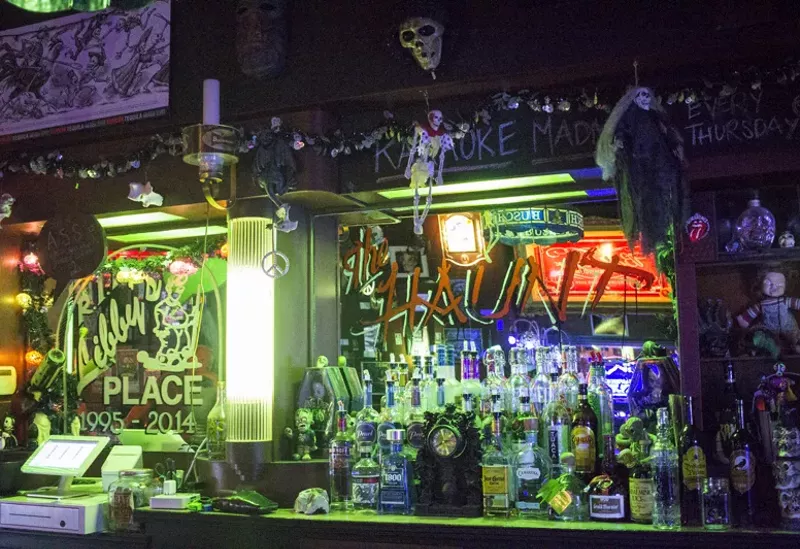 PHOTO BY JOSEPH HESS
The Haunt is a horror-themed dive.
The Haunt

Most dives aim to be anti-kitsch, which would be the polar opposite of the Haunt (5000 Alaska Avenue, 314-481-5003), a horror-themed bar where punk rock is king and gory B-movies fill the screen. The bartender is happy to accommodate those who want to see the game, but how could anyone trade buckets of fake blood for bats and balls? Despite its tiny footprint, the Haunt packs in ear-busting rock bands, with a modest stage in the back of the room. The Busch beer special provides the best bang for a day-drinker's buck: Starting at 11 a.m., buckets begin at $5 and go up one dollar per hour, topping off at $11. Pre-gaming here likely means you'll be too drunk to leave around dinner time, but luckily the Haunt's frozen pizzas from Gallagher Bros are a cut above the rest. And while most patios are rendered pointless once the temp drops, the fire pit in back here provides a spot to have your fresh air and breathe it too.

Jimmy Mack's
In a neighborhood full of bars, Jimmy Mack's (5838 Southwest Avenue, 314-645-5777) is a solid choice for a beer and a ballgame. The wedge-shaped tavern in Southwest Garden is manned by friendly bartenders who pour stiff cocktails and serve frosted mugs alongside canned beers. (Cans are $1.50 on Thursdays.) You'll be immediately recognized as a newcomer, but mind your manners and they'll welcome you back. Help yourself to a mint or step out onto the patio where you'll be surprised to find a functioning fish pond behind a handful of tables. This bar is a bit off the beaten path, but it's easy to spot — a brightly colored mural on an exterior wall depicts a quintet of Missouri athletes raising their glasses. Pour one out for the Rams player on the end.

Pop's Blue Moon
Pop's Blue Moon (5249 Pattison Avenue, 314-776-4200) is about as hard to describe as it is to find. Open since 1908 and largely unchanged since the 1940s, the family-owned gin mill sits in a forgotten north sliver of the Hill, severed from the rest of the neighborhood by Highway 44. That hasn't stopped an endless parade of musicians from finding their way to its doorstep. Inside, the main barroom is lit by pink neons and a collection of lava lamps. It feels a little like a New Orleans blues bar and a little like the inside of curio cabinet, with knick knacks in every corner. A Christmas tree and glowing snowman centaur light up one end of the bar, and you'll pass a quarter-ton bombshell on the way to the bathroom. Pop's is all wonderfully weird and well-worth the effort to find it. Pro tip: Use Pop's location to your advantage during the next big Forest Park event. Leave your car here and walk about fifteen minutes each way. You'll make it back in time to sip a beer while everyone else is stuck in traffic hell.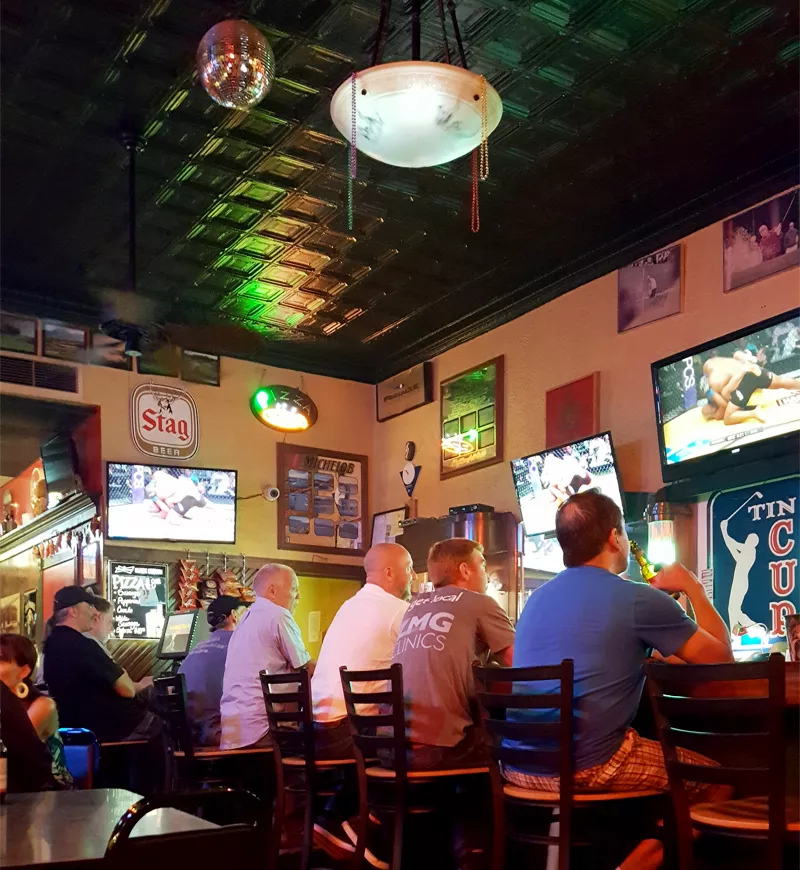 PHOTO BY JOSEPH HESS
Tin Cup: the quintessential south city dive bar.
Tin Cup
In many ways, Tin Cup (518 Bates Street) is the quintessential south city dive, neither markedly grimy nor remotely fancy — and also completely unaffected by current trends or fads. The bar itself remains relatively unchanged, looking very much as it did the day the Anheuser-Busch Company built it. But while many St. Louis haunts look similar on the outside, few are this well-kept. There's a golf theme going on here, but it's very loose; expect anything from the ballgame to UFC on the big screens. There's more variety than the typical pizza fare here too, which works well to absorb all those cheap and boozy drinks.

Hummel's Pub
For old-school bar fare without club-bumpin' bangers or the glitz and glamour of modern drag, Hummel's Pub (7101 S. Broadway, 314-353-5080) stands as a homey gay dive where cold beer is king (and queen). Straight patrons won't get the side-eye even when walking through the backyard, which serves as a well-kept and roomy haunt for the regulars to do what they will. With windows mostly covered, the inside feels safe-guarded from the hum of South Broadway's industrial court. While old-school drag night might be its biggest monthly attraction, Hummel's keeps things affordable with a double dose of karaoke every week, $2 Miller Lites and, on occasion, free food in the form of BBQ and burgers in that spacious, gated backyard.

Turn the page for more south city dives, or skip ahead to your stomping grounds:
— City Dive Bars North of 40
— North County Dive Bars
— South County Dive Bars
— West County Dive Bars
— St. Charles Dive Bars

See also: 25 St. Louis Bars to Suit Every Mood
PHOTO BY DOYLE MURPHY
What a name.
One Nite Stand Dance Club

The One Nite Stand Dance Club (2800 Ohio Avenue, 314-776-0996) has the best name in the business. Located just off Gravois Avenue on the border of Benton Park West and Fox Park, it has attracted more than few first-timers out of sheer curiosity. The other main draw is karaoke on Friday and Saturday nights. Expect a patdown and a once-over with a metal detector wand on those nights. Once inside, the place is bigger than expected. The main barroom is a long rectangle, with a bar on the right and pool table in the back. A ramp leads up to a second area with another pool table and a stripper pole, just in case your rendition of "Sexual Healing" could use a little more juice. The crowd is diverse, although not always comfortably. A Confederate flag was removed from the entrance several years ago, but white and black patrons tend to self-segregate inside the hazy nightclub. You're in for a strange time here, but isn't that why you came?

The Melrose Club
The Melrose Club (5400 Southwest Avenue, 314-644-5288) is the everyman bar of the Hill. The unassuming corner tavern is just a comfortable place drink a Bud Light ($2.50) and listen in on the neighborhood gossip. Regulars include off-duty waiters and plenty of walk-ins, some carrying their own Melrose-branded koozies. Blues Brothers statues perch on top of the back bar and a constellation of action figures and mini spaceships hang overhead, gathering so much dust they've grown furry. We suggest timing your visit to the afternoon showing of Jeopardy! And don't worry if you're the only one in the bar who doesn't know the Maori are the indigenous Polynesian people of New Zealand. They're pretty quick here.

Nick's Pub
Nick's Pub (6001 Manchester Avenue, 314-781-7806) breaks a lot of dive bar rules. The two-story Cheltenham tap house has a rotating beer list of at least 101 brews, the extensive menu includes a veggie wrap and they actually adhere to the new (and widely flouted) city ordinance against smoking in bars. But the prices are solidly in dive bar territory. Make it to this industrial stretch of Manchester during happy hour, and you can buy twelve pints of Stag or PBR for $12 (or one or two for $1 each, up to you). Variations of a $2 special on premium drafts are on offer four days a week, and there seems to be nearly constant shot specials. Nick's has a tendency to look closed from the outside, but low-dollar tabs and an upstairs game room and live music on the (smoking) patio draw a big college crowd who party hard as the night goes on.
PHOTO BY JOSEPH HESS
Stan's Bar.
Stan's Bar

Don't go to Stan's Bar (5007 Macklind Avenue, 314-481-9990) on Saturday night hoping to have a deep philosophical discussion — the karaoke being bellowed by weekend warriors will drown out any attempt at conversation. During the day, though, Stan's can be a great place to hide from the sun or quietly brush up on billiards before the sharks come swimming in. This spot straddles the line between being too sporty for a dive and too divey for a sports bar, welcoming a cross-section of drinkers who love to watch the ballgame yet don't, like, totally bro-out, man. The double-sided bar also offers service in nearly 360 degrees, so whether you're glued to one of the many screens that adorn the brick walls or entranced by America's Most Talented on the karaoke side, don't worry about going thirsty; Stan's keeps the beer buckets full and the ice cold.

A Little Bar
While recent renovations have classed up the joint, Little Bar (6343 Alabama Avenue) remains straight and to the point. You're coming to drink, and this spot has booze aplenty. Really, there isn't room for much else, which is part of the charm here. Given the size — we'd compare Little Bar to a well-appointed utility closet — brushing shoulders with the locals is an inevitability on a busy weekend, so thankfully the painted flag across the ceiling makes for a decent ice breaker. Beer flows cheaply enough that rank amateurs might drink themselves silly and end up picking for pennies through the bartop's lacquer— to no avail, of course. If the cramped quarters seem a little too cozy, the backyard biergarten offers plenty of space to stretch the old legs or shoot the (literal) breeze. And feel free to get vertical in the very climbable tree, although just a word of advice: Don't bring your drink up there.

PHOTO JOSEPH HESS
Red's Eighth Inning has attracted firefighters hats for half a century.
Red's Eighth Inning

That's not a stripper's pole you see when walking into Red's Eighth Inning (6412 Michigan Avenue, 314-353-1084). It's a fireman's pole, which makes sense in light of all the firehouse ephemera scattered throughout the space. Sure, cheap drinks and the bar's patented "leprechaun juice" help loosen everyone up, but we'd bet that the red-headed owner's penchant for charity events is what really brings the crowd at Red's together. While a young crew passes through for ballgames and shot specials, retired firefighters have been (literally) hanging their helmets here for more than half a century. And that means quality people-watching in full effect from weeknights to holidays, when Red's becomes about as kid-friendly as a dive bar can be. The room next door offers opportunities for the kiddos to mingle, so whether it's your "extended" family or your actual family, everyone should feel right at home here.

Weber's Bar
Overheard outside Weber's Bar (6632 Macklind Avenue, 314-352-4001): "Women slip their wedding bands off when they walk through that door!" An older man is quick to retort, "Oh no they don't. Don't say that." The Princeton Heights bar hardly resembles a cougar den. Behind the blank awning, with no signage besides the typical Budweiser lights, Weber's feels like a pure and unadulterated oasis of cheap rails and domestics. The regulars are friendly; you're more likely to be taught how to greet someone in 30 different languages than to encounter an adulterous proposition. Just remember that Weber's doesn't allow for bar tabs at all — cash is king.
PHOTO BY JOSEPH HESS
Lindner's Pub is a south city charmer.
Lindner's Pub

When the owner of Lindner's Pub (2925 Mount Pleasant Street, 314-351-0425) belts out "You know why we're the best bar on this street? Because we're the only bar on this street!" with a hearty laugh, he undersells this special haunt, even in jest. For a building that has decades of history as a dive, most recently under the moniker Ferguson's, Lindner's has grown to be subtly upscale with "gastropub" offerings. Christopher "Tyger" Roth of the shuttered Bad Dog Bar & Grill helped to flesh out the menu in early 2015, elevating the bar's soulful fare — the fried chicken has become legendary. But the inclusion of good food has done nothing to change the homey, communal vibe here, which also features the occasional live band. And of course, they still serve the coldest beer on Mt. Pleasant (if only because, yeah, it's the ONLY beer on Mt. Pleasant).

Behrmann's Tavern
Behrmann's Tavern (3155 Meramec Street, 314-353-9626) proudly claims its status as "possibly the second oldest dive bar" in St. Louis, mostly due to the fact that no one wants to be challenged on calling themselves the first. Over time, this Dutchtown haunt has become an after-work destination for ice cold bottles and a quick burger. The back room is just spacious enough for karaoke and other special events, but don't expect a fancy light show, disco ball or even a modern setup. Low prices keep the place frills-free and fairly liquored up, which is priority No. 1 at Behrmann's. Just don't drink yourself into such a stupor that you lock eyes with the damn near life-sized Undertaker (yes, the wrestler) hanging on the fridge. And if anyone finds themselves desperate for a topic of conversation, might we advocate for a civil discussion about the Confederate flag hanging on the back wall?
River City Pub
River City Pub (7906 Gravois Road, 314-353-9921) sits perched on the city/county line, a smoky gateway to south city via Affton. This lounge-like space is deceptively big, with room enough for your bar-hopping entourage, complete with a backyard to welcome any spillover. Given the not-so-subtle pro team decor throughout, you could mistake this for a down-low sports bar, yet River City Pub feels more like a drunken blank slate, ready to cater to whatever clientele comes stumbling through on any given night. The place even gained a hipster following during its period of karaoke nights hosted by Ali Baba, though the local legend has since given up emcee duties. While you can still sing here, it's the cold beer and cheap shots that keep River City Pub happily afloat.
PHOTO BY JOSEPH HESS
Halfway Haus is not a rehab facility. Quite the contrary.
Halfway Haus

When the weather cooperates, the biker-friendly, roller-girl-supported Halfway Haus (7900 Michigan Avenue, 314-256-0101) opens its garage door, and the patio and atrium become one airy, laid-back barroom. Don't think of its name as a reference to rehab; instead, this spot nestled in Carondelet actually resembles half of a house. It's hosted many a bar for its eight decades. The Haus opened in 2011 to bring a "musical intervention" to the historic haunt, so don't be surprised when bands, duos and solo acts drown out the sound of the ballgame — something that would have never happened in the sports bar that occupied the space previously. You can't buy a bucket of beer here without a bevy of shots to go with, and we suggest taking full advantage of the drink offers that differ depending on the night (and the game on the TV). Just don't take the bartender's heavy hand for granted; make your pleasure known with a generous tip.

Club Paladora
If the staff doesn't like the cut of your jib, most dives will show your rude ass to the door, but at Club Paladora (5620 S. Grand Boulevard, 314-353-7790), they're much more likely to stuff that attitude with jello shots to your face. Alcohol is the medicine to heal all ailments, and bartenders here are happy to administer cocktails that taste like candy or hard liquor, straight and to-the-point. Grease those squeaky wheels before a night of karaoke on Friday or just loosen up before Texas Hold'em on Saturday. Not need for a poker face here — the seasoned vets here see right through your greedy veneer. Club Paladora caters to ages 21 through 91, and the older, wiser set seems more than willing to pass their knowledge on before leaving, which seems a bit poignant when you watch them walk to the funeral home across the street — the bar's unofficial parking lot.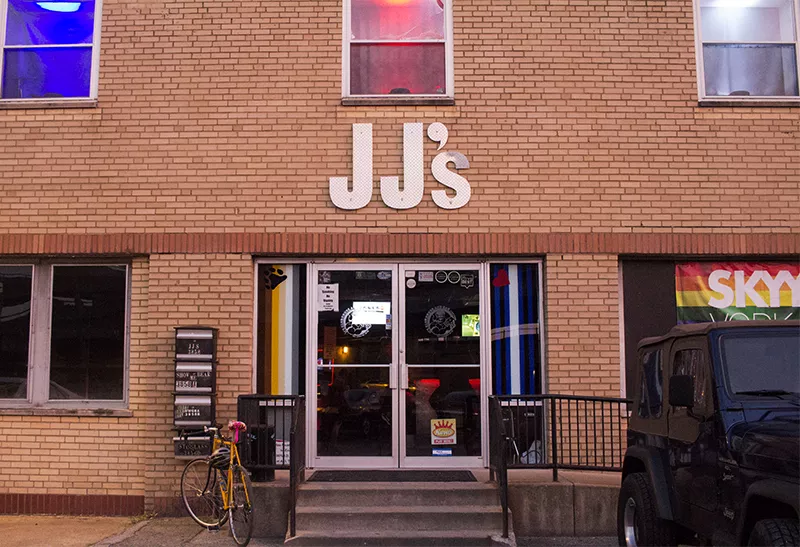 PHOTO BY JOSEPH HESS
JJ's Clubhosue is just south of 40.
JJ's Clubhouse

Open most days from 3 a.m. to 3 p.m. for patrons of any orientation, JJ's Clubhouse (3858 Market Street, 314-535-4100) stands as St. Louis' longest running "bear leather" bar, playing host to competitions such as Mr. Heartland Bear and, of course, the International Puppy Contest, where aspiring young pups can strut their stuff. Yet through the week this gay dive offers more laidback fare with cheap cans and cocktails — a shot of "Kactus Juice" makes JJ's feel like the oasis that it truly is, tucked under highway 40 and hidden away from the muss and fuss of the Grove nearby. Within these walls all should feel welcome, regardless of race or gender (it's part of the ethos here). And if you're feeling self-conscious for your own lack of leather, there's a pop-up shop to help with that.

Silver Ballroom
The Silver Ballroom (4701 Morgan Ford Road, 314-832-9223) could easily be a locale in the '90s Teenage Mutant Ninja Turtles movie, in which an aging member of the Foot Clan leaves his life of crime behind to be a barkeep and surrounds himself with the beer, punk and pinball of his sordid youth. Despite the divey veneer, the Pabst-laden bar (ahem, Retox Center) conceals some marvelous secrets: Australian meat pies, craft drinks and a few worldly bartenders who are well-versed in specialty cocktails. If the jukebox doesn't earn enough punk points for its selection of punk rock standards, take a closer look at the bar itself — the Ballroom's DIY ethos shines from top to bottom with a history lesson through the 400+ show flyers from St. Louis' punk past plastered throughout. And make no mistake, the game room is run as a high-grade pinball arcade, with nearly twenty pristine machines kept on constant rotation, ranging from old Williams and Bally mainstays to newer, licensed fare — just keep that Stag tallboy on a side table.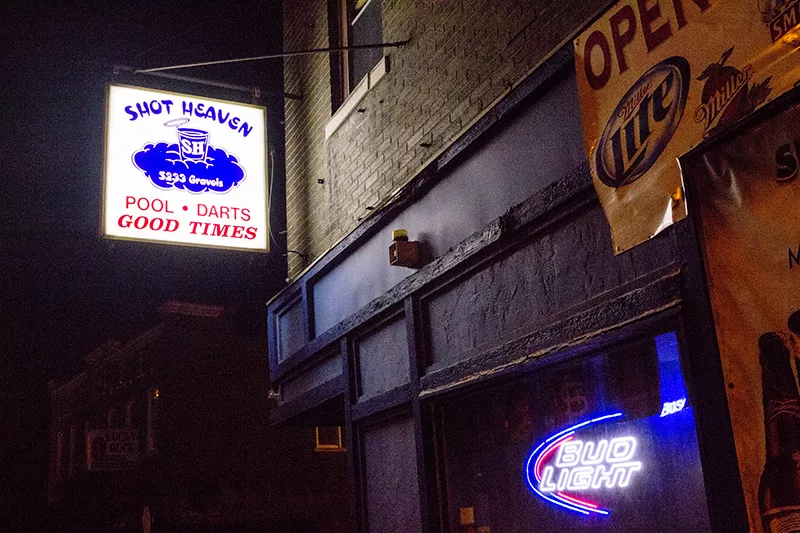 PHOTO BY JOSEPH HESS
Shot Heaven is a low-key dive.

Shot Heaven

With dim lights, low ceilings and a bevy of bad or good choices behind the bar, depending on your perspective, Shot Heaven (5233 Gravois Avenue, 314-351-9606) hits every item on the dive checklist, if there was such a thing. Besides billiards and the deceptively difficult claw machine that advertises "ADULT TOYS" with a cheeky sign, the bartenders like to play another kind of game: They will challenge you to pick blindly, eyes closed, from their packed book of shot combinations. While not for the faint of heart (or those with a weak stomach), the game isn't mandatory — but it will earn you a badge of honor and a good buzz to boot. The shot selection is what you might expect of a haunt called Shot Heaven, which also boasts some of the cheapest booze in Bevo Mill. Self-conscious singers will be happy to know that the tiny stage, complete with a shining disco ball, is tucked behind a wall, there for those who hope to hone their karaoke craft without a skeptical audience.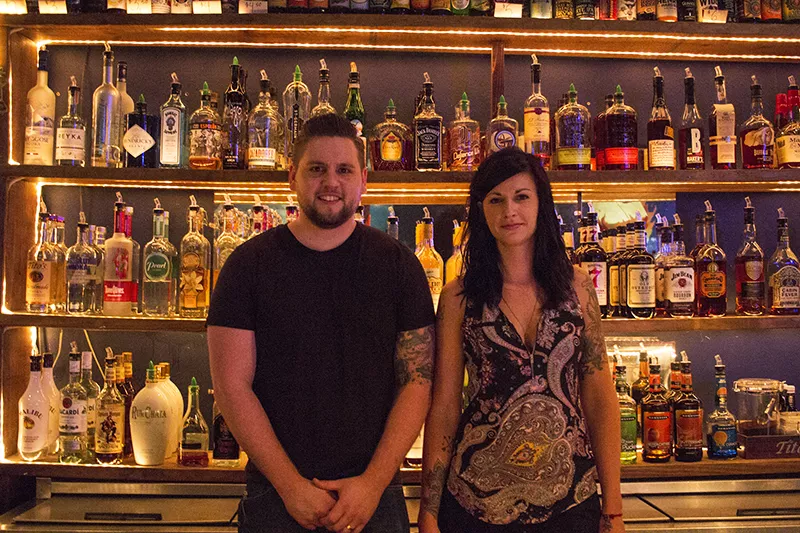 PHOTO BY JOSEPH HESS
The Heavy Anchor's Joshua Timbrook and Jodie Whitworth.
Heavy Anchor

Run by '80s babies, yet equally appealing to those born before the Reagan era, the Heavy Anchor (5226 Gravois Avenue, 314-352-5226) barely qualifies as a dive because of its size and relative, well, cleanliness. But the hallmarks of any good watering hole worth its weight in booze are here: Trivia, movie night and karaoke fill every night that isn't booked with a solid selection of indie, punk and rock bands along with the many in-betweeners in the local music scene. Those with a distaste for live and loud sounds should take heart: the bar and stage are divided by a garage door, which only opens on rare occasions. The bar itself is balanced with an ample supply of domestics and the tools for a good, simple cocktail — ask about their take on an Old-Fashioned. Tread lightly around the shuffleboard, it's one of only a few in town that is regulation-size, so expect stiff competition. We're only half-joking.

Sophie's Place
If you're a raging alcoholic or just a third-shifter looking for an after-work beer, Sophie's Place (2815 Watson Rd., 314-645-4033) is the place for you. The two-sided Clifton Heights bar opens at 7 a.m. for sun-up drinking. Prices are reasonable for a dive bar, verging on ridiculous if you stick to the long list of daily specials. Tuesdays, for example, offer $2 rails. Pretty good, right? And the drink comes in a goddamn pint glass! So gather your dollar bills, order an irresponsible amount of liquor at the long bar and wander over to the other half of Sophie's to play some early morning pool. You'll pass a baffling amount of pirate-themed decorations and plenty of televisions, which will be useful if you make it to first pitch. There's also one of those coin-operated claw games where you can win a stuffed bear, because why the hell not? Stay until 1:30 a.m., sleep a few hours and do it all over again.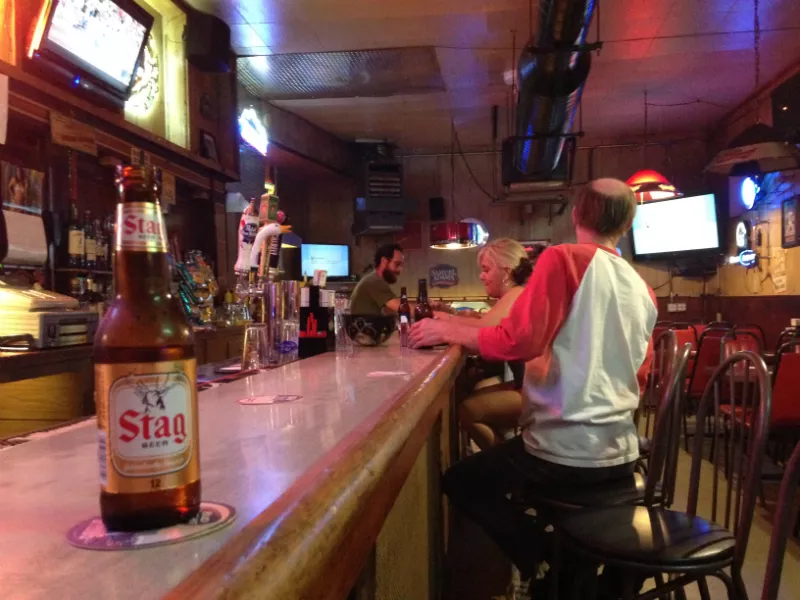 PHOTO BY DOYLE MURPHY
The Iowa Buffet is not a buffet.
Iowa Buffet

Three blocks south of the ever-evolving Cherokee Street district is the blessedly never-changing Iowa Buffet (2727 Winnebago Street, 314-776-8000). Glass block windows, old-school Budweiser lights — most of which worked on our recent visit — and some scruffy wainscoting give the Gravois Park establishment a 1970s feeling. There is no buffet, but a pretty solid cheeseburger cooked on a small broiler at the end of the long bar costs just $3. Come back on Saturday when they barbecue out back. (You like pork steak, right? Of course you do.) The customers include a mix of hipsters who've wandered south and old man regulars from the neighborhood. They'll make you feel comfortable, especially if you don't ask them to change the channel when auto racing is on. Drink for cheap with $1.75 bottles of Stag or a $2 Busch. If you want to take the party home, feel free to buy a half pint of Rich & Rare whisky for $3.75 or drop $6.50 on Seagrams.
North City Dive Bars (North of 40)


PHOTO BY KAVAHN MANSOURI
The Crack Fox is downtown's sole dive.
Crack Fox
You can let your freak flag fly at the Crack Fox (1114 Olive Street, 314-621-6900) and get drunk while doing so. With a long-standing reputation as a haven for all things off-kilter and strange, the eclectic downtown dive has been known to host everything from burlesque performances to punk shows to EDM nights, gathering up as many freaks and weirdos as possible and packing them all in under one roof. Bigger than it looks from the outside, the grungy quarters include a stage, a huge bar and several arcade machines towards the back. You couldn't miss the wall filled with boudoir photography of scantily clad women if you wanted to. Not too many cities can boast a bar that combines dive values with goth culture, but it just goes to show what they're missing.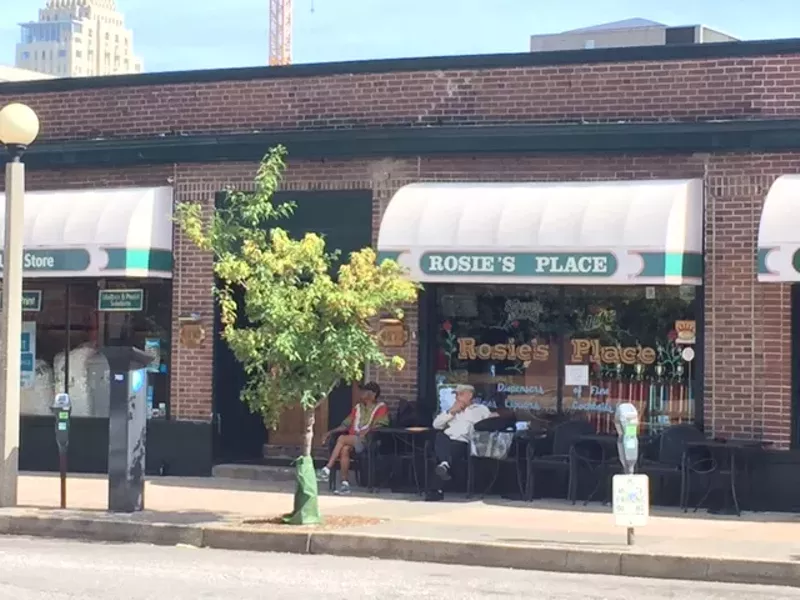 PHOTO BY SARAH FENSKE
You will know Rosie's Place by the smokers out front.
Rosie's Place

Now that the late, great 34 Club has been forced out of its longtime home on Euclid and the venerable J & A's has been closed for renovations, there really is but one choice in the Central West End for serious drinkers, and that's Rosie's Place (4573 Laclede Avenue, 314-361-6423), the wonderfully good-natured spot just across the street from a host of the neighborhood's finest restaurants (Brasserie, Taste Bar, Wild Flower). Rosie's is so warm and welcoming that you might assume it's not really a dive bar — especially since its deference to the city's smoking ban means that the horde of chain smokers who once filled it have moved outside. (You 'll get a reminder of what you're missing as you walk past their picnic tables just outside the front door.) But it's not just the clydesdales decorating the bar back that let Rosie's continue to straddle the neighborhood/dive bar line. The ramshackle unisex bathroom, with its duct-taped toilet and commentary mocking a bartender interviewed by the TV news about a neighborhood gas leak ("We walk into the business to open it up and wham bam in your face it was bad!") are delightful clues that this is not a place in danger of ever taking itself too seriously.

Playboy Cappuccino Lounge
If you visit the Playboy Cappuccino Lounge (8500 N. Broadway, 314-869-4098) to purchase a foamy caffeinated beverage, you've just made the best mistake of your life. Because they don't serve cappuccinos at the Playboy Cappuccino Lounge; no, what they have here are cold beers, golden shrimp, a place to set your glass and a jukebox slamming soulful blues cuts as fast as you can slam another down the hatch. As for the evocative name: The story behind it may have drifted into time, but regulars will point to black-and-white picture of the bar's late founder hanging off the wall. The original playboy, they say. Whatever it was that inspired him, it's not the name that makes this bar such a beauty. It's the smell of sizzling shrimp, a welcoming gesture from an old-timer and a drink that'll set your spine straight. That's the legacy of a true playboy.


PHOTO BY BEN WESTHOFF
Beulah's is dive bar nirvana in north St. Louis.
Beulah's Red Velvet Lounge
The eponymous proprietor of Beulah's Red Velvet Lounge (4769 Dr. Martin Luther King Drive, 314-652-6154) won't reveal her age because ladies don't do that, but she will say she's owned the place for the past 30 years and hopes to stay open 30 more. The space is basically right out of an episode of Hoarders, but one characterized by merriment and whimsy instead of stench and despair; there's a random crocheted tablecloth, a big old inoperable television, a stopped clock, a fan missing its grate, mismatched chairs, a plate on the wall, all manner of fake flowers, and an overflowing bucket of cues next to the pool table (upholstered in red, of course). Even when Beulah's is empty, it's crowded, but there's still enough room to party, as evidenced by the raucous blues shows that take place here. The vibe is something like a David Lynch movie, if Lynch inhabited the fourth dimension. Pure dive bar nirvana.
PHOTO BY BEN WESTHOFF
The Other Place sometimes offers a free buffet.

The Other Place

You've been there and done that. Now it's time to comes to the other place," reads the awning banner at the Other Place (5084 Dr. Martin Luther King Drive, 314-728-5994). Around the corner from the Victor Roberts Building, just across from Sherman Park, the spot is housed in an immortal red brick edifice adorned with hand-painted martini glasses, fabulous retro Coors signs, and a faded ad for a long-gone upholstering company. Inside the smoke is thick and the green, red, and blue bulbs in the chandeliers indicate it's time to get loose. The crowd, veering toward middle age, jams to hip-hop that's a few years old. The drinks aren't cheap, but $7 gets you a glass of almost entirely gin, with only the tiniest splash of tonic. There's also sometimes a free buffet: mashed potatoes, green beans, corn, and two types of chicken wings were on offer during a recent visit. Advises the guy manning the station: "Eat up, don't waste it."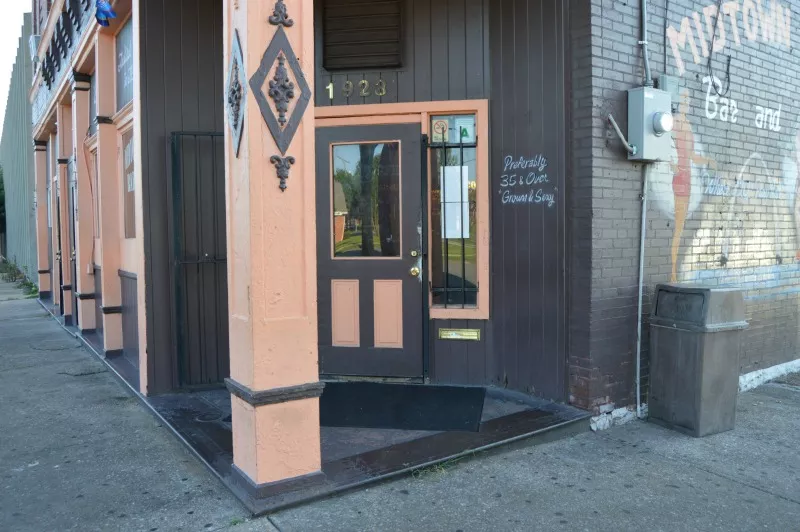 PHOTO BY BEN WESTHOFF
Best be "grown and sexy" if you wish to visit Midtown Sports Bar and Grill.
Midtown Sports Bar and Grill

Preferably 35 & Over — 'Grown and Sexy'" reads an airbrushed advisory near the door to Midtown Sports Bar and Grill (1923 Prairie Avenue, 314-954-0204 or 314-440-8781), a north city bar just steps from Rumbold Park. For those mature enough to have experienced the Carter years, it's a comfortable, even stylish spot, where the lamps on the bar come in the form of a leopard print stiletto heel or a bottle of Grey Goose. In addition to grown and sexy, it also helps to be adventurous in your culinary habits; pig's ear is on the menu for $5, and bags of pork cracklings are for sale, either in plain or BBQ flavors. More standard fare like fries and wings are also on offer, not to mention free fish every Thursday night as long as you buy a drink. With a pool table, electric darts and a computerized juke box, Midtown Sports Bar and Grill is legit. Don't just take our word for it; local publication St. Louis Nights Magazine named it "Best Thursday (City)" in 2013.

Marsha's LTD Bar & Grill

Not far from the home of the late, unlamented St. Louis Browns, Sportsman's Park, off a stretch of Grand Avenue where white people seldom go anymore, you'll find Marsha's LTD Bar & Grill (3501 Kossuth Avenue, 314-534-9044), a jolly after-work spot where they play progressive R&B music extremely loud. The sign behind the bar advises customers to "PAY WHEN SERVED" and one hanging above the corner of the bar marks the area for secrecy: "What's said here stays here." The darts trophies are two-feet tall, cigarettes from the machine in the back are $6.50, and the free food (served Mondays and Tuesdays, when the kitchen's closed) looked a bit grim on our recent visit. The bartender, one suspects, controls the playlist, because she knows all the words.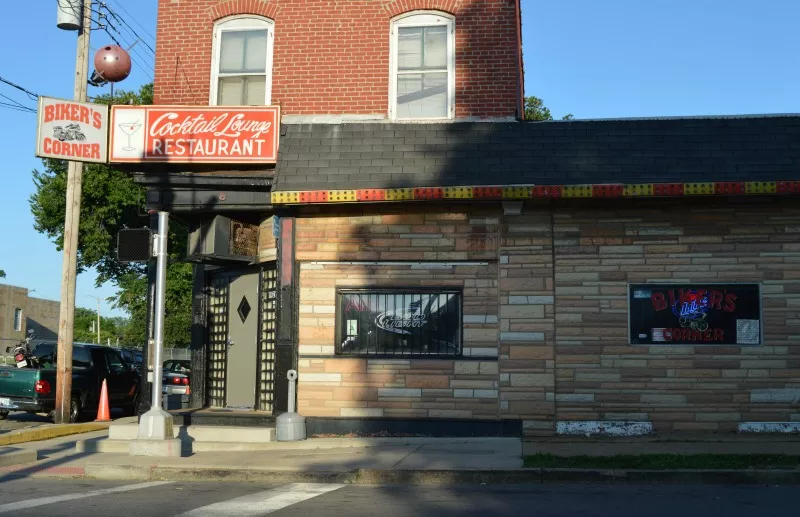 PHOTO BY BEN WESTHOFF
Biker's Corner is the tidiest dive you'll ever find.
Biker's Corner
The slogan at Biker's Corner (1924 N. Vandeventer Avenue, 314-535-5250): "It Ain't That Bad!" It's true! A tidier dive bar you'll never find. This well-kept north city spot boasts fantastic wood paneling, unique glassware, and Coors globe lamps that could be in a museum. The music comes from a bygone era — old soul and doo-wop — and the patrons at the bar are old enough to have experienced it when it was new. Things get livelier on the back patio, which boasts a powerful speaker system and spots to park your hog close by. We wouldn't call Biker's Corner unwelcoming, exactly; it's a spot where everybody knows your name, so long as you're a Harley driver or someone who loves one. Others should be advised of the sign in the main room: "No Standing No Sitting Without a Drink No Exceptions."
PHOTO BY DANNY WICENTOWSKI
Gregg's is one of the few options for dining and drinking in the near north riverfront.

Gregg's Bar and Grill

An island in a sea of factories, the dreary brick building that contains Gregg's Bar and Grill (4400 N. Broadway, 314-421-1152) hides a veritable St. Louis treasure. Here, you'll find a dive bar that's cleaned itself up for its hard-working patrons, the construction workers and cops who ply their trades in the nearby north city neighborhoods, an area generally bereft of food and drink options. At Gregg's, the scuffed wooden booths are clean, the tables well-lit and the waitresses friendly. The menu sags with hearty staples like catfish, rib-eye steak and a pulled pork sandwich that'll make your soul shudder happily in your chest. Most St. Louisans may never find a reason to venture into the industrial wasteland on the near north riverfront, but you won't regret making this pilgrimage. And that's the thing about Gregg's: One visit is never enough.

North County Dive Bars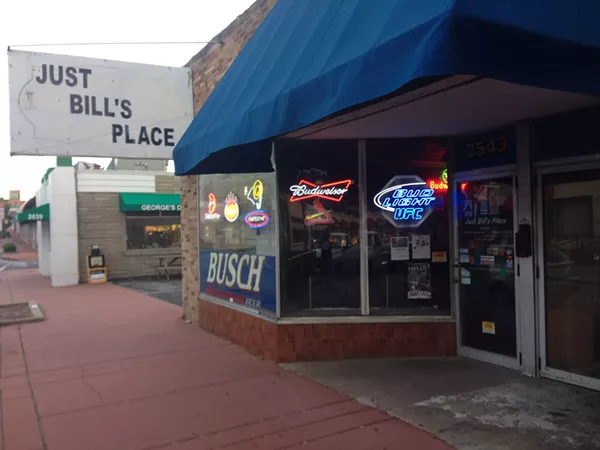 PHOTO BY DANIEL HILL
The sign says it all.

Just Bill's

Located in the heart of scenic downtown Overland at the intersection of Woodson and Midland (OK, maybe not that scenic), Just Bill's (2543 Woodson Road, Overland; 314-427-2999) is as true-blue a dive as you can get. Just head on into the bathrooms if you need proof. There you will find some of the most creative/appalling graffiti in town (a splotch of errant red paint in the men's room has a note written next to it reading "Sorry about the accident" and marked with a lady's name — so, super classy). Meanwhile the drinks are dirt cheap (if you don't fear the bottom shelf, a fiver will get you a beer, a mixed drink and most of a tip) and owner/bartender Robin Field won't even complain if you get too sloshed and start drunkenly calling him "Bill." What really makes Just Bill's stand out, however, is its stage and venue area. Though often underutilized, the space makes for a great place to perform or to watch others do so, and it has hosted plenty of excellent acts over the years, including a stop this summer by legendary punk band the Queers.


PHOTO BY BEN WESTHOFF
The Block House Saloon is as the name says.
Block House Saloon
"I'll never go home. I'll be up here drunk every day," says an older fellow clad in a blue button-up shirt sans unnecessary sleeves. He is deep into what is probably not his first bucket of beers for the day, and it is only just past noon. The other patrons at the Block House Saloon (8124 St. Charles Rock Road, Vinita Park; 314-429-2279) remark that he's already getting rowdy, working to keep him in check with the kind of camaraderie that comes from years spent day-drinking together. It's the perfect place for such an activity. A tiny bar off St. Charles Rock Road on the outskirts of Vinita Park, the Block House Saloon is the very definition of a "hole in the wall." A small handful of tables are crowded together in the center of the bar's lone, tiny room, and electronic darts, Silver Strike Bowling and a jukebox line the walls. Somehow there's a single pool table stuffed in there, which patrons crowd around over Bud Lights during the nighttime hours, but which sits unused when the sun shines. There is no time for pool now — there's work to be done. One bucket, please!

Rhonda's Place
If not for the pole in the corner of the room, surrounded by mirrored walls and framed in blue rope lighting, Rhonda's Place (10528 Page Avenue, Overland; 314-423-0633) would be largely indistinguishable from any other north county dive bar — albeit one where the ladies in the house seem to be a bit under-dressed. A TouchTunes jukebox here, a pool table there, a Golden Tee machine (of course!). But Rhonda's gets extra points for being one of the only St. Louis-area gentlemen's clubs (read: pastie bars) this side of the Mississippi. The atmosphere is as relaxed as you'd expect from any great dive, with the employees mingling in a less-than-overtly-sexual way with their patrons, shooting pool or just shooting the shit in between dances. Drinks are dirt-cheap, too — freeing your singles up to pay for the night's entertainment.

Waiting Room
Don't look for a jukebox at the Waiting Room (10419 St. Charles Rock Road, St. Ann, 314-890-8333) — the unwashed masses simply cannot be trusted with something as important as the soundtrack to this St. Ann watering hole. Most accurately described as a punk-rock dive bar (the name is a reference to the Fugazi song), the Waiting Room could also be thought of as a charming little chunk of south city dropped into the middle of north county. Its closest city counterpart would be the Silver Ballroom — indeed, the two bars' proprietors are friendly, even sharing and swapping out pinball machines (and engaging in rather competitive touch-screen rivalries). The drinks are cheap and plentiful, the mood is low-key and inviting, and the bartenders are friendly. The latter are also the ones responsible for the music you are listening to. Don't you forget it.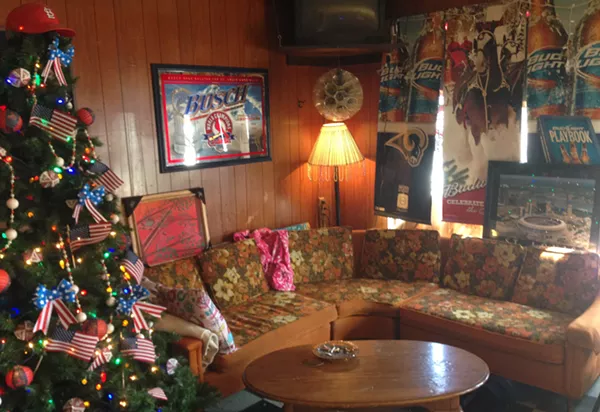 PHOTO BY DANIEL HILL
San Bar Tavern: Just like your living room, only cooler.
San Bar Tavern
For more than 50 years, the San Bar Tavern (9441 Lackland Road, Overland; 314-427-9750) has been a welcoming go-to for thirsty residents of Overland and beyond, slinging cheap drinks in a warm, inviting atmosphere. And for 26 of those years, owner Kay Genail has been helming the ship. Charming and kind, Genail has decorated her bar to her own unique and quirky tastes. That means a seriously impressive collection of Cardinals bobbleheads, a fair number of beer signs and even a living room area complete with a sectional couch that Genail refers to as "the VIP lounge." She says most of her patrons walk here from their homes, and she's quick to tout the bar's history, pulling out a weathered map, dated 1903, that shows the area's property lines as they stood more than 100 years ago. "I really should frame this so it doesn't get all booger-y," she remarks. Frame or no, the map is just one piece of proof that this delightful watering hole is here to stay. Here's to another hundred years, San Bar.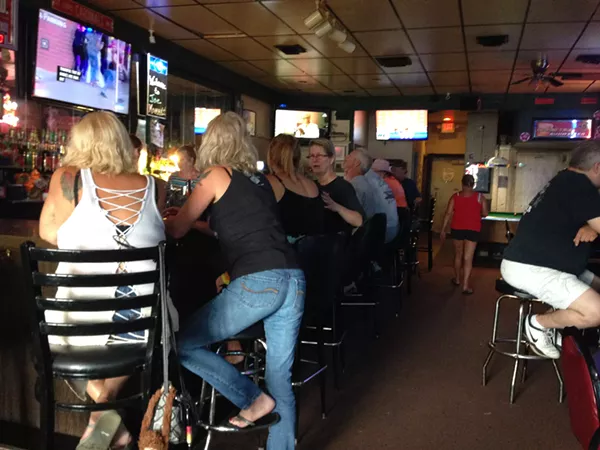 PHOTO BY DANIEL HILL
Joe Momma's is at that fine point where biker culture meet dive bars.
Joe Momma's

Biker culture and dive bars tend to go hand in hand, so it stands to reason that some of the best dive bars have motorcycles inexorably woven into their identity. Joe Momma's (27 N. New Florissant Road, 314-830-0480) claims to be a sports bar, and the handful of TVs playing the game (not to mention the great deal of Cardinals memorabilia covering the walls) bear this out, but the most striking decoration in the whole room is a neon Budweiser sign depicting an eagle with flames for wings over the words "Sturgis '06." A quick glance around yields more clues: a guy in a Donnelson Cycles T-shirt here, one clad in a Harley shirt over there. Don't mistake these two-wheeled vehicle enthusiasts for the roughneck Sons of Anarchy variety, though; the regulars at Joe Momma's are warm and friendly, quick to remind you to grab your coasters when grabbing drinks from the bars and happy to strike up a conversation with a stranger. The drinks are strong too — probably the heaviest whiskey-and-coke pour in town — so bear that not-so-sobering fact in mind before heading to your car to leave. Oh, and as the sign on the front door says: Watch out for motorcycles.
PHOTO BY DANIEL HILL
The Office is a good bar — or a good explanation for why you're late for dinner.

The Office

You could forgive first-time visitors to the Office (9612 St. Charles Rock Road, Breckenridge Hills, 314-423-6500) for being a bit confused. From the outside, the place almost looks like a house — reaching for the doorknob, you may fear stepping into someone's living room. That moniker doesn't help either — the building is shaped like your home, named after your work and you can buy drinks in here? A bartender, though, explains that any confusion is entirely intentional. Picture yourself sitting at the bar, knocking back a few, when your phone rings. It is your significant other, wondering where you are and why you aren't home yet. "Well, honey, I'm still at the Office," is your reply — and technically a true one. The Office hosts karaoke nights on Monday, Wednesday, Friday and Saturday, and a horseshoe league out back on Wednesdays. Electronic darts, pool and Silver Strike Bowling offer entertainment for the restless, while the four TVs on the wall display the local sports games. A cozy dive with a charming neighborhood feel and good times to spare, the Office is probably nothing like either your office or your home. And isn't that a good thing?

BJ's Bar and Restaurant
There are few more blatant signifiers that you're in a bar of the "dive" variety than a loud and avowed love of Stag beer. It stands to reason, then, that BJ's Bar and Restaurant (184 Washington Street, Florissant; 314-837-7783) fits that bill — the giant, beautiful Stag awning on the front of the building is a dead giveaway. Other, less obvious signs lurk within as well: the makeshift convenience store behind the bar (only $22 for a gallon of Ten High whiskey, but be sure to grab some of that Alka-Seltzer too); the decor (weathered wood, beer-can airplanes, an American flag hanging beneath the TV in the corner); bartender Richie King's gregarious-but-no-nonsense demeanor ("Please don't use your full power to fuck up my shit," he calls out to a couple of intoxicated ladies playing darts in the corner) — all point squarely at "dive bar." BJ's has an unexpected ace in the hole that separates it from the rest, though: a full and delicious menu, including some of the finest pizza in the entire metro area. King says the bar, which has been owned by his family for 60 years (his grandfather James Russell, who passed away this year, represented the "J" in the tavern's name) keeps drinks cheap and wildly tempting (read: strong, bottom-shelf drinks) so as to underwrite the kitchen's fresh, quality ingredients. We'll drink a Stag to that!

Charlack Pub
Charlack Pub (8334 Lackland Road, Charlack; 314-423-8119) is a bona fide north county institution. The cozy little dive, situated just off St. Charles Rock Road, is a long-time haven for lovers of motorcycles (a recent Saturday night saw more than 30 bikes parked in its small lot, a not uncommon occurrence) as well as north county dwellers looking for a stiff drink at a cheap price. A small stage in the corner regularly hosts live bands for an audience seated at a handful of small tables, while a TouchTunes machine kicks out the classic-rock jams when that stage is empty, though owner Judy Breeding still laments losing the old-fashioned, curated jukebox that it replaced. Along with her husband John, Breeding opened the spot in 2000, the two of them operating together in a hands-on fashion that has won them serious customer loyalty over the years and a strong reputation as a go-to drinking destination. John passed away two years ago and Judy helms the ship alone now, but she insists that "aside from losing my partner and my husband of many years, nothing has really changed." That means cheap drinks, great music and good times had by all who walk through the doors. Long live the Charlack Pub.
PHOTO BY DANIEL HILL
Don't let the cute exterior fool you ... inside is a drinker's paradise.

Bunker's Tavern

Don't let its spot on the National Register of Historic Places (as Weidinger's Tavern, circa 1900) or its beautiful, spacious patio fool you: Bunker's Tavern (297 Rue St Francois, Florissant; 314-837-2601) is a dive bar through and through. When you attempt to pay for your drinks with a debit card and your bartender says "cash only," sardonically adding, "Is this your first time here?" — you know you're home. Add to that the decal on the bar's mirrored backsplash that reads "Don't Wine; It's Beer Time." Or the sign above the ladies room that says "Cougars Crossing." Hell, even that magnificent patio (perfect for people watching and summertime drinking) has delicious dive-bar charm to it: Ancient beer signs cover everything like wallpaper, and an outdoor port-a-potty serves as low-rent additional facilities for when nature calls — just like our turn-of-the-century forefathers would have wanted it.
South County Dive Bars
PHOTO BY CHERYL BAEHR
J & R Saloon now houses Memoreze.

Memoreze at J & R's

Way south on Lemay Ferry, where the road splits off to the Old Lemay Ferry spur, the pavement gives way to a gravel parking lot. It's a fitting entrance to Memoreze (5523 Old Lemay Ferry Road, 314-487-5619), the latest name for the wood-paneled drinking outpost that got its start in 1898 as a gathering spot for travelers making their way east to St. Louis. Today, though, it's the locals who frequent this smoke-filled watering hole. There's darts and shuffleboard and pool, but the real draw is Keno, a state-licensed gambling game that harkens back to the bar's days as a saloon. That and the vodka-soaked cherries, sold three for a dollar.

Fergie's
Forget the notion that a dive bar can't serve food. Fergie's (1699 Lemay Ferry Road, Lemay; 314-638-6387) has. For nearly 30 years, this deep-south county drinking establishment has been feeding its army of regulars some of the city's best fried chicken in an unassuming room that looks like a church basement (complete with a server station topped with a checkered tablecloth and a Crock Pot). Yeah, all of the classic dive trimmings are here — the Busch signs, the dim lighting, the seating that is barely a step above card tables and folding chairs. But that faint smell of old cigarette smoke mingled with fryer grease is a telltale sign that this place is about more than just shots of Goldschlager. Oh sure, you can get those here, no problem, but we guarantee they'll be all the more tasty when used to wash down some fried bird.

Crossroads Bar
This part of south county may have seen a makeover in recent years — the Bed Bath & Beyond, the Starbucks, a handful of chain bar and grills. But Crossroads Bar (11440 Concord Village Avenue, Affton; 314-842-7009) stands as a reminder of the neighborhood's humble roots. It's an old-time bar likely to weather a facelift as badly as, say, Mickey Rourke, and so it's a blessed relief that the place hasn't changed much since opening more than 30 years ago — which explains the Spuds MacKenzie statue that still figures prominently in the decor. He's there, along with the wood paneling, the obligatory Budweiser Clydesdale chandelier and the cigarette smoke that just won't go away. Hey, you try telling the old-timer in the American flag suspenders that he can't smoke anymore and see how that goes.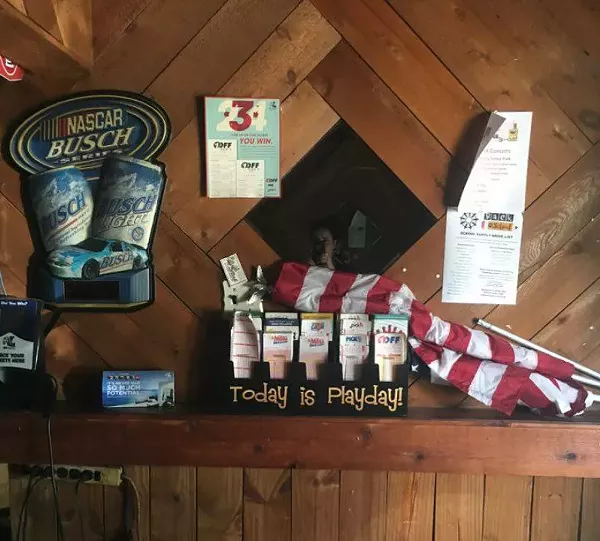 PHOTO BY CHERYL BAEHR
Fireplace Bar located is in an old shack — yes, really.

Fireplace Bar

South on Big Bend Road, just a little past Kirkwood but not quite to Valley Park, the signs for Tree Court Industrial Park lead you down a small road and under an old stone one-lane railroad trellis. This is the way to Fireplace Bar (3377 Tree Court Lane; 636-825-1908)? Surely GPS has gotten it wrong. Then a rickety wooden sign that peeks out from the brush like an advertisement for sleep-away camp announces the off-the-beaten path watering hole. You veer right, down a gravel road and under the cover of thick trees and there it appears: the old wooden shack with its faded sign, overgrown landscaping and clapboard facade that makes you wonder if there's indoor plumbing. There is, but from the outside, the only sign of civilization is a neon Busch beer sign that hangs in one of the smoke-coated windows. The inside reeks of stale beer, cigarettes and bad decisions set to a karaoke soundtrack that likely includes Ram Jam's version of Black Betty. The playlist may have changed quite a bit since Fireplace Bar's hunting lodge days in the 1940s, but not much else has.
West County Dive Bars
PHOTO BY CHERYL BAEHR
"A year of luck for a buck"? Try Clancy's ceiling.
Clancy's

When the Clancy clan first staked its claim on the corner of Old State and Manchester, the roads were brick. Times have changed, but not much else has at the place they founded, the aptly named Clancy's (40 Old State Road, Ellisville; 636-391-6154). Built as a summer home, the place was converted to an Irish pub in the 1970s by family patriarch Frank Clancy. His photograph is lacquered to the corner bar top, under the ceiling of hanging dollar bills that he started as a tradition. "A year of luck for a buck" is how the old saying goes, though just bellying up to this classic bar and sipping a Guinness is enough to make you feel fortunate.


Village Bar
Through the tiny front door window at the Village Bar (12247 Manchester Road, Des Peres; 314-821-4532), you can glimpse the outlines of upper-middle class suburbia: a fancy mall, a high-end yoga studio. They appear dreamlike — in part because the cigarette smoke stains on the glass blur the view, but mostly because they seem a lifetime away. They're actually two lifetimes away. Erected as the first building in the area back in the 1800s, the Village Bar's outdoor barn has been around since Manchester was a dirt road. The bar's current digs, a wooden storefront that faces the road, has been a watering hole for Des Peres residents since 1948 — well before it became an "it" zip code. The bartender, Rich, hasn't been there that whole time, but he's clocked more than a couple of decades and has watched time leave the place behind — which is exactly why it's so beloved. The cheap burgers and best-in-town onion rings don't hurt either.

Bones French Quarter
Don't be fooled by the name. Ballwin's Bones French Quarter (14766 Manchester Road, Ballwin; 636-391-8293) is not a little slice of NOLA in the middle of west county. It's more like the Mardi Grad theme party you'd hold in your parents' basement using dollar store finds — cheap beads, a random porcelain mask, some green and gold foil streamers. That laid-back vibe is exactly what the regulars love: the feeling that they're invited guests at a party in their best friend's semi-finished lower level. For 60 years, Bones French Quarter has been the area's self-described "neighborhood dive that's not too dive-y." The bartenders and customers have known each other for years, but they're always happy to welcome a new face — or fill it with a chilled shot of Jager.
PHOTO BY CHERYL BAEHR
Krueger's is as close as it gets to a dive in Clayton.

Krueger's

Before you get huffy and insist that Krueger's (7374 Forsyth Boulevard, Clayton; 314-721-9965) is not a dive, consider the neighboring environs. This is Clayton — a zip code that put more importance on pulling up in a leased BMW than it does in keeping a bucket of Bud Light properly iced. Krueger's, which has been open since the mid-1930s and under the same ownership since '46, is as divey as it gets in this part of town, but in the best possible way. Even though Clayton's smoking ban means the haze of nicotine has lifted, it's low-key where other bars are snooty, friendly where they'd prefer to pose. It has dingy lighting, an unfussy beer selection, and an atmosphere so thick with the smoke of years past you'd think someone was lighting up right next to you. Don't even think of asking for a craft cocktail — there are a hundred places within walking distance for that, and this isn't one of 'em. But that's what makes Krueger's such a breath of fresh air for those who just want to kick back. Every city should be so lucky to have a bar like this.
St. Charles Dive Bars
PHOTO BY KEVIN KORINEK
Cocked-hat bowling your jam? You can do that in St. Charles.

Corner Ba
r
Aptly named, the Corner Bar (571 1st Capitol Drive, St. Charles; 636-724-9608) is the oldest dive bar in St. Charles, and it's got the history to prove it. The two-story brick building was erected in 1860 and was first used as a military academy for boys that would host occasional dances for Lindenwood students, back when the latter was an all-girls school. In 1875, it was converted to a bar and restaurant and a three-pin bowling lane was installed downstairs. The game was known as "cocked-hat bowling," thanks to the way men wore their hats as they played, and this is one of the last lanes in the nation where you can still play it. The venue still holds a lot of its working-class charisma, with original brick architecture and a big wooden bar, well-oiled for slinging tall drafts your way. You'll be a regular in no time.
PHOTO BY KEVIN KORINEK
Pine Room: a St. Charles treasure.

Pine Room

If it wasn't for the big sign above the door, you might drive right past the Pine Room (1102 Perry Street, St. Charles; 636-754-6327) thinking that it was just another house. But you'd be wise to slow down: This is one of the best-kept secrets in dive bars. Located at the corner of Perry and Forest, nestled snuggly in the middle of an old St. Charles suburb, the Pine Room has been in operation since 1947, making it the second oldest bar in the area. It's just what you'd expect — dark and smoky inside, with natural wood paneling and old-world charm, it feels like the remnant of a 1950s-era boy's club. While the nearby Lindenwood University crowd packs the tiny dive in the evenings, the bar's biggest claim to fame is the food — smoked ribs, steaks and fried chicken. People say the filets are better than Ruth's Chris steakhouse. If that's not enough, the Pine Room boasts one of the best happy hours around: $1.50 domestics and half-off appetizers. If that's not a sign, what is?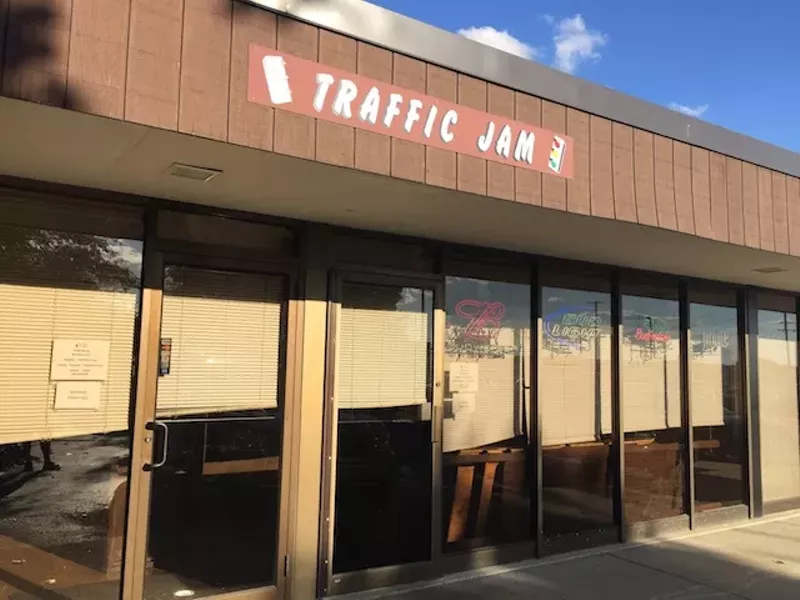 PHOTO BY KEVIN KORINEK
Traffic Jam's many virtues include a shuffleboard league.
Traffic Jam

Let's face it: We don't drink at dive bars to hang out with young people — we go there to get away from them. And there's no better place to do that than the Traffic Jam (6 Westbury Drive, St. Charles; 636-723-6138). Tucked between a car dealership and the highway, the Traffic Jam has been around since the 1960s. Originally a tiny piano bar, the place was in danger of closing in the '80s until a large group of regulars decided to go all-in and buy their beloved hangout. A refuge for tradespeople, retirees and the newly laid-off taking a break from GoT marathons (ahem), the Traffic Jam sees regulars pop-in for cheap, stiff drinks and a weekly shuffleboard league, open to all. The perfect spot for day drinking before stopping by King Edwards for a plate of fried chicken, the Traffic Jam also allows people to guest-bartend on certain nights so long as they draw a crowd — but the real crowd comprises the old-timers who have been drinking here for decades. Ask bartender Rita about her uncle, who is in his early 90s and fought in the Battle of the Bulge. You only get stories like that in a place like this.

See also: 25 St. Louis Bars to Suit Every Mood

— Research and development by Doyle Murphy, Joseph Hess, Daniel Hill, Ben Westhoff, Kelly Glueck, Cheryl Baehr, Sarah Fenske, Kavahn Mansouri, Danny Wicentowski and Kevin Korinek. For a handy keepsake edition of this guide, please pick up this year's annual RFT Bar Guide, on the streets as of this weekend.