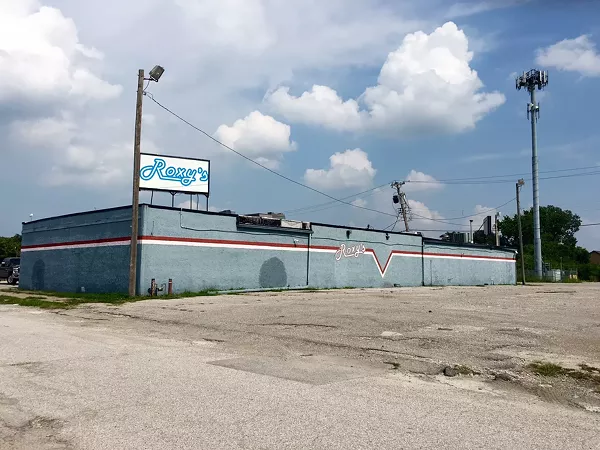 Blaming a bad local economy and, yes, Ballpark Village, the popular Metro East adult club Roxy's has slashed its hours.
Michael Ocello, president of VCG Holdings, which owns Roxy's and several other clubs in Illinois, says the "iconic" strip club is now operating under a new "summer schedule," with doors opening at 7 p.m. instead of noon and the club closed entirely on Sundays and Mondays. Previously, Roxy's had been open seven days a week.
He lists a few things as playing a part in this scaled-back schedule, citing for example, "a less than rockin' economy in St. Louis." Echoing the words of bars in St. Louis, Ocello says that "Ballpark Village has been a factor" over the past few years, as groups have stayed Downtown instead of venturing east. The summer season, he adds, "is generally a down time in our business."
Located on Route 3 in Brooklyn, Illinois, Roxy's has played host to generations of 21st birthdays, bachelor parties and general day-to-day shenanigans.
On a recent weekend visit, Roxy's looked the same as ever, with three stages in operation, a grill cooking up proteins on the parking lot and dancers coming and going at shift change. The club's seldom relied on industry gimmicks (guest dancers, overt theme nights), preferring to deliver a more straightforward, three-songs-and-a-new-lineup approach. Rumors have been rife that the place would be shuttered within a few weeks. During our visit, employees gave various answers when asked about the club's future. Some of them suggested that the club was winding down; others passed on the opportunity to answer.
The landscape of the club scene in Brooklyn (aka Lovejoy, IL) has certainly changed over the past decade, with a zone that once contained about a dozen adult-themed businesses now numbering just over a handful.
t's been characterized as a place where each business is an island to itself (save Roxy's and its sister club in Brooklyn, PT's Classic, which is also owned by VCG). The current landscape reinforces that vibe: each club exists alongside its own parking pad, and most patrons go to one – and only one – club. Those that bounce between a couple resemble upright frogs, popping across concrete lily pads in their search for erotic entertainment.
But Ocello says fans shouldn't worry. For five nights a week, the lights will remain on in Brooklyn – but this being Roxy's, they'll be very, very dim.