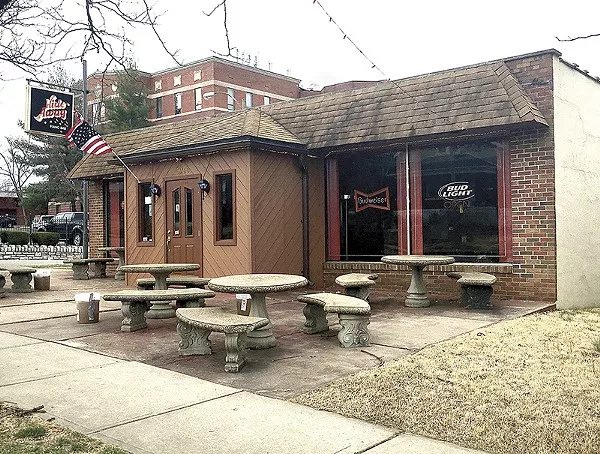 PHOTO BY KELLY GLUECK
The Hideaway has become a south city institution.
When the Hideaway readied to open its doors again on Friday, July 8,
after a one-month hiatus
, its new owners had the intention of just hosting friends and family. The liquor had just arrived that day, and so they didn't even change the sign outside: It still read "coming soon."
"We tried to do a soft opening," recalls Valerie Carroll. "But it didn't go so soft."
Instead, devotees of the beloved dive bar came out in droves.
"We were packed," Carroll says, laughing. "All weekend, all week."
The new owners — which include Carroll, her husband and another couple — represent a new day for the low-key piano bar. Longtime owner Al Coco died last September, and it took until June to finalize a deal to purchase the bar from his estate.
But unlike some of the other would-be buyers, Carroll and her group don't intend to mess with what makes the Hideaway the Hideaway. "We changed what needed to be changed, but mostly kept it the same," Carroll says.
The carpeting on the bar is still there — albeit only after a deep cleaning. And those paintings of big-eyed, big-breasted sirens continue to grace the walls, only now they're not covered by a layer of decades-old smoke.
The carpet on the floor, though, is gone. The room, says Carroll, "is lighter, cleaner." Old-timers may not be able to put their finger on it, but they should realize one thing: "It just looks better." There will likely also be less turnover behind the bar; Coco was famously difficult and went through bar staff like it was whiskey, while
Carroll and her group are industry folks who intend to do most of the work themselves
.
For now, the bar is open Monday through Friday from 2 p.m. to 1:30 a.m., Saturday from noon to 1:30 a.m. and Sunday from noon to midnight.
Pianist Oliver Johnson holds court Thursday; Wednesday is karaoke. And they'll be adding trivia soon on Mondays.
But Friday and Saturday are further proof that not much is really changing at the bar — beginning at 9 p.m., Mark Dew will be at the piano, working his magic. And isn't that really what makes the Hideaway the Hideaway?
We welcome tips and feedback. Email the author at sarah.fenske@riverfronttimes.com