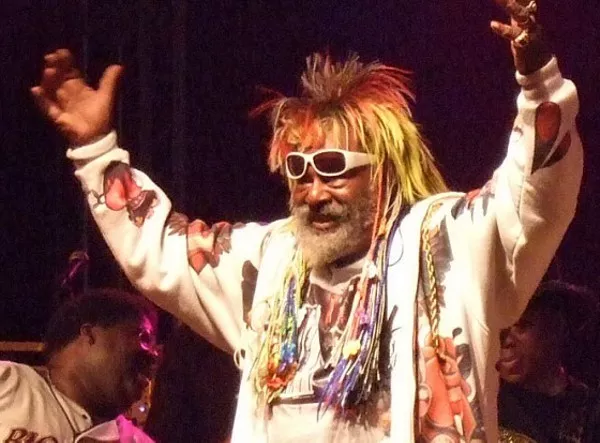 Photo by Joe Loong/Wikipedia
George Clinton will perform as part of Fair St. Louis this weekend.
Happy birthday, America! As if the fireworks and barbecue and free-flowing booze isn't enough, we in St. Louis also got you a shitload of excellent events to enjoy this weekend. Bassamp and Dano present their sixth annual Drinkin' for America Beer Party at Heavy Anchor this Saturday. Afroman will get too high to do anything at Fubar on Friday. The Jeremiah Johnson Band will use the occasion to release its latest, as will the Langaleers. Check out our full picks below:


FRIDAY, JULY 1
The Langaleers EP Release Show
w/ Tok, Bucko Toby
9 p.m., free. Schlafly Tap Room, 2100 Locust St., St. Louis, 314-241-2337.
By Christian Schaeffer
For the five-song
Creepyeepy
, to be released this weekend, the Langaleers worked at Native Sound with Ben Majchrzak. Songs were cut live in the room, save for vocals and a few guitar solos, which goes a long way to translating the band's bash-'em-out live sets. "Nothing was really smoothed out; it had a rough sound we were looking for," guitarist and lead singer Kory Meyer says of the recording. "It was all very loose. We've been playing the songs long enough, so we just went through 'em and did a couple of takes." That live energy translates immediately on the new EP. Opening track "Green Lightning" seemingly picks up in the middle of a drum roll, as if the listener is dropping into a perennial summery, good-time jam.
Afroman
w/ Dank Puffs
8 p.m., $15-$20. Fubar, 3108 Locust St, St. Louis, 314-289-9050.
By Tara Mahadevan
Afroman is probably the only rapper in history to receive a Grammy nomination for getting too stoned to do anything. Who can blame him though — who really wants to clean their room? We can only hope the 25-year-old Afroman who wrote "Because I Got High" in 2000 is still the same 41-year-old Afroman today, and that he regales his show-goers with some superb stoney stories. What else can an Afrofan hope for?
Groove Sessions
w/ Jameson, Steve Tuohy, TLEC
10 p.m., $5-$7. Upstairs Lounge, 3131 S. Grand, St. Louis. 314-773-3100.
By Natalie Rao
Production company NAPALM prides itself on bringing innovative talent to their events, with a self-proclaimed "quality over quantity mission." Groove Sessions is guaranteed to bring that quality, with local deep house DJs Jameson, Steve Tuohy and TLEC performing. Coming from a diverse set of backgrounds (Jameson is deeply influenced by classical music, while TLEC was exposed to many genres after living all over the U.S.), these artists will no doubt be throwing down unique, rhythmic sets that will start your holiday weekend on a groove-filled note.

SATURDAY, JULY 2

Jeremiah Johnson Band CD Release w/ Tom Ray, Frank Bauer, Nate Hershey
7 p.m., $20. Off Broadway, 3509 Lemp Ave., St. Louis, 314-773-3363.
By Roy Kasten
God bless Soulard — its tourists and tramps, barflies and hippies, locals and lovers of a good, cheap, stiff drink and a patio or back alley where you can still smoke up at will. The Jeremiah Johnson Band knows these joints and their hardworking and harder-drinking patrons, but unlike many of the bands content to simply hold down their residencies on the edge of the Mississippi (and there's exactly zero shame in that), Johnson & Co. have a big sound and bigger ambition. The band has toured overseas and gigged as far as Alaska, scoring commercial airplay with its greasy mix of Southern rock and tough blues.

Bassamp & Dano's 6th Annual Drinkin' For America Beer Party w/ The Spiders, Sweat Shoppe
9 p.m., $7. The Heavy Anchor, 5226 Gravois Ave., St. Louis, 314-352-5226.
By Daniel Hill
There are few bands in all of St. Louis more appropriate for celebrating America's birthday than the venerable Bassamp & Dano. How fitting, then, that the uber-patriotic, uber-hilarious group would hold its own annual "Drinkin' for America Beer Party," now in its sixth year. With support from the Spiders and Sweat Shoppe, the Heavy Anchor will be playing host to a hell of drunken, sweaty, patriotic good time — just as our founding fathers would have wanted it.

Fair St. Louis
2 p.m., Saturday, Sunday and Monday, free. Forest Park, Highway 40 (I-64) & Hampton Ave., St. Louis.
By Daniel Hill
With each year that passes, Fair St. Louis' lineups seem to get stronger and stronger — especially ever since the event relocated from the foot of the Arch to Forest Park in 2014. That move brought with it greater numbers of attendees as well, filling the park with record­breaking crowds to celebrate America's birthday each year. The lineup for 2016 will pack 'em in as well: From Lee Brice to Cowboy Mouth, Eddie Money to Sammy Hagar, George Clinton to Flo Rida, there is something for everyone here, and all at the low low cost of absolutely free.

Sexy 'Murica w/ Michael Bishop
9 p.m., free. Hiro Asian Kitchen, 1405 Washington Ave., St. Louis. 314-241-4476.
By Natalie Rao
What could be more patriotic than free entry, deep house and Asian food? This non-traditional show put on by house and techno group Spin Cycle will be held at Hiro Asian Kitchen, a popular restaurant located on Washington Avenue. Michael Bishop will bring a sexy sound that perfectly compliments the late-night snacks and delicious drinks that Hiro Asian Kitchen has to offer.

The Maness Brothers w/ Miss Molly Simms Band
9 p.m. Schlafly Tap Room, 2100 Locust St., St. Louis, 314-241-2337.
By Roy Kasten
"If I die on the side of the road, it's all right!" wail the Maness Brothers on the stand-out howling rocker "End of Me." The duo's frenzied, sludgy take on blues-rock sounds like it's headed full speed for the ditch — only to vault right over it. With just drums and guitar, brothers Jake and Dave Maness throw down a liver-wrecking, bone-shaking primordial groove that is wholly original and wholly thrilling, despite the debts to the many bass-less, Southern-fried rockers before them. The brothers Maness' serious chops always show through their gutter-digging, catfish-gutting blues. And when they hit the stage, the bodies always hit the floor.

SUNDAY, JULY 3

Bachelors of Science w/ Machete
9 p.m., $10-$15. Upstairs Lounge, 3131 S. Grand, St. Louis. 314-773-3100.
By Natalie Rao
Seletka's drum and bass Sundays at Upstairs Lounge are made all the more exciting with the addition of west coast DJs Bachelors of Science and Machete. Boasting one of the best selling drum and bass albums of all time, Science Fiction, Bachelors of Science embodies the fast-paced style of this genre. Machete is also no stranger to the field with his career starting over two decades ago in LA. With their mature talent as well as local support, this event is the perfect way to end the weekend (and kick off the 4th itself!) with a bang.