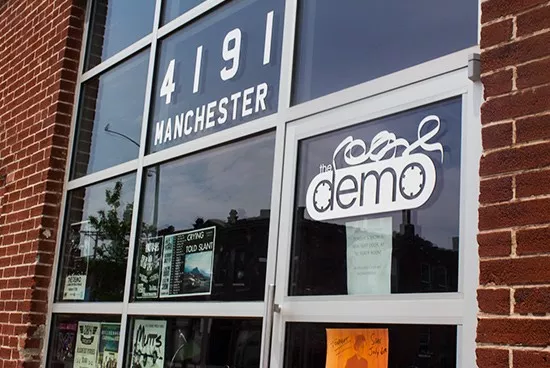 After a three-and-a-half year run, the Demo (4191 Manchester Avenue) will be closing its doors for good on July 9. But not all is lost, as those doors will open once again in the fall, this time as the Grove's brand new tap house and bottle shop, Gezellig.
Originally located in the space next to Atomic Cowboy (now operating as the Bootleg), the Demo moved just across the street in April of 2014 with some major upgrades, including a new sound system and a cozy chestnut bar. A one-time partner at 2720 Cherokee Performing Arts Center, owner Brandon Cavanagh originally came on board at the Demo as an investor before making the decision to focus 100 percent of his attention solely on the development of the new venue. And although the club has been prosperous over the years and is revered by both local and touring musicians, a desire to move forward and launch a new project with a new concept for the space eventually took precedence.
"This bottle shop concept is one I have been building for years — one of the first spaces I considered putting it in is the location of Propaganda on Cherokee Street, back when it was still a shoe store or something," Cavanagh explains. "And I kept looking at other possible locations, with an eye on continuing to run the Demo while launching Gezellig. But over time everything just seemed to align and point to this new concept taking place in the current space of the Demo. So that's kind of how we got here."
Working in the live music business over the past several years is something Cavanagh describes as a dream job, but not one without occasional downsides.
"I think the only thing I didn't like about running a venue was the sense of personal failure or defeat I would feel when there were incredibly awesome bands playing the room, grinding it out on tour, living off of crumbs, and not a soul in the room to see them," he says. "That's a really crushing feeling. I may wear my heart on my sleeve a little too much, but you begin to really take those empty rooms personally, and there's really only so much of that one can take.
"It's not even about losing the night financially, though I'd be a liar if I said that wasn't also a factor," he adds. "It's about letting the touring bands down. It sucks."
Photo by Cory Miller
Brandon Cavanagh and Mike Cracchiolo, Demo co-owners
The decision to put the Demo to rest was motivated by what Cavanagh describes as his need for a change on a personal level and the lack of a potential future for the venue in his absence. He says that he and co-owner Mike Cracchiolo carefully considered each available path before choosing which to follow.
"Mike and I began to discuss options and decided that the best thing for both of us would probably be to consolidate the Demo and Firebird into one venue that can handle the small shows as well as the medium-sized shows, and that's what we did," Cavanagh says. "It's been a really tough decision, and I know people will disagree, but in the end I think it was the right one — not just for me as a businessman, but for the neighborhood and St. Louis as a whole."
The new bottle shop is expected to carry a variety of no less than 30 beers on tap, as well as large coolers of specialty brews ready to be packed up and taken home. Plans for a food menu with options specifically selected for pairing with the craft beers is also in the works. The building will see a complete facelift: The current setup will be wiped out, and a complete overhaul and remodeling of the space will take place. While the Demo will be sorely missed, Gezellig is determined to offer a promising new destination for the ever-expanding stretch of Manchester. And although Gezellig may not be a music venue, silence is definitely not to be expected.
"We will absolutely continue to host musical acts, just with less regularity," Cavanagh says. "The music we do host will be to compliment the crowd we have on hand, rather than draw the crowd. Mostly acoustic, but I'm open to some full bands or electric acts. We'll see how that goes. But for the most part, we are going to have a turntable behind the bar and speakers throughout, and we are going to encourage our bartenders to bring in records on each of their shifts and provide the soundtrack for the night. I think there's a forgotten beauty in listening to entire albums."
While he is excited for the new concept, the move forward is also somewhat of a bittersweet one as Cavanagh takes a few steps away from live music.
"Obviously the constant exposure to new music — some good, some not so good — on a near-nightly basis has been a treat, and there have been some events and shows we've had that I'll never forget," he says. "But the people who worked at the Demo and the people in all of the local bands that called the Demo home at one point or another are really the people who made the Demo what it was. And that's what I'll miss the most."

The Demo's final show will take place on Saturday, July 9. It will be free of charge, with music by Everything Went Black, the Maness Brothers, the Wilderness, Blackwater '64, Bastard and the Crows, Zach Attack, Brother Lee and the Leather Jackals, Rover, Yowie and more.