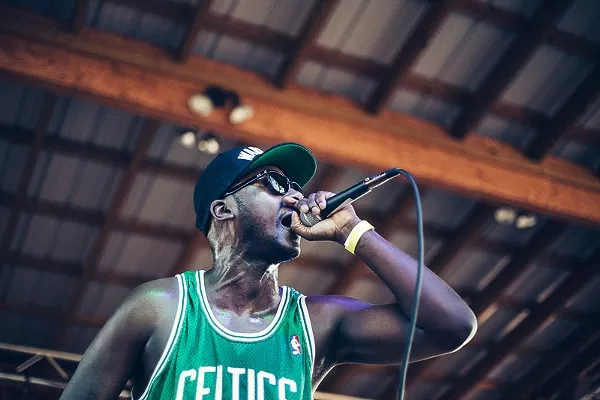 Photo by RFT staff
Indiana Rome will perform as part of S.L.U.M. Fest this weekend at 2720 Cherokee.
Here's hoping you didn't get your fill of music festivals after the RFT Music Showcase this past weekend, because this weekend is riddled with 'em. S.L.U.M. Fest returns for its seventh year — a massive celebration of the region's vast wealth of hip-hop talent that includes breakdancers and live art in addition to the music. Pride Fest is this weekend as well, with the Tower Grove party in particular bringing a standout musical lineup to the table this year. Benton Park celebrates 150 years of being a park too, bringing several hours of entertainment with it. And those are all just on Saturday! Check out our full picks for the weekend below.

FRIDAY, JUNE 24
Jessica Lea Mayfield
9 p.m., $15. Off Broadway, 3509 Lemp Ave., St. Louis, 314-773-3363.
By Roy Kasten
When Jessica Lea Mayfield flipped the Americana script for a bunch of dollar bin '90s grunge CDs she wasn't trying to remake herself. Whether or not she played old-time country with her folks in Kent, Ohio, bands like Foo Fighters and Stone Temple Pilots were her childhood soundtrack, and she never cared who knew it. Her last album,
Make My Head Sing
, was louder and sludgier than anything she'd assayed under Dan Auerbach's tutelage, but the album was most memorable for lilting pop meditations like "Standing in the Sun" and "Party Drugs," on which she confesses that she may be the "most fucked up" in the room, but she's not ready to OD on a motel bed. Mayfield's dream songs are nothing if not deliciously dark.
Blitzen Trapper
8 p.m., $16-$18. Old Rock House, 1200 S. 7th St., St. Louis, 314-588-0505.
By Matthew Jackson
Blitzen Trapper works within the grammar of '70s Laurel Canyon folk-rock, an era sacralized by toy-bright melodies. It also has the lyrics (bucolic, non-specific) and voice (single-malt, droll) of bandleader Eric Earley, who communicates ripe self-possession from the stage. The six-member band plays with a wisdom and alertness that avoids frippery and enthrones timeless songcraft. Its performances are as comfortable as creased leather.
SATURDAY, JUNE 25
Benton Park 150th Birthday Bash
11 a.m., free. Benton Park, Arsenal St. and S. Jefferson Ave., St. Louis.
By Daniel Hill
Benton Park, in south St. Louis, was originally set aside to be a cemetery — a far cry from the bustling piece of nature that sits today. But instead, in 1866, the tract of land was officially dubbed a park — much to the joy of today's outdoorsy south-city dweller. Benton Park celebrates 150 years of existence this weekend with an all-day bash featuring performances by River Kittens, Richie Kihlken Band, the Leonas, Javier Mendoza, Aaron Kamm and the One Drops, Firedog, Tommy Halloran's Guerrilla Swing, Leslie Sanazaro, Hazard to ya Booty and Brothers Lazaroff.
Pü F3ST Benefit
w/ the Conformists, Kannapell/Herr Duo, Sweat, Deep Set, Posture
9 p.m., $5. CBGB, 3163 S. Grand Blvd., St. Louis.
By Annie Zaleski
As has been documented, the Conformists' lineup has changed quite a bit in recent years. However, the return of original vocalist/co-founder Mike Benker — who rejoined guitarist Christopher Dee, bassist Chris Boron and drummer Patrick Boland in 2015 after several years away — heralds the release of
Divorce
, the quartet's first album since 2010's
None Hundred
. As with previous Conformists LPs,
Divorce
— which, like
None Hundred
, was recorded at Electrical Audio in Chicago with Steve Albini — has its own internal logic. Rhythms splinter and contort as if diffracted by a fun house mirror; post-punk-textured guitars sound like they're being scraped on concrete or manipulated to the point of decay; and the album's arrangements emphasize space and silence as much as sound. Benker anchors it all with his guttural, almost feral howl, which exudes primal anguish on "Reverse-Alchemist" and "Our Baseball Careers." All proceeds of this show go to benefit PuFest, one of St. Louis weirdest and wildest festivals.
Tower Grove Pride 2016
12 p.m., free. Ritz Park, 3147 S. Grand Blvd, St. Louis.
By Daniel Hill
Tower Grove's Pride Festival is certainly not the only game in town — not even the largest, actually — but its music lineup is the most on-point. Celebrate with St. Louis LGBT community while catching performances by Celia Shackattack, Duck Brown, Jamie Axton, Skin Tags, Mirror Mirror, My Bloody Underwear, Sunday Candy, Superfun Yeah Yeah Rocketship, Stephen Houldsworth, C-sharp and Town Cars.
S.L.U.M. Fest 2016
2 p.m., $10-$13. 2720 Cherokee Performing Arts Center, 2720 Cherokee St, St. Louis, 314-276-2700.
By Daniel Hill
The St. Louis Underground Music Festival — also known as S.L.U.M Fest by acronym aficionados — really should require no explanation at this point. Now in its seventh year, the event is the largest hip-hop festival in the region, with dozens of performers celebrating all four elements of the genre in a twelve-hour time span. Yeah, that's right, four elements — as always, graffiti artists will be doing live displays and breakdancers will be tearing up the dance floor alongside the event's emcees and DJs, making for an all-inclusive affair. This year's event will feature performances by Saint Oeaux, Indiana Rome, Doorway, Bates and many more, totaling twelve straight hours of pure hip-hop. For 2016, S.L.U.M. Fest has expanded to include the entire weekend as well. Catch the pre-party on Friday at Cicero's and head to the "artist appreciation cookout" at Blank Space on Sunday for the full experience.
The Smokers Club Tour
8 p.m., $26-$80.75. The Ready Room, 4195 Manchester Ave, St. Louis, 314-833-3929.
By Daniel Hill
Though not as exciting a hip-hop event as S.L.U.M. Fest — call us biased, but we're gonna go with the huge local fest over the touring package every time — the Smokers Club Tour is always a sky-high, marijuana-fueled good time. This year's event will feature performances by Cam'Ron, the Underachievers, G-Herbo, Smoke DZA and Nyck Caution.
The Staves
8 p.m., $12-$15. Off Broadway, 3509 Lemp Ave., St. Louis, 314-773-3363.
By Christian Schaeffer
The Staveley-Taylor sisters aren't the first acoustically inclined folk artists to experiment with electronics and beat-driven production. On their first few albums as the Staves, the British trio mixed starkly lush harmonies with moments of folk-pop charm — accordions, ukuleles and the like filled the corners of 2012's
Dead & Born Grown
. But on last year's
If I Was
— and the just-released three-song EP
Sleeping in a Car
, the Staves turned to Bon Iver's Justin Vernon for production, using his Alpha Base studio as a playground. New track "Outlaw" loops the sisters' voices to create a perpetual game of ping-pong, but even when the tracks settle into a more steady groove, grandiose production gives a fitting backdrop for their choir of voices.
SUNDAY, JUNE 26
Love Jones "The Band"
8:30 p.m., $10. BB's Jazz, Blues & Soups, 700 S. Broadway, St. Louis, 314-436-5222.
By Roy Kasten
Specializing in covers of hits from the '60s to the present — including a fine version of Gnarls Barkley's "Crazy" — Love Jones "The Band" is first and foremost a band of serious musicians. Singer Gypsy Brown may hold much of the spotlight, but keyboardist V. Kent Jones, drummer Ryan Jones and guitarist Tracy Mitchell all take turns on the mic, while bassist Melvin Moore keeps every piece of soul, jazz and funk — from the familiar to the stuff out of left field — sounding smooth and groovy. The band also slips in more than a few original numbers just to keep the audience guessing.
The Jayhawks
7 p.m., $25-$30. The Pageant, 6161 Delmar Blvd., St. Louis, 314-726-6161.
By Roy Kasten
The harmonies of Gary Louris and Mark Olson — as iconic as those of the Everly Brothers — were always the Jayhawks' ace in the hole. But the band had many more killer cards to play: Louris' sweetly crunching guitar-work, a deft rhythm section, soul-searching keys and songwriting that made the Midwest seem like a visionary landscape. Olson departed the band in 1995 just as it was taking off, rejoined fourteen years later, only to withdraw again. The turmoil, remarkably, hasn't hurt the band's sound or songwriting, both of which prove gorgeously and fiercely resilient, augmented by electronic flourishes and sweet psychedelic fuzz, as on this year's
Paging Mr. Proust
.