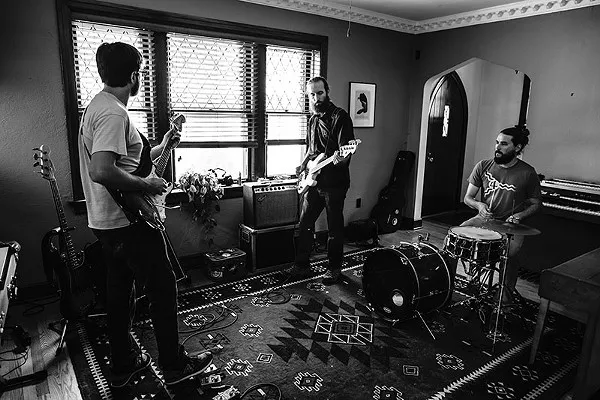 The
2016 Riverfront Times Music Showcase
will be held this year on Saturday, June 18 in the Grove! By the numbers, this is the largest all-local music festival in St. Louis history with nearly 100 bands booked across 9 venues. From now until then, we at RFT Music will be making our cases for every act nominated for an RFT Music Award, so that you will be able to make a fully informed decision
with regards to your vote
. Read on and get yourself acquainted, and we'll see you at the showcase!
---
Aaron Kamm and the One Drops
Aaron Kamm and the One Drops primarily deal in reggae and its various offshoots, playing with an authenticity that can appease Marley fans and Jamaican ska traditionalists while also appealing to Sublime diehards. Interestingly, the group is best when it veers from its roots; in its expansive moments you can hear traces of the Dead, the Police, Dylan and even Black Sabbath. The band's combination of well-oiled tightness, near-psychic communication and the variety of a modern hippie's Spotify playlist make Aaron Kamm and the One Drops a major player in the regional jam-band market. The band recently cemented its high-roller status with a multi-evening headlining spot at this year's MoRoots festival.
By Ryan Wasoba
---
Blastar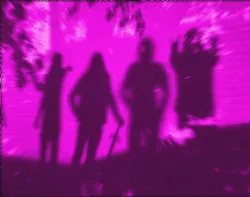 Despite the best efforts of punk rockers around the world, progressive rock didn't croak in the '70s. For all the Spinal Tap-style indulgences and pretension of bands like Yes and Rush, the thrill, the force and even the catchiness of the music remains. And you don't have to turn on KSHE 95 to sample it; Blastar carries the progressive rock torch into the present day. With a straightforward lineup of keys, guitar, bass and drums, the band gets an undeniably funky sound that belies the sophistication of its math-shifting, jam-stretching style. Of course the band can play. That goes without saying. But it can make you dance too.
By Roy Kasten
---
The Driftaways
This seven-piece reggae/ska band has a lot going for it: crisp horns, beefy keys, an always-steady rhythm section and strong, from-the-gut vocals. The band can rock hard when needed, but its influences and aspirations are clearly in the classic reggae sound of Bob Marley and the Wailers, Peter Tosh and Black Uhuru. The band also mixes in a whole lot of trippy dub with its skittering rhythms and appreciates the political power of reggae, with biting, menacing tracks like "Creepin." When you need an edgy fix of classic reggae with some tough ska horns, the Driftaways will carry you away.
By Roy Kasten
---
Thunder Biscuit Orchestra
You may not always be in the mood for a jam band, but when you are, Thunder Biscuit Orchestra revs up a satisfying party. The band plays heavy and loose with genres — blues, rock, reggae and funk are all in play — and its excellent choice in covers (the band turns the Talking Heads' "Life During War Time" into a messy freak out) help it stand out from the bar-band pack. The band's fusions have authority, punch and purpose, especially when guitarist Brian Sax and harmonica player Phil Wright get down to dueling. No jam band in town runs the voodoo down with Thunder Biscuit Orchestra's swampy, sweaty groove.
By Roy Kasten
<!——StartFragment——>
---
Vandeventer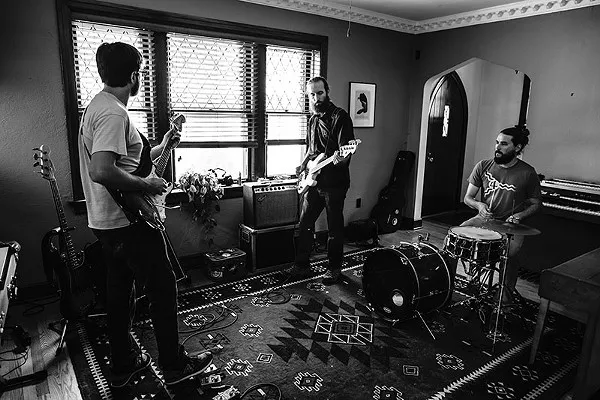 Chances are good that you've heard Mikey Wehling's guitar and vocals before. You might have caught him with the late, lamented jam-band explorers Messy Jiverson or heard his suite of impressionistic instrumentals as leader of the Reverbs. But with his new trio Vandeventer (which features Mike Schurk on drums and his old Messy bandmate Nate Carpenter on bass and keys), Wehling dials up some well-manicured smoothness and chops out quick-wristed licks while delivering his vocals in an understated fashion. The band's debut EP
Trainyards and Graveyards
is heavy on grooves and classic-rock influence, and on a song like "Paints and Paper" you can trace Wehling's guitar tone through various threads of blues, jam and psych traditions.
By Christian Schaeffer

Previously:
Hip-Hop (Solo) | Americana
|
Soul/Funk
|
Indie Rock | Indie Pop | Jazz | Pop | Metal | Folk | Country | Post-Hardcore | Cover Band | Electronic (Dance) | Garage Rock | Punk | Singer-Songwriter | Rock | Experimental | Shoegaze/Psychedelic | Hardcore | DJ | New Band | Improvisational/Noise | Hard Rock | Electronic (Eclectic)

Don't forget to cast your vote for the RFT Music Awards below!