RFT slideshow
Domino Effect rocking the 2015 Music Showcase
If you're a regular RFT reader or just someone with friends in a band, you surely know that this weekend is our annual
Music Showcase
. (We've certainly been talking about it enough.) If you've ever attended, you know it's a hell of a party — a laid-back multi-venue series of shows where everyone's chill, the beer is affordable and the bands are all both local and shockingly good.
But what you may not know is that this year's showcase — held once again in the city's Grove neighborhood — is going to be
inarguably
the best ever. Only a fool would miss this one. (Well, only a fool and/or someone who's already planning to be out of town. But why quibble with the details?)
Here are ten reasons you really need to be in the Grove to party with us — or regret it for a long-ass time.
1. More than 90 acts makes this the largest all-local music festival in St. Louis' history. Seriously!
2. It's also the biggest lineup for any single-day music event in the city's history, ever. You'd miss that?
3. And because your Alexander Hamilton will get you access to every single venue and every last performance — no extra cover charges at any one of the nine participating venues — you're paying little more than a dime per band.
4. That's only a dime to see acts with international acclaim, including American Wrestlers and Tef Poe.
5. And that includes admittance to Sleepy Kitty's
unofficial release party for its new EP, Flux
.
6. But wait! There's more. It
also
includes admittance to the final show for Fumer. The grunge rock/metal hybrid
will say farewell with a 10 p.m. show at the Demo
.
7. The evening's festivities also mark one of the last evenings to enjoy Siam (4121 Manchester Avenue),
which is soon to become Bar 4121
. Sunrise, sunset. Bid farewell to an old friend.
8. While the showcase is all local, it's not
all
local — DMY's midnight performance, also at Bar 4121, will include a handful of other footwork performers and producers, such as DJ Spaldin, here from Chicago. Yep, they're coming here, because this is going to be that awesome.
9. Speaking of awesome:
Cara Louise Band has released
a couple of tracks in honor of the showcase,
including "South City Anthem."
They'll be at the Gramophone at 5 p.m. "Bumming around now down in south city/I fear there ain't much more here left for me/ My eyes are tired of the things I've seen/ That don't mean that I wanna leave." Who hasn't been there?
10. And finally, only on Saturday will you have the opportunity to find out who the mystery bewigged Music Showcase man is (see below). Clues will be hidden throughout the Grove all day on Saturday. Solve the mystery of his origin and his raison d'etre at long last. You will win nothing, but isn't knowledge its own reward?
Get your
tickets online now
, or come by and get them at any of the participating venues on the day of the show. And then tip your hat to the amazing bands performing. Did we mention this is the largest all-local music festival in St. Louis history?
See you in the Grove.
Editor's note: A previous version of this list contained incorrect info about the Siam/Bar 4121 switchover. For now, the club you know and love is still Siam. We regret the error.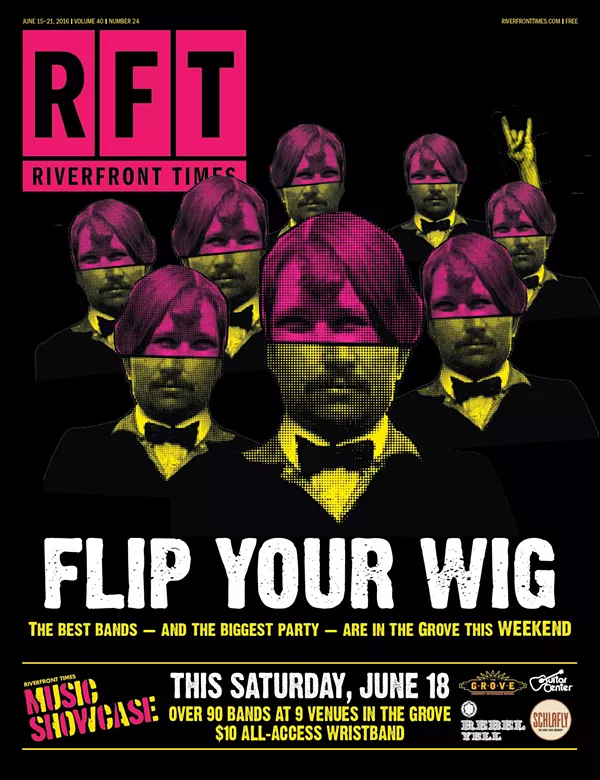 We welcome tips and feedback. Email the author at sarah.fenske@riverfronttimes.com