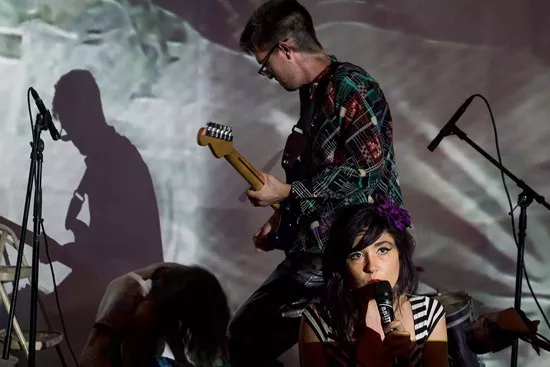 Photo by Mabel Suen
Mister Ben and Blyre Cpanx lead noise collective Beauty Pageant.
The
2016 Riverfront Times Music Showcase
will be held this year on Saturday, June 18 in the Grove! By the numbers, this is the largest all-local music festival in St. Louis history with nearly 100 bands booked across 9 venues. From now until then, we at RFT Music will be making our cases for every act nominated for an RFT Music Award, so that you will be able to make a fully informed decision
with regards to your vote
. Read on and get yourself acquainted, and we'll see you at the showcase!
---
Beauty Pageant
In 2013,
RFT
summed up Beauty Pageant like so: "Beauty Pageant serves up an atonal racket through scattered percussion and warped guitars. The band's influence reaches far beyond its sound, as each member plays a pivotal role in local arts." Co-creator and present-day curator of the art-noise act, Mister Ben fills in a few more details: "Dave Burnett and I founded Beauty Pageant equally; it was a duo which premiered at a Pig Slop event, and during our first set Blyre joined in on vocals (along with Meta Mela, who wrestled with her on the floor). Within a month we had a bird whistle player (Taka) and then a drummer (Wiggpaw, sometimes Joe Hess), but we weren't called Beauty Pageant for several months. Stable lineup, unstable name, even less stable performances." Recently, the group played atop a flatbed truck during a community parade, covered in hanging plants, aided by a half-dozen conspirators and collaborators. In short, what was born in the spirit of chaos continues in the same.
By Thomas Crone
---
Brain Transplant
Since 1998, Chris Smentkowski has been using guitars and analog electronics to create solo and collaborative noise improvisations under the moniker Brain Transplant. Alongside a long list of collaborators whose names will be instantly recognizable to those familiar with the St. Louis noise and experimental music scene—Dave Stone, Nathan Cook, Joseph Raglani, Ajay Khanna and Darin Gray, among others — Smentkowski has continued to create often-abrasive, always-surprising pieces of improvised sound at venues throughout the city. In addition to his musical endeavors in Brain Transplant, Smentkowski has exhibited his visual artworks nationally and conducted lectures on contemporary Polish art in both the U.S. and Poland, and he has served as the director of arts and chief curator for the non-profit Polish heritage organization Saint Louis Polonia since 2014.
By Nick Horn
---
Ghost Ice
Fans of experimental music in St. Louis rightly regard Jeremy Kannapell as the scene's patron saint, but not necessarily for the music he makes as Ghost Ice. Kannapell is perennially on the grind, organizing shows and events that give space for noise artists, free jazz icons and all things on the fringe. But as Ghost Ice, Kannapell has only recently come out of hibernation to play gigs again, and his recorded output is almost exclusively relegated to fan-shot videos. So you'll have to catch Ghost Ice in the flesh to hear Kannapell manipulate his trusty old Roland SH-101 synthesizer as he runs it through a battery of effects to create alien rhythms and ear-bending oscillations.
By Christian Schaeffer
---
Raglani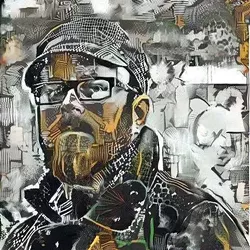 It was a welcome sight when Joseph Raglani posted a photo and brief message on his artist's Facebook page this April. Alongside a mess of patch cables in his formidable modular synth set-up, he wrote that a new set of electronic compositions — his first since 2012 — would be available soon. For an artist who has long harnessed synthesis as a way to make evocative landscapes, this should be a return to form (though his guitar-centric work of late is no less dreamy or lush). Listeners who took a deep dive in 2012's
Real Colors of the Physical World
(a beautifully packaged LP-plus-45 bundle) have missed Raglani's ability to turn controlled voltage into music that hits like pop or dissipates like a cloud.
By Christian Schaeffer
<!——StartFragment——>
---
Vernacular String Trio
Pablo Picasso famously spent his lifetime learning to draw like a child. Vernacular String Trio seems to have a similar goal. Cellist Tracy Andreotti, violinist Alex Cunningham and bassist Josh Weinstein are proficient musicians who could easily wow the world with conventional virtuosity, but instead aim for something more primal. Relying heavily on improvisation, Vernacular String Trio embraces the squeaks and skronks of their instruments and creates unsettling an atmosphere with expert control. The results are avant garde but not entirely inaccessible; fans of film scores by Radiohead's Jonny Greenwood or the György Ligeti pieces from
2001: A Space Odyssey
can easily find a foothold in Vernacular String Trio.
By Ryan Wasoba
<!——StartFragment——>

Previously:
Hip-Hop (Solo) | Americana
|
Soul/Funk
|
Indie Rock | Indie Pop | Jazz | Pop | Metal | Folk | Country | Post-Hardcore | Cover Band | Electronic (Dance) | Garage Rock | Punk | Singer-Songwriter | Rock | Experimental | Shoegaze/Psychedelic | Hardcore | DJ | New Band
Don't forget to cast your vote for the RFT Music Awards below!