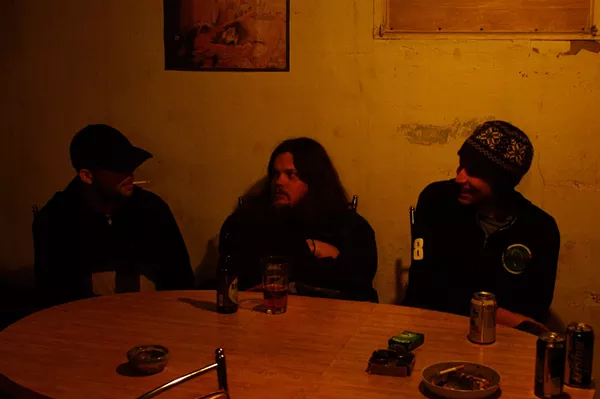 Fumer is set to perform its last show this Saturday at the RFT Music Showcase — 10 p.m. at the Demo.
The
2016 Riverfront Times Music Showcase
will be held this year on Saturday, June 18 in the Grove! By the numbers, this is the largest all-local music festival in St. Louis history with nearly 100 bands booked across 9 venues. From now until then, we at RFT Music will be making our cases for every act nominated for an RFT Music Award, so that you will be able to make a fully informed decision
with regards to your vote
. Read on and get yourself acquainted, and we'll see you at the showcase!
---
Apex Shrine
With its vintage guitar tones, electrifying blues-rock solos, watery organ and oceans of reverb, Apex Shrine's full-length
Homebaked
channels the psychedelic style of late '60s rock. It's a trip considering the band's four members are in their early twenties, but the quartet nails the sweet summery sound, making it a natural fit for a slot at last year's Wakarusa festival. Brothers and guitarists Jack and Dan Eschmann contribute vocals that range from soothing harmonies to impassioned wailing, and both carve out enough space in their songs for improvisation. On this record, though, newer material sees the quartet applying a punchier attack to sharper, more concise songs while still retaining a pleasingly retro feel. These young guns have quite the chops; it will be fun to watch them grow.
By Bob McMahon
---
Boreal Hills
Photo from Boreal Hills' KRALORIES release
Boreal Hills is just three dudes, but those dudes are responsible for some of the loudest and heaviest rock & roll in south city. Karl Frank fronts the band on guitar and vocals, thrashing along with goofy intensity and ambivalent swagger. Sludgy guitar riffs mash with manic percussion in an explosive hodge-podge of melody and commotion. The vocals are distorted and tinny, but the lo-fi tone only accentuates the energy that flows through the music. You won't find attention-grabbing guitar solos or pretentious bravado here. These songs may not be polished and they aren't exactly pretty, but they're sure to get your adrenaline pumping.
By Derek Schwartz
---
Buttercup
Buttercup is anything but sugary-sweet. Post-rock progressions get repeatedly interchanged for guitar lines that balance between melody and tritone while fuming drum beats lead the action. Imagine Drive Like Jehu having a sleepover with Fugazi, and your inner punk will come out swinging. The band is also a bit of a mystery. With no contact information online and no social media presence, it's hard to pinpoint exactly when Buttercup will resurface for another performance. In the mean time, feast your ears on the band's self-titled EP on its Bandcamp page. The music wears well with each new listen and by the time you're at the end, your finger will be ready to click repeat. "Medicine" is the track to beat, though: "They do not want to know who you are now / just who you are on your medicine." A spoonful of Buttercup may go a long way.
By Kevin Korinek
---
Fumer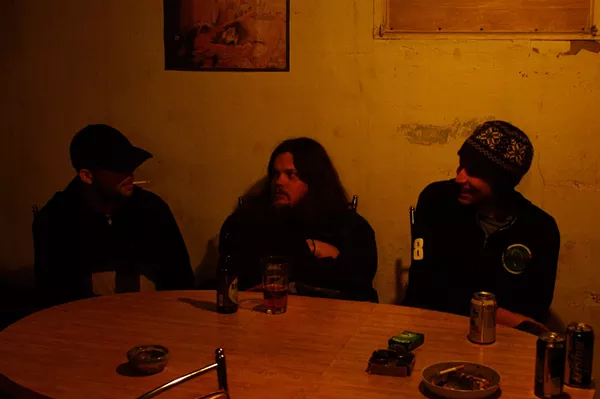 Fumer is set to perform its last show this Saturday at the RFT Music Showcase — 10 p.m. at the Demo.
Since 2009, Fumer has been rocking up and down St. Louis streets and entertaining a motley crew with high-octane riffage, thundering drums and hilarious stage banter, proving that a rock band can maintain a sense of humor while still sounding heavy as fuck. With three self-recorded albums under its big brass belt, Fumer has opened for Dead Meadow, Black Tusk and Local H, just to name a few. Three records might not sound like a lot, but Fumer does them right, recording them live with analog equipment — it's a lo-fi grunge-fest with a bong in the backseat. While the previous two albums have leaned a little bit more on the Dinosaur Jr. wave, the latest album,
We Alone Are Death
, runs the gamut of stoner metal speed-chases and hard-rock handjobs. Smoke 'em if you got 'em.
By Kevin Korinek
---
The R6 Implant
Although its core members are now in their mid 40s, the R6 Implant plays a brand of hard rock more akin to Jesus Lizard or Big Black than AC/DC or ZZ Top. The band picks up where vocalist Scott Randall and bassist Dave Winkeler left off with their previous group, Fragile Porcelain Mice. It's like they kept the heavy noise/alt-rock CDs of the 1990s in heavy rotation on their stereos in favor of, say, setting the radio dial to KSHE 95 and just leaving it there. Live shows have become somewhat scarce over the past few years, but the band remains active with at least one solid local show per year. Slow and steady is a good way to win the race.
By Rick Giordano

Previously:
Hip-Hop (Solo) | Americana
|
Soul/Funk
|
Indie Rock | Indie Pop | Jazz | Pop | Metal | Folk | Country | Post-Hardcore | Cover Band | Electronic (Dance) | Garage Rock | Punk | Singer-Songwriter | Rock | Experimental | Shoegaze/Psychedelic | Hardcore | DJ | New Band
Don't forget to cast your vote for the RFT Music Awards below!