Photo by Mabel Suen
Catch 18andCounting at the RFT Music Showcase this Saturday, June 18.
The
2016 Riverfront Times Music Showcase
will be held this year on Saturday, June 18 in the Grove! By the numbers, this is the largest all-local music festival in St. Louis history with nearly 100 bands booked across 9 venues. From now until then, we at RFT Music will be making our cases for every act nominated for an RFT Music Award, so that you will be able to make a fully informed decision
with regards to your vote
. Read on and get yourself acquainted, and we'll see you at the showcase!
---
18andCounting
Photo by Mabel Suen
Catch 18andCounting at the RFT Music Showcase this Saturday, June 18.
Although he has previously won RFT Music awards for both Best Solo Project and Best DJ, 18andCounting is far from limited to these two creative avenues alone. The moniker also umbrellas the Art Institute graduate's many other creative offspring, which include painting, sculpture, design and frequent collaboration with like-minded musicians of all varieties. Thoughtful rhymes concerning real life and real frustrations flow over unrestrained, experimental beats that not only operate outside the box, but seem to deny its existence altogether. From violins to vocoders, nothing is off-limits. The posturing often endemic to hip-hop is absent, with expression, creativity and genuine concern serving as the main motivators. Described by the artist as "an excuse to do as much as necessary," the current momentum of 18andCounting suggests there is still a hefty workload demanding to be done.
---
Biggie Stardust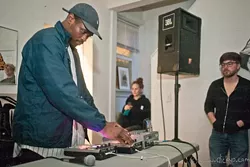 The brain behind Biggie Stardust certainly reveres the Man Who Fell to Earth, yet his name refers less to any one artist and more to the spiritual mash-up of genres and vibrations that Thomas Olanrewaju Osunsami (Olan for short) brings to the stage. His lack of presence on the web emits a greater mystique, which only enhances the sound collage he crafts off the cuff at every show. Within one year of moving from Peoria, Illinois, to St. Louis, Biggie found himself planted firmly in the south city noise scene while working as a regular at punk shows. And while his ambient set is littered with samples, Olan's style offers a journeyman's approach to many different sounds well-traveled.
---
Blank Thomas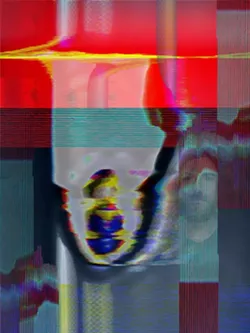 To follow Blank Thomas online is to see an artist in his relative infancy. The output is certainly mature enough, with polish and nuance, yet its sole proprietor Blake Butler is no salesman. And that is the main difference between Blank Thomas and other artists of the same stature — he has no marketing team pulling for him, printing posters or pushing records. Yet this creative force has made a crack, a fissure in the bedrock, of St. Louis' ground for electronic music. That was made evident by the January release of
405 Skies
, a cassette that cements his standing in a niche just left of the center spotlight.
---
Eric Hall
Eric Hall has long been fascinated with the musicality of everyday sounds. He's the kind of guy who could listen to wind chimes for three hours and find something new to love with each passing ding. His improvised performances are essentially collaborations between himself and pre-existing noises that he manipulates in real time. Hall's most memorable recent performances have him collaborating with other humans. A performance with local activist Stephen Houldsworth brought out Hall's abrasive side to match the tension of Houldsworth's spoken-word, and his loosely-structured installation piece written for modern classical juggernaut Alarm Will Sound proved that, regardless of the source material or the process, Eric Hall will always sound like Eric Hall.
---
Hands And Feet
Over the past year, there has been a noticeable change in Stephen Favazza's solo project. Hands And Feet has slowed down and chilled out on the
Hotel EP
, recently released online and in physical form as a cassingle (yes, you read that right, a cassette single, paper sleeve and all).
Hotel
explores a lo-fi direction that recalls Yo La Tengo's lonelier moments and serves as a more accurate representation of Favazza's multi-tasking live shows than the choppy, hip-hop leaning electro-instrumentals of 2014's
Sour Times
. Hands And Feet's newest release also cements a kinship Favazza shares with local darlings CaveofswordS: Kevin McDermott engineered the pair of tracks that make up
Hotel
and Sunyatta McDermott lends her vocals to "Cascadia."

Previously:
Hip-Hop (Solo) | Americana
|
Soul/Funk
|
Indie Rock | Indie Pop | Jazz | Pop | Metal | Folk | Country | Post-Hardcore | Cover Band | Electronic (Dance) | Garage Rock | Punk | Singer-Songwriter | Rock | Experimental | Shoegaze/Psychedelic | Hardcore | DJ | New Band
Don't forget to cast your vote for the RFT Music Awards below!