Photo by AliyaRose Photography
Catch Old Souls Revival at the 2016 RFT Music Showcase on June 18 in the Grove.
The
2016 Riverfront Times Music Showcase
will be held this year on Saturday, June 18 in the Grove! By the numbers, this is the largest all-local music festival in St. Louis history with nearly 100 bands booked across 9 venues. From now until then, we at RFT Music will be making our cases for every act nominated for an RFT Music Award, so that you will be able to make a fully informed decision
with regards to your vote
. Read on and get yourself acquainted, and we'll see you at the showcase!
---
Brother Lee and the Leather Jackals
Within the first minute of "Boredom Leads to the Bottle," the title track to Brother Lee and the Leather Jackals' newest EP, listeners know exactly what to expect. "It's 11 a.m. and we're getting wasted again," Joshua Eaker sings over garage-country guitars and drums — signaling the classic spirit of rock & roll is about to unfold. Debaucherous and dirty with an outlaw swagger, Brother Lee and the Leather Jackals harken back to a kind of rock music less worried about mistakes of the past and more concerned with making some tonight. Who needs introspection when you're having a good time?
By Jeremy Essig
---
Bruiser Queen
Chances are, anyone considering voting in an RFT poll is already familiar with Bruiser Queen. Jason Potter and Morgan Nusbaum's combination of '60s garage and pop sensibilities transcend what would be considered a "local band" and move the needle closer to "local treasure that has begun to bloom in a national sense." But familiarity should in no way breed disinterest. Released almost two years ago, the band's second album Sweet Static still serves as a keystone in St. Louis music. Equal parts crunch and honey, distorted and familiar, the album serves as almost a Rosetta Stone for many of the sounds coming out of this city's rock scene in the last five years, even as the sound is also uniquely the band's own. Within a few seconds, anyone even tangentially familiar with local music would recognize the combination of Potter's no-frills drumming and Nusbaum's vocals and gain-heavy guitar — think later-period Ike Turner producing the Shirelles. And yet for all the platitudes Sweet Static has received, it is as a live act that Bruiser Queen really shines, playing non-stop, straight-ahead rock with a power not often seen from a two-piece. Put more succinctly: Bruiser Queen is the band other bands circle on their calendars.
By Jeremy Essig
---
Bug Chaser
Illustration of Bug Chaser by Curtis Tinsley
The following blurb will self-destruct by the time you finish reading it — because Bug Chaser is an experimental black hole of noise and metal and general fucked-up-edness. The band takes whatever you think you might know about it and blasts it all to bits. Yeah, there's electronic freak-outs; yeah, there's skull-crushing guitars; yeah, there's a singer who wants to do violence to his vocal cords. But French art-pop? Kraut-rock cool? Electro-funk? Vintage arcade game improvisations? Yeah, it's all on the band's latest album, Electric Pockets I. What do the members of Bug Chaser have planned for a sequel? Your guess is as good as theirs. But rest assured you won't see or hear it coming.
By Roy Kasten
---
Old Souls Revival
Photo by AliyaRose Photography
Catch Old Souls Revival at the 2016 RFT Music Showcase on June 18 in the Grove.
Riverfront Times isn't in the habit of giving out awards for "best album packaging" — this isn't the pre-show at the Grammys, after all. But if we did, Old Souls Revival would be in contention for the candy-colored presentation of its often dark-tinted I Will Let You In. The CD comes packaged like a birthday party invitation, and a goody-bag's worth of ephemera literally spills out of it. Luckily the album is worthy of such fanfare; Neil C. Luke leads this quartet with a brusque, flinty delivery and a suite of songs that explore a tangled web of busted love, low-budget indie band tours and the devotion it takes to make either doomed enterprise worthwhile.
By Christian Schaeffer
---
Tok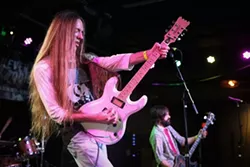 After winning the award for Best Hard Rock Band two years in a row, it might be easy to make the argument that Tok has had its time in the sun. The argument for the band winning for a third time, however, is even easier to make: Simply, no other band is quite like Tok. The band's live show is a study in contrast, with bassist/vocalist Matt Basler and drummer Spencer Markowski thrashing around like the last vestiges of a Motorhead show while guitarist/vocalist Brian Basler mixes searing riffs with lighthearted dancing. Tok also displays a sense of humor often lost in hard rock, releasing a full album of Tonetta covers and creating Facebook updates that would make many a comedian jealous. And if that's not enough for you, the members also write great rock songs — evidenced in the band's newest single, "Honey Don't Feel Well."
By Jeremy Essig
Don't forget to cast your vote for the RFT Music Awards below!