Catch Miss Molly Simms as she opens up the 2016 RFT Music Showcase as the very first band out of more than 90 acts on June 18.
The
2016 Riverfront Times Music Showcase
will be held this year on Saturday, June 18 in the Grove! By the numbers, this is the largest all-local music festival in St. Louis history with nearly 100 bands booked across 9 venues. From now until then, we at RFT Music will be making our cases for every act nominated for an RFT Music Award, so that you will be able to make a fully informed decision
with regards to your vote
. Read on and get yourself acquainted, and we'll see you at the showcase!
---
Emily Wallace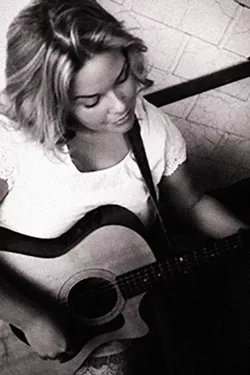 Photo provided by Emily Wallace
Emily Wallace's voice is like a good bourbon –- warm, sweet and comforting, but also bold enough to make you sit up and take notice. Combined with her acoustic guitar, it makes an infectious cocktail suitable for any situation. Though only five songs in length, Wallace's 2014 self-titled EP shows just how powerful this combination can be. Vocals and guitar provide the entire sonic landscape, accepting only a small assist from a piano on "Hum Along With Me." In addition to Wallace's many local solo appearances, she is also frequently tapped to sit in with other bands and has a new project called the Sleepy Rubies with her sister Ali. In other words, if you go out to see music on any given night, there's a good chance you might run into Emily Wallace's voice. For that, we are all very lucky.
By Jeremy Essig
---
Miss Molly Simms
Catch Miss Molly Simms as she opens up the 2016 RFT Music Showcase as the very first band out of more than 90 acts on June 18.
Classifying Miss Molly Simms as a "singer/songwriter" is a bit of a misnomer. While she is certainly gifted in the two components from which the term is derived, the genre brings to mind a quiet artist confessing his or her feelings to the sounds of acoustic guitar. With her second album, 2015's One Way Ticket, Simms' crunchy guitar, snarl and sass showed that a singer/songwriter could also be bold, loud and angry (and accompanied by a pretty great backing band). Borrowed or Sold, Simms' newest EP, was released in April. It begins with a bit more swing than its predecessor, but by the third track's driving drum beat, Miss Molly Simms reminds us she's not your usual singer/songwriter, softly expressing lament and regret. Her music has way too much power and attitude to be relegated to a corner.
By Jeremy Essig
---
Sharon Hazel Township
Previously based out of San Diego, Sharon Hazel Township brings a jazz-folk sensibility and sound to its increasingly frequent performances around town. Sometimes solo, sometimes as a band, the Township connects with anyone who digs both the poppy introspection of David Gray, the punk politics of Ani DiFranco and the fluid soul of Bill Withers. Though frontwoman Sharon Hazel is a gifted multi-instrumentalist, she most often straps on an acoustic guitar to challenge listeners with songs charting the ambiguities of gender and love and ultimately wins them over with her earnest voice and always graceful melodies.
By Roy Kasten
---
Suzie Cue
Don't expect polish and politeness from singer-songwriter Suzie Cue. She may fit loosely into the folk genre, but her strummy tunes have more bite than bittersweetness. The nihilistic edge of songs like "Don't Mean Anything" recall the darkest of Liz Phair demos, while "Karma Is a Bitch (And So Am I)" makes for a slab of thick '90s grunge delivered with a bluesy snarl. Sometimes backed by the Terrible 2s (aka Dave Anson on bass and Steve Lickenbrock on drums), sometimes engaging audiences solo, Suzie Cue tackles thorny topics with plenty of wit and even more honesty in her music.
By Roy Kasten
---
Zak Marmalefsky
Zak Marmalefsky could be called the new and improved weirdo Sinatra. With chord progressions that suddenly take a hard left turn, whip-smart words and a tongue-in-cheek tone delivered with a warm velvety baritone, he's both vaguely familiar and completely original. Whatever initial weirdness you may find in his presentation, the music itself is truly beautiful. Marmalefsky has made 100 or so songs digitally available for listeners, with recordings dating as far back as 2011; he's showed no signs of slowing down his output any time soon. Whether he's waltzing or marching his audience through the set, Marmalefsky has the capability to charm and maintain engagement not only with his work, but with his audience.
By Melinda Cooper
Don't forget to cast your vote for the RFT Music Awards below!