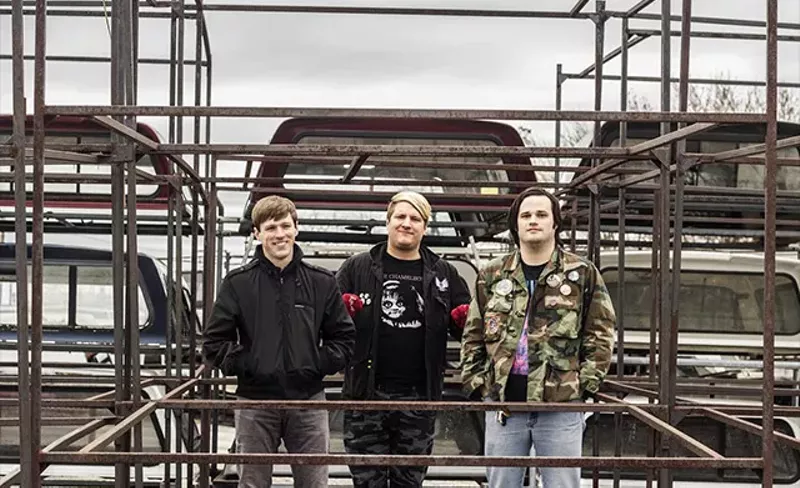 Photo by Mabel Suen
Hot off last year's Tried My Hardest, Trauma Harness continues to be one of St. Louis' enduring punk bands.
The
2016 Riverfront Times Music Showcase
will be held this year on Saturday, June 18 in the Grove! By the numbers, this is the largest all-local music festival in St. Louis history with nearly 100 bands booked across 9 venues. From now until then, we at RFT Music will be making our cases for every act nominated for an RFT Music Award, so that you will be able to make a fully informed decision
with regards to your vote
. Read on and get yourself acquainted, and we'll see you at the showcase!
---
Breakmouth Annie
A bracing, back-to-basics punk rock band with a '90s alternative-rock soul, Breakmouth Annie distills its influences — the Clash, the Ramones, Green Day — into an undeniably catchy, guitar-driven, power-trio sound. Lead singer and guitarist Bob Monroe, bassist and singer Joshua Edwards and drummer Joshua Van Hoorebeke charge hard and fast into every song with snarling energy. They don't have time for emo angst or noise fetishism. This band gets that punk can still be protest music — its songs can certainly be scathing — but mostly its members know how good punk can sound when its elemental forces come together.
By Roy Kasten
---
Little Big Bangs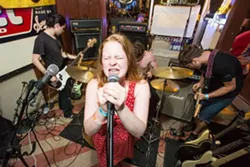 The title of last year's Star Power wasn't fake modesty for the punk-leaning foursome Little Big Bangs. After a series of releases dating back to 2011, the LP was the clearest message from a band that is capable of delivering raw fury or tempering it with well-deployed dynamic shifts. Eric Boschen, Lucy Dougherty and Ryan Macias each bring a different flavor when they trade off on lead vocals — tracks on Star Power can shift from sludge to surf-rock to proto-glam, and each singer digs into his or her songs with the conviction of a true believer.
By Christian Schaeffer
---
Skin Tags
Photo by Stephen Houldsworth
With a band name like Skin Tags, it shouldn't be such a surprise that Lucy Dougherty, Mabel Suen and Shelly Koesterer aren't messing around. The group's unique sound includes elements of noise and math-rock, but make no mistake, this is a punk band through and through. Skin Tags' latest demo, released in April 2016, spans just eleven minutes, but every note and riff erupts with breathless, destructive energy. The songs are frantic and aggressive, full of pointed frustration and unapologetic anger. They are carefully crafted and rigidly structured, but order devolves into chaos when Dougherty picks up the microphone and lets loose a scream.
By Derek Schwartz
---
Trauma Harness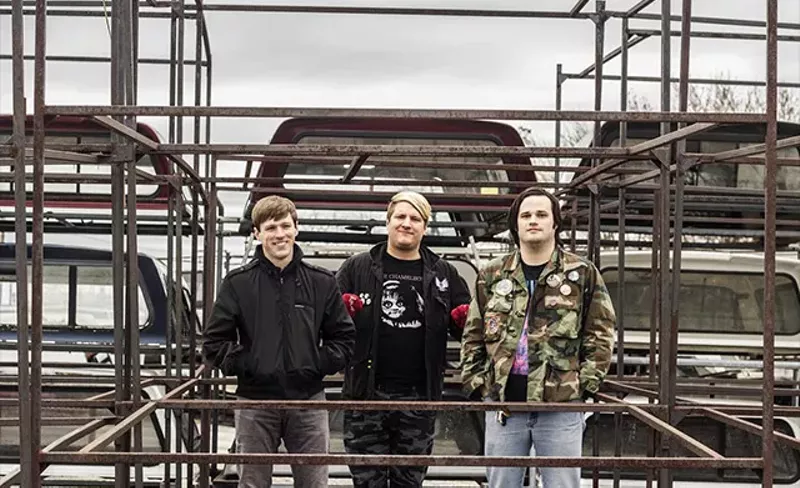 Photo by Mabel Suen
Hot off last year's Tried My Hardest, Trauma Harness continues to be one of St. Louis' enduring punk bands.
On its latest record, Tried My Hardest, the three members of Trauma Harness plunge into gloomy territory, assaulting the listener with tumultuous riffs and crashing percussion. Driven guitars meet rhythmic, New Wave-style synth lines in an invigorating wall of sound. Through it all, singer/guitarist Josh Jenkins half-gasps, half-screams lyrics about destruction and decay — and if you've seen the band perform in the past year, you probably feel like you've experienced that destruction firsthand. The band's live sets are wild and spontaneous, filled with spastic energy and flying limbs, not to mention enough noise to maim a small animal.
By Derek Schwartz
---
Veil
It's only been a year since Veil released its first demo, but don't mistake freshness for inexperience. The band shares members with some of St. Louis' most formidable punk bands, including Lumpy and the Dumpers, Bunnygrunt and the now-defunct Doom Town, yet none of these acts sound quite like Veil. Ashley Hohman fronts the group with deep, ominous vocals that simmer darkly across the songs. The varied guitar and bass riffs mesh together so tightly that they seem to melt into one reverb-filled force, heavy and haunting. The mix is held together with relentless percussion that races along and stops for nothing.
By Derek Schwartz
Don't forget to cast your vote for the RFT Music Awards below!