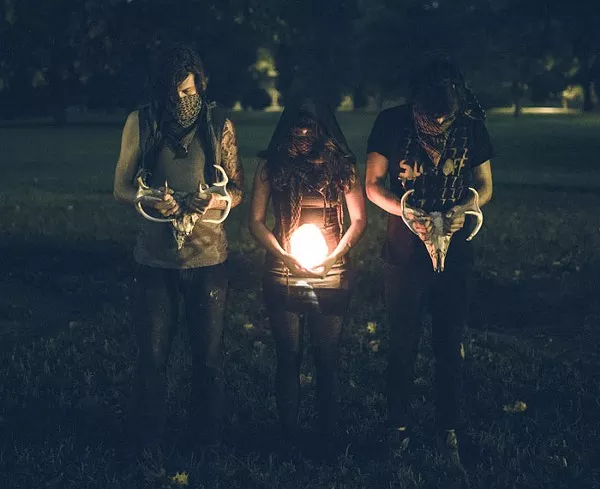 Photo by Jacob Loafman
Catch Staghorn along with more than 90 acts at this year's RFT Music Showcase, taking place in the Grove on Saturday, June 18.
The
2016 Riverfront Times Music Showcase
will be held this year on Saturday, June 18 in the Grove! By the numbers, this is the largest all-loca l music festival in St. Louis history with nearly 100 bands booked across 9 venues. From now until then, we at RFT Music will be making our cases for every act nominated for an RFT Music Award, so that you will be able to make a fully informed decision
with regards to your vote
. Read on and get yourself acquainted, and we'll see you at the showcase!
---
Blight Future
Musically and geographically, Blight Future seems to land exactly between the spazzy, full-throttle punk pioneered by San Diego groups Drive Like Jehu and The Plot To Blow Up the Eiffel Tower and angular, socially-conscious Washington, D.C., outfits like Fugazi and Black Eyes. The quartet has built a reputation as one of the most extreme bands in St. Louis. Musically, the group combines fast/loud punk aesthetics with math rock's precision and noise rock's abandon. Lyrically, it tackles deep topics that land outside the usual realm of "political punk," like humanizing the victims of police brutality, but without being a total bummer. Blight Future somehow makes going too far at all times feel like a delicate balance, making the group a favorite of hardcore kids, art nerds and political activists alike.
By Ryan Wasoba
---
Jr. Clooney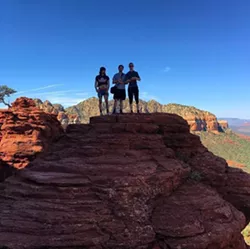 Photo provided by Jr. Clooney
Jr. Clooney is not just another math-rock band. Jr. Clooney is an experience, a memory, a moment from your childhood. The quartet (which includes members of Staghorn, Double God and Laika) combines the subtle technicality of influences such as Pretend, Toe and TTNG with an unforced level of nostalgia. They're not just ripping off '90s bands. Watching Jr. Clooney live is a sensational trip through peaks and valleys of unrelenting melody and grooviness, comparable to riding a surprisingly comforting roller coaster. The band members' instrumentations are as clever as they are collected, even as they dish out excitement that you just can't help but move your body to.
By Luca Torretta
---
Lobby Boxer
Trying to categorize Lobby Boxer into a specific genre is a lot like trying to wrestle a grizzly bear. The three-piece slams together hyper-rock stylings like it's crash-testing cars. While some groups would execute that uncombed writing in a much more disjointed fashion, the members of Lobby Boxer have the chops to pull it off seamlessly, with an intense and obvious love for the songs. This is never more evident than on Lobby Boxer's debut full-length Big Bucks. The album pulls influence from all over the board, sounding reminiscent of the Fall of Troy and Rush while at times throwing in moments of head-banging metal riffage, pop-punk jumpability and even some country pluckin'. The band showcases a unique level of effortless energy and technical ability that's unrivaled in these parts.
By Luca Torretta
---
LifeWithout
Photo by Money Shotz Photography
Up until a couple years ago there was a noticeable void in the local music world that has since been filled by Alton, Illinois, post-hardcore melody makers LifeWithout. The quartet combines the raw energy of underground hardcore and punk with the purest emotions gushing from wishful melodies. On LifeWithout's latest release, a split with Illinois emo outfit Oakwood Estate, vocalist Randy Kinnikin bears his raspy soul for all to hear, partnered with head spinning tones courtesy of guitarist Brett Kutter. Equal parts Touché Amore and At the Drive In, LifeWithout abandons any expectation you may have of the typical hardcore machismo, delivering instead an extremely personal and cathartic experience to be shared by the band members and their audience.
By Luca Torretta
---
Staghorn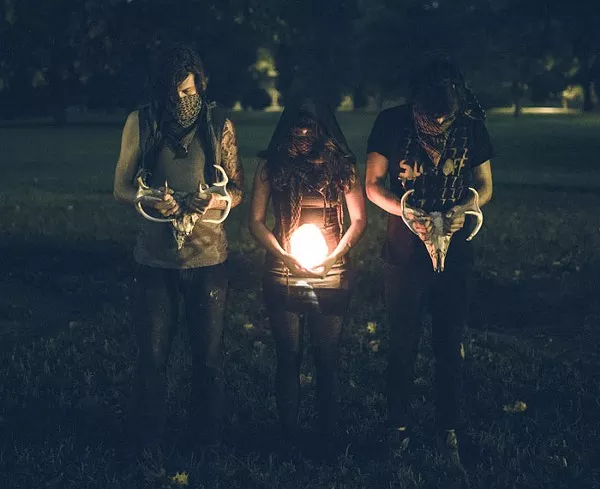 Photo by Jacob Loafman
Catch Staghorn along with more than 90 acts at this year's RFT Music Showcase, taking place in the Grove on Saturday, June 18.
"The path to a sustainable future starts with you. No laws, rules or man may take the freedom to enact a future you choose. Make alliance." This is the world that encapsulates Staghorn; desolate, overgrown and mysterious. It is also the introduction to the band's self-released, self-printed graphic novel, which accompanies their debut album Parousia I / Kismet II. The instrumental post-rock three-piece has built its own universe around itself. They've done that both sonically and visually, even while implementing DIY values at an impressive level. The members also run Leave Your Mark Print Shop and Mills Custom Amps, both of which directly correlate to the world of Staghorn. The music itself is as dark and doomy as it is uplifting and optimistic. It leaves the listener yearning for more: more of the story, more of the world, more Staghorn.
By Luca Torretta
Don't forget to cast your vote for the RFT Music Awards below!