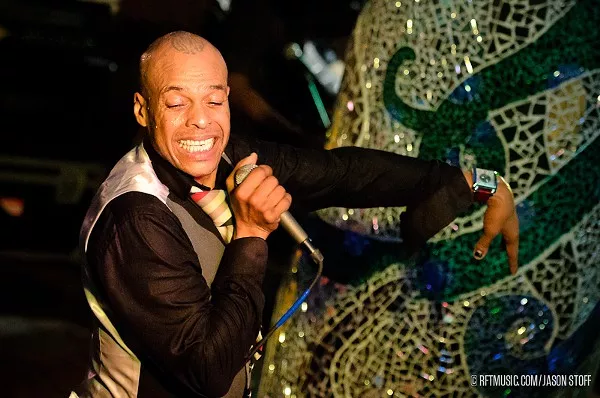 Photo by Jason Stoff
Fishbone will perform at the Duck Room at Blueberry Hill on Sunday, June 5.
Summer is finally upon us, and the concerts keep on coming. New Orleans punk act Pears will join the legendary Subhumans at the Firebird on Friday. Fishbone will bring another genre-bending performance to the Duck Room on Sunday and Marc Broussard will play Old Rock House on Saturday. Check out our full picks for the weekend below.


FRIDAY, JUNE 3
Ben Sollee
8 p.m., $15. The Demo, 4191 Manchester Ave, St. Louis, 314-833-5532.
By Christian Schaeffer
As a conceit, it may not seem like that big of a deal that Kentucky-born cellist and singer Ben Sollee treats his instrument as much like a fiddle as a cello, imbuing his performance with Appalachian overtones as well as classical filigrees. But his technique goes a long way in transmitting the soul of his native soil; on the just-released two-song single, Sollee takes a sonorous pass at "My Old Kentucky Home," bowing his instrument with droning resonance one moment then striking his strings in rhythmic counterpoint the next. He tells his own tale of the bluegrass state in the next track, "Shade of the Spires," a tale of the Sport of Kings that was released just in time for the Kentucky Derby.
Boston
w/ Blue Oyster Cult, Gary Hoey
7 p.m., $23-$98. Family Arena, 2002 Arena Parkway, St Charles, 636-896-4200.
By Christian Schaeffer
When former Boston lead singer Brad Delp committed suicide in 2007, it was a stark reminder of the facelessness of so many classic-rock bands. For every larger-than-life singer like Steven Tyler or Mick Jagger, there are dozens of Brad Delps who helped sell millions of records in relative anonymity. Luckily, these arena-rock survivors have used this as an advantage, swapping out band members every few tours while still playing "More Than a Feeling" and the über-power-ballad "Amanda" for enraptured fans.
Staghorn
w/ Jr. Clooney, Mariner
9 p.m., free. Schlafly Tap Room, 2100 Locust St., St. Louis, 314-241-2337.
By Joseph Hess
"Staghorn ferns live in complete symbiosis with trees and need very little to live. They're completely self-sustaining, and a symbol of how mankind should be living with the rest of the world community," says Jared Scheurer, recent Florida transplant and founding member of Staghorn. His outspoken post-rock group takes an eco-friendly, DIY approach to every facet of its music. From its speaker cabinets, built from wood sourced in Missouri, to its hand-wired custom amps, the band pushes a holistic message through practice, not preaching. In fact, the group's music would lack lyrics entirely if not for disparate narration. Scheurer lends his voice to relay the band's mythology, a tale of time-traveling spectres who bring warnings of the end of days — unless mankind makes peace with nature, of course.
Motion City Soundtrack
w/ Have Mercy, Let It Happen
8 p.m., $25/$27.50. The Pageant, 6161 Delmar Blvd., St. Louis, 314-726-6161.
By Jeff Niesel
Motion City Soundtrack started in Minneapolis, a city that has a long, strong music history. When it first formed, the band played the city's smaller, underground clubs and partnered with acts such as Cadillac Blindside and Amp 176. Guitarist/singer Justin Pierre has described the band as "friends with bands who were way better than us and were doing really cool shit." And that, rather than a connection to the Minneapolis sound, helped launch the group.
Panic Stations
, the group's latest, was recorded live in June of 2014 at Seedy Underbelly North (formerly known as Pachyderm Studios) in Cannon Falls, Minnesota. John Agnello (Dinosaur Jr., Sonic Youth) produced the album. Many of the songs reference water and the ocean, and the idea of letting go and not being immobilized by your own thoughts.
Pears
w/ Subhumans
8 p.m., $15. The Firebird, 2706 Olive St., St. Louis, 314-535-0353.
By Daniel Hill
Do you prefer your hardcore-punk mixed in with a little pop? Er, or maybe your pop-punk with a splash of hardcore? Frankly, it's hard to tell whether the zebra is white with black stripes or vice versa in the case of Pears, a New Orleans-based four-piece that has already made quite a name for itself. Since starting in 2014, the band has signed with revered SoCal punk label Fat Wreck Chords, toured with the likes of the Dwarves, the Suicide Machines and Off With Their Heads, and even made a run through Europe — all on the strength of ripping-fast punk coupled with impossibly catchy hooks. Subhumans will headline the show, but you surely already know all about that band — right, punk?
SATURDAY, JUNE 4
Marc Broussard
8 p.m., $22-$25. Old Rock House, 1200 S. 7th St., St. Louis, 314-588-0505.
By Roy Kasten
In 2002 Marc Broussard gave up on the Christian-rock circuit for a solo career that sizzles like a bayou barbecue, where sinners jam and the saints keep a keen eye out for the law. The son of legendary Boogie Kings guitarist Ted Broussard, the Carencro, Louisiana, native creates a version of swampland funk that's good-natured enough for the collegiate jam scene but greasier than that scene might expect. He's not an R&B rule-breaker, but he knows how to work conventions with generous, blue-eyed soul.
SUNDAY, JUNE 5
Fishbone
8 p.m., $25. Blueberry Hill - The Duck Room, 6504 Delmar Blvd., University City, 314-727-4444.
By Shae Moseley
Fishbone formed in Los Angeles over 30 years ago. A seminal influence on the early wave of bands that fused together ska and reggae with other disparate genres, the band first struck gold with the single "Party at Ground Zero." As its career progressed, the band added heavy-metal guitars, punk edginess and soul-funk grooves to its sound, while largely avoiding the horrendous results common when bands mash genres together. Even though Fishbone's more recent albums (such as 2000's
Fishbone and the Familyhood Nextperience Present: The Psychotic Friends Nuttwerx
) have been less than successful on a commercial level, the band remains a well-oiled machine in concert.

Pure Bathing Culture
7 p.m., $10. The Demo, 4191 Manchester Ave, St. Louis, 314-833-5532.
By Rob Levy
Don't think because Sarah Versprille and Daniel Hindman have a history performing in the modern folk outfit Vetiver that they don't know how to get their groove on. Kindred musical spirits, the pair left the hipster environs of Brooklyn in 2011 in favor of the more-spacious hipster environs of Portland, and to concentrate on their own band, Pure Bathing Culture. In 2012 the group released its self-titled debut EP, followed by the eddying dizziness of "Pendulum," the lead single from 2013's
Moon Tides
. With its second full-length,
Pray for Rain
, the duo has taken the momentum generated from its introductory chapter and built on it, establishing a more organically grown analog maturation.