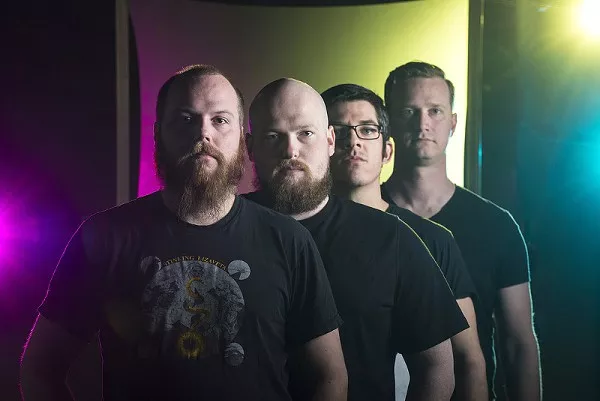 Photo by Corey Woodruff
The Gorge is one of 90+ bands performing at the 2016 RFT Music Showcase on June 18.
The
2016 Riverfront Times Music Showcase
will be held this year on Saturday, June 18 in the Grove! By the numbers, this is the largest all-loca l music festival in St. Louis history with nearly 100 bands booked across 9 venues. From now until then, we at RFT Music will be making our cases for every act nominated for an RFT Music Award, so that you will be able to make a fully informed decision
with regards to your vote
. Read on and get yourself acquainted, and we'll see you at the showcase!
---
Fister
Catch Fister at the RFT Music Showcase on June 18 - Midnight at the Demo
With last year's brutal one-song, 45-minute record IV, Fister cemented its international reputation as one of the slowest bands in metal. Lately, the trio has been operating at the opposite speed. In the last few months alone, the group toured with fellow "best metal band" nominee the Lion's Daughter and released split 7" records with local hardcore act Everything Went Black, Montreal's Dopethrone and California group Teeth. Fister is not just keeping busy, but also moving forward. Throughout its three new split 7"s, the band hints at some new additions to its slow/loud/evil aesthetic — the moments in which guitarist Marcus Newstead cleans up his act and conjures textures you might expect from Neurosis or Earth are especially satisfying, making the heavier times even more hellish by contrast.
By Ryan Wasoba
---
The Gorge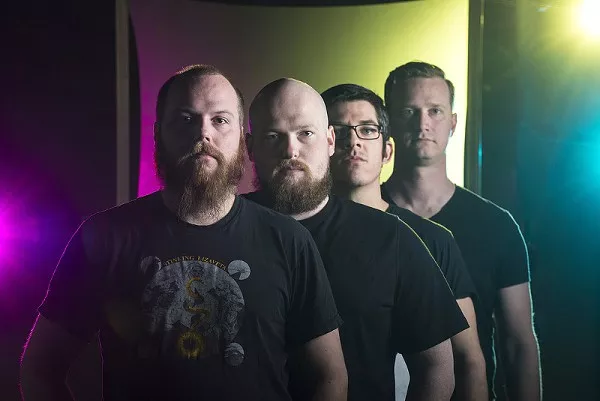 Photo by Corey Woodruff
The Gorge is one of 90+ bands performing at the 2016 RFT Music Showcase on June 18.
Progressive metal is difficult to do well, because the line between fucking-sweet riffage and cheeseball posturing is very, very narrow. Thankfully, the members of the Gorge — guitarist/vocalist Phil Ring, guitarist Joe Bowers, bassist Chris Turnbaugh and drummer Jerry Mazzuca — have always fallen on the correct (read: totally sweet) side of the genre. The reason is simple: They're no-frills players who understand the value of restraint and dynamics, and employ meticulous arrangements that also hint at frantic mathcore and technical metal. These strengths come through loud and clear on the Gorge's most recent album, Thousand Year Fire. The album's power-drill drumming, jackhammer guitars and roaring vocals should please Baroness and Mastodon fans who aren't stoked on how those bands have evolved.
By Annie Zaleski
---
The Lion's Daughter
The Lion's Daughter is not an easy listen, borrowing the most abrasive elements from various strands of metal (doom/black/death) and throwing in some industrial ingredients for good measure. The band is so deeply obsessed with darkness that its 2016 album Existence Is Horror might as well be called Existence Is So Cool, You Guys! The trio's perverse fascinations actually make its bleakness feel enthusiastic — transcendent, even, as Rick Giordano trades his urgent screams for near-anthemic melodies in the final minute of the song "Four Flies." The Lion's Daughter released Existence Is Horror on super-reputable French label Seasons of Mist, but that cred is a sidenote to its triumph; the album is less than a year old and already feels like a nihilistic classic.
By Ryan Wasoba
---
Thor Axe
The so-called "instru-metal" band Thor Axe emerged from hibernation in the last few years with a slightly modified lineup: Joining core members Phil Ring, Aaron Stovall, Clayton Kunstel and Ryan Thompson are keyboardist Kyle Work and guitarist Ryan Wasoba (who was in an earlier Thor Axe configuration and is also an RFT contributing writer). As anyone who saw the group open for Mac Sabbath or Andrew W.K. in recent years will no doubt testify, however, this dormant period hasn't diminished the group's ability to shred. Think of the tensest 8-bit NES boss levels, or the most epic, snarling '80s heavy metal guitar solo — and those only scratch the surface of Thor Axe's mighty, metal-tastic powers.
By Annie Zaleski
---
Van Buren
Charlie Turner and Joel Stilwell, who comprise the metal band Van Buren, are proof that all you need to turn any old show into a party is a bass guitar, a drum set and an amp that won't quit. The collection of live songs the duo has streaming online right now is just a taste of what they're like live, with tearing riffs that make up for what you may not quite be able to decipher in their lyrics. For all their noise, there's have a quiet seriousness to Van Buren's work that makes you realize their brand of metal is truly heavy, moody and raw — a perfect combination.
By Erin Williams
Don't forget to cast your vote for the RFT Music Awards below!