Photo by Tracy Sachs
Hazard to Ya Booty is a longtime mainstay of the St. Louis funk scene.
The
2016 Riverfront Times Music Showcase
will be held this year on Saturday, June 18 in the Grove! By the numbers, this is the largest all-local music festival in St. Louis history with nearly 100 bands booked across 9 venues. From now until then, we at RFT Music will be making our cases for every act nominated for an RFT Music Award, so that you will be able to make a fully informed decision
with regards to your vote
. Read on and get yourself acquainted, and we'll see you at the showcase!<!—————EndFragment—————>
Al Holliday and the East Side Rhythm Band
You'll find no shortage of local musicians wh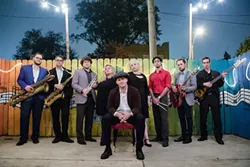 PHOTO COURTESY OF THE BAND
Al Holliday and the East Side Rhythm Band
o can tell you ofSt. Louis' long musical tradition; hell, pick a bar in Soulard or on Broadway and you can hear them sing the city's history right to you. But it's rare that a talent as young as Al Holliday can encompass both tradition and invention. As the force behind Al Holliday and the East Side Rhythm Band, the pianist, guitarist and singer writes original soul-and-R&B inspired music, and orchestrates his vision with an eight-member band, all before his 30th birthday. On a track like "Oliver Sain's 3 a.m. Soul Serenade," Holliday pays tribute not only to the great St. Louis legend but to the very experience of living and playing in a vibrant musical city.
By Christian Schaeffer
<!—————StartFragment—————><!—————EndFragment—————>
---
Funky Butt Brass Band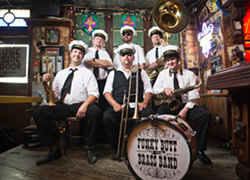 How did St. Louis exist so long without a true, bonafide New Orleans-style brass band? Since Funky Butt Brass Band came on the scene, it's been impossible to miss the six-headed beast. At parades, at barbecues, at community radio festivals and especially at a certain oyster bar on Broadway, Funky Butt is a steady-gigging presence that references its Crescent City inspiration, but infuses plenty of 314-specific funkiness as well. Credit the oft-theatrical vocalizations of members Tim Halpin, Adam Hucke and Aaron Chandler for the band's never-the-same-set-twice bravado, but recognize that
"brass" is in the band name for a reason: These cats can blow.
By Christian Schaeffer
<!—————StartFragment—————>
---

Hazard to Ya Booty
Photo by Tracy Sachs
Hazard to Ya Booty is a longtime mainstay of the St. Louis funk scene.
Since the early 2000s, Hazard to Ya Booty has been cooking up a genre it calls "crunch funk." In other words, it don't mean shit if it ain't got that grit. Led by charismatic belter Ryan Stewart, the band always lets the horns punch, the guitars slink and the rhythms ride through the straight-ahead funk of James Brown, the gnarlier jams of George Clinton and the hard grooves of the Red Hot Chili Peppers. But Hazard to Ya Booty isn't a funk-rock cover band. The group's originals have authority and hooks that grow stronger with every sweaty set.
By Roy Kasten
---

Rhythm Section Road Show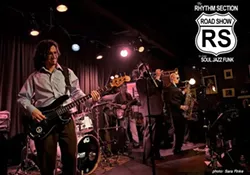 Andy Coco doles out the funky soul and the soulful funk each Friday afternoon on KDHX's Rhythm Section, his two-hour block of music from old and new masters of the form. And while you can find Coco holding down the low end with everyone from Cree Rider to the Stones tribute Street Fighting Band, his Rhythm Section Road Show lets him align some local superstars in rotating casts. A recent gig opening for Snarky Puppy organist Cory Henry found Coco playing alongside longtime associate Nathan Hershey on keyboard, Charlie Cerpa on sax, Pete Lombardo on drums and Mike Murano on guitar. Whatever the lineup, the Rhythm Section Road Show are always true guardians of the groove.
By Christian Schaeffer


---

Southern Exposure
In a recent interview, Daryl Hall offered sage advice to anyone tempted by the concept of "cultural appropriation": "Shut the fuck up." He might have added, "And get rid of all your Rolling Stones records while you're at it." It's tiresome to point out that white dudes can play the blues (and soul and funk and jazz) if they have the talent and the work ethic to back up the style. Featuring down-home R&B keyboardist Al Holliday, guitarist Neil Salsich, bassist John Hussung, drummer Mike Murano and sax man Charlie Cerpa, Southern Exposure specializes in the sounds of the Crescent City, pushing the tunes of Allen Toussaint and the Meters into somewhat jammy but always soulful directions. This quintet isn't appropriating anything; every show is a dance-floor-filling, Big Easy-style party.
By Roy Kasten


Don't forget to cast your vote for the RFT Music Awards below!