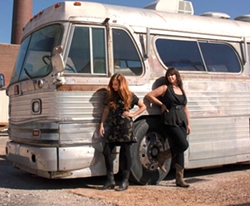 Photo by Amanda Joern
Catch Arson for Candy at the 2016 RFT Music Showcase taking place this year in the Grove on June 18.
The
2016 Riverfront Times Music Showcase
will be held this year on Saturday, June 18 in the Grove! By the numbers, this is the largest all-local music festival in St. Louis history with nearly 100 bands booked across 9 venues. From now until then, we at RFT Music will be making our cases for every act nominated for an RFT Music Award, so that you will be able to make a fully informed decision
with regards to your vote
. Read on and get yourself acquainted, and we'll see you at the showcase!
Arson For Candy
Jenny Roques and Jackie Oberkrom split the singing and guitar-playing duties in their long-running project Arson for Candy. The band also splits its time between St. Louis and Austin, Texas, so its shows are a relatively rare treat. Together Roques and Oberkrom meld their love of classic country with sharp wit and winning harmonies. On last fall's split single, the band shows its comfort at moving between sassy twang and heartfelt weepers. "Lonestar Lite" has the guitar-picking verve of the best barroom kiss-offs, while "Stranger" is tender but never overly sweet. (To see the band in its element, alongside a host of boot-scooting local scenesters, peep the recently released video for "Lonestar Lite.")
By Christian Schaeffer
---
Beth Bombara
From her years working with Cassie Morgan as the Lonely Pine, providing instrumental and harmony vocal support, Beth Bombara has now emerged as one of our very best singers and songwriters, with her own style and instantly identifiable voice. Bombara can pull off a hard-strumming alt-country rocker as well as a ramshackle gospel rave-up or a crunching electric blues jam. Her 2015 self-titled solo album benefited from husband and bandmate Kit Hamon's virtuosity, but it's still that smoky, yearning, confident voice that's been winning over fans on tour across the Midwest and as far south as Texas.
By Roy Kasten
---
Brothers Lazaroff
In 2009 David Lazaroff left Austin, Texas, and returned to St. Louis to reunite with brother Jeff and to establish the current shape and sound of one of St. Louis' most respected roots-conscious bands. With drummer Grover Stewart, bassist Teddy Brookins and keyboardist Nate Carpenter, Brothers Lazaroff roam across styles — reggae, jazz, funk, trippy rock — and accomplish an amazing feat: a kind of unification of disparate scenes in St. Louis. They've worked with hip-hop groups such as Mathias and the Pirates and collaborated with soul-jazz maestros such as Lamar Harris. Eclectic doesn't even begin to describe the band's unpredictable approach to rock music.
By Roy Kasten
---
Loot Rock Gang
The partnership of Mat Wilson and Little Rachel Fenton has borne fruit on and off the stage; the married pair are kind enough to share their devotion to one another while sharing their mutual love of jump-blues and guitar-led boogie-woogie. Both have explored roots music with their own projects (he with the Rum Drum Ramblers, she as a solo artist), but along with bass saxophonist Kellie Everett and upright bassist Stephen Inman, the Loot Rock Gang creates something traditional that flows with boundless energy. "Love for My City," from 2014's That's Why I've Got to Sing, might as well be co-opted by St. Louis' board of tourism, as Fenton and Wilson outline the sights and landmarks that dot the Gateway City. Give it one listen and try not to swell up with hometown pride.
By Christian Schaeffer
---
River Kittens
The phrase "power trio" usually denotes some cock-rock guitar/bass/drums combo, but the three women at the core of the River Kittens channel a different kind of power. Martha Mehring (guitar), Mattie Schell (mandolin) and Allie Vogler (banjo and guitar) found one another through various open mics, and their harmonies hit the right mix of Saturday-night revelry and Sunday-morning service. In a relatively short timespan, the band has grown to include a full rhythm section, playing everywhere from Soulard haunts to the Pageant's big stage, opening for Pokey LaFarge's new year's eve show this year. The slow-burning "Mama" from this year's six-song self-titled EP is a clear distillation of the group's folk roots and city-bred soul, as the singers dig into a lyric that should end up on a t-shirt someday soon: "All these St. Louis hoodrats really need me."
By Christian Schaeffer
Previously: Hip-Hop (Solo)
Don't forget to cast your vote for the RFT Music Awards below!