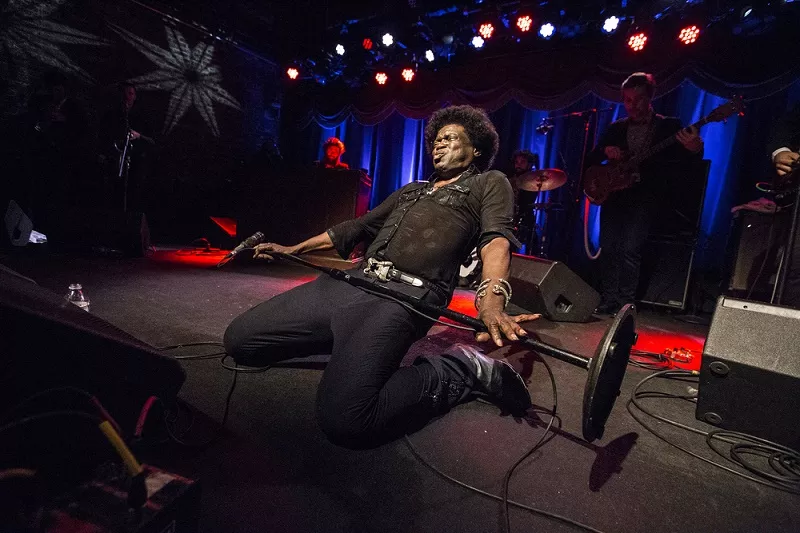 Photo by Cortney Armitage
Charles Bradley and His Extraordinaires will perform at Old Rock House this Thursday, May 5.
When Charles Bradley first saw James Brown perform at New York's Apollo Theater in 1962, his life was forever changed. The young Bradley, then just a teenager, was blown away by the Godfather of Soul — the way he sang, the way he moved, the way the stage lights shone on him. Bradley was so transfixed he soon formed a band and began singing the songs of his idol. By 1996 the singer was making a living as a James Brown impersonator under the name "Black Velvet," only to be discovered by Daptone founder Gabriel Roth in 2002. Since then Bradley has released three albums with the label, including April's critically acclaimed
Changes
.
Expect A Hell of a Show: "Every night, I try to perform like it's my last day on earth," Bradley
told RFT in a 2013 interview
. "When I come to town I'm going to open my heart and give you all I got."
Watch the video for "Change for the World," from Bradley's latest album, below.
Charles Bradley and His Extraordinaires
<!—StartFragment—>
8 p.m. Thursday, May 5. The Old Rock House, 1700 South Seventh Street. $15 to $17. 314-588-0505.