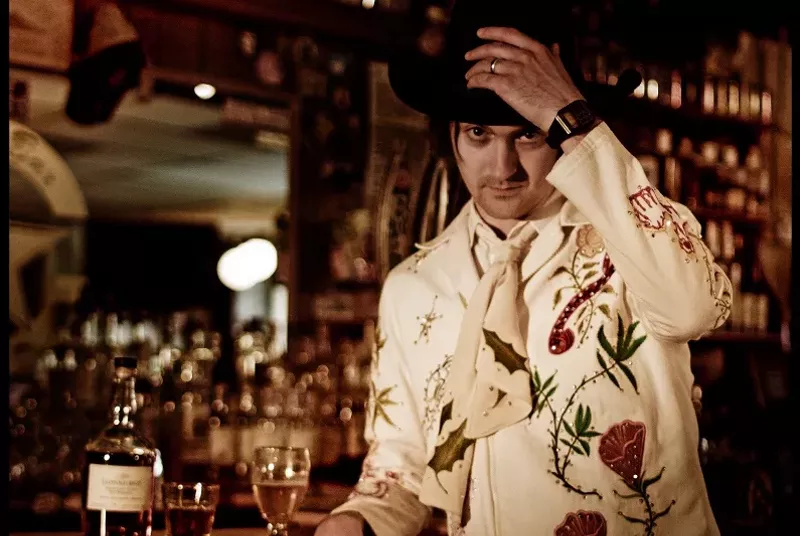 Press photo via official website
Casey Prestwood & the Burning Angels will perform at Off Broadway on Sunday.
Below, our picks for the best shows in St. Louis this weekend! Conspicuously absent from this list, you may notice, is R. Kelly. That's because
he is a creeper
and you shouldn't give him any of your money. Check out, instead, the music of artists who
haven't
been accused of disgustingly heinous crimes! Our full picks are below.
FRIDAY, APRIL 29
Little River Band
8 p.m., $45-$55. River City Casino & Hotel, 777 River City Casino Blvd., St. Louis, 314-388-7777.
By Mike Seely
Australia's Little River Band may very well be the most lyrically challenged group now making the nostalgia-circuit rounds. To wit, consider the following lyrics from LRB's 1979 smash "Cool Change": "Well I was born in the sign of water/And it's there that I feel my best/The albatross and the whales they are my brotherzzz." Oh yeah, albatross — wassup, bro? Come on. Anyway, verbiage don't matter, because LRB's silky, melodious Air Supply-on-speed power ballads keep the cup more than half full.
Al Holliday and the East Side Rhythm Band Vinyl Release
w/ Sophisticated Babies, Cooter and Hoss
8 p.m., $10. Off Broadway, 3509 Lemp Ave., St. Louis, 314-773-3363.
By Christian Schaeffer
Holliday and Co. have proven that they can make rollicking, party-starting music; his debut album, 2013's
Made It Through the Mill, Again
, was a startling debut from a 25-year old white guy singing like a sanctified soul shouter. He's a few years older now and well-traveled on local funk and soul stages; the resulting songs on
Natural Remedies
show both a tightening of the band's chops and a certain expansiveness to Holliday's approach to Delta-bred R&B music. His voice is still big and brusque, and at times his approach can threaten to overwhelm these songs, but he always approaches his performances from a soulful place. He and the band are more patient this time out, less inclined to barrel through a song and more comfortable in letting the mood marinate through your speakers.
SATURDAY, APRIL 30
Tom Hall
7 p.m., $5. BB's Jazz, Blues & Soups, 700 S. Broadway, St. Louis, 314-436-5222.
By Dean C. Minderman
Tom Hall has been playing the blues around St. Louis for three decades. Not unlike early Ry Cooder, Leo Kottke or David Lindley, at his best Hall mixes and matches bits of the roots-music vernacular to create something fresh from the familiar. His comfy-old-shoe vocals will never be mistaken for pretty, but they carry the music effectively and without pretension. And Hall's guitar playing is first-rate, featuring an encyclopedic grasp of the blues vocabulary and clean, rhythmically precise picking that touches a variety of stylistic bases while retaining plenty of soul.
7 Shot Screamers
9 p.m., $10. Off Broadway, 3509 Lemp Ave., St. Louis, 314-773-3363.
By Roy Kasten
If you're a punk, and you're going to go rockabilly (or vice versa), you might as well go all in. The 7 Shot Screamers has been immersing St. Louis audiences in sacrilegious swilling and psychobilly killing for more than a decade. The band took a pause for lead singer Mike Leahy's macabre tryout as Clownvis Presley on
America's Got Talent
. Speaking just for the Screamers' corner of the heartland, we know the band clearly has the talent to pull off its furious, uncouth and original blend of the Clash, the Stray Cats and the Pogues.
SUNDAY, MAY 1
Casey Prestwood & the Burning Angels
w/ Oak Steel & Lightning, Cree Rider Family Band
7 p.m., free. Off Broadway, 3509 Lemp Ave., St. Louis, 314-773-3363.
By Roy Kasten
Country music has always sown the seeds of its own satire. Johnny Cash and George Jones were great artists because they took their music and their audience seriously, but they also loved to mess with the conventions and laughed with, never at, those who knew the absurdity of country clichés when they heard them. Enter Casey James Prestwood & the Burning Angels, a young band of traditionalists who tweak and twist all the tropes you can name — murder, betrayal, work and drinking, lots of drinking. Think you've heard enough from the Nudie-suited alt-country set? Think again. Prestwood can sing rings around most of his peers, and his band deals ace after honky tonk ace. Fans of Dale Watson and Robbie Fulks take note.