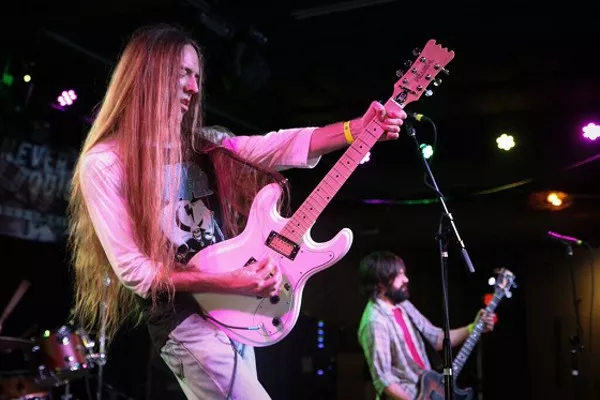 Photo by Derek Schwartz
Tok, voted Best Hard Rock Band for two years running, performing at the 2015 RFT Music Showcase.
Who says music isn't a competition? Joking aside, the RFT Music Awards are our way of celebrating St. Louis' staggering wealth of talent. The nominees you see below were carefully compiled by a panel of radio DJs, music writers, venue owners/employees, record store staff and other key figures from the music community, and very soon we will expect you, dear reader, to make some very hard choices.
The polls are set to open in mid-May as we roll out a band-by-band breakdown of each category. For now, take the time to comb through the list and become familiar with St. Louis' exceptional scene. And don't forget, many of the acts you see below are set to perform at this years RFT Music Showcase, taking place in the Grove this June, so stay tuned.
Americana
Arson For Candy
Beth Bombara
Brothers Lazaroff
Loot Rock Gang
River Kittens
Blues
4th City Rag
Big Mike Aguirre & the Blu City All Stars
The Green McDonough Band
The Maness Brothers
Rum Drum Ramblers
Country
Cree Rider Family Band
Jack Grelle
Southwest Watson Sweethearts
Tortuga
Trigger 5

Cover Band
Bullseye Womprats
Fat Pocket
The Town Drunks
Warhorse
We Bite

DJ
DJ MAKossa
DJ Mahf
DJ Uptown
Mister Ben (NO HITS)
Nappy DJ Needles

Electronic (Dance)
Adult Fur
D-M-Y
Giant Monsters On The Horizon
Hylidae
ICE (formerly known as Black James)

Electronic (Eclectic)
18andCounting
Biggie Stardust
Blank Thomas
Eric Hall
Hands and Feet

Experimental
The Conformists
Demonlover
Hardbody
Ish
Yowie

Folk
The Aching Hearts
Cara Louise Band
Dubb Nubb
Letter to Memphis
Whsky Gngr

Garage Rock
The Bobby Dazzlers
The Brainstems <!————EndFragment————>
Kenshiro's
Shitstorm
Tiger Rider

Hard Rock
Apex Shrine
Boreal Hills
Buttercup
Fumer
The R6 Implant

Hardcore
The Bubbleheads<!————EndFragment————>
Everything Went Black
Lumpy and the Dumpers
Q
The Warden

Hip-Hop (Group)
3 Problems
Blank Generation
Illphonics
MME
Mathias and the Pirates

Hip-Hop (Solo)
Arshad Goods
Bates
J'Demul
Mvstermind
Tef Poe

Improvisational/Noise Music
Beauty Pageant
Brain Transplant
Ghost Ice
Raglani
Vernacular String Trio

Indie Pop
Endora
Hope & Therapy
Middle Class Fashion
Scarlet Tanager
Whoa Thunder

Indie Rock
American Wrestlers
CaveofswordS
Foxing
Sleepy Kitty
Town Cars

Jam/Dub
Aaron Kamm and the One Drops
Blastar
The Driftaways
Thunder Biscuit Orchestra
Vandeventer

Jazz
Animal Children
Dave Stone
The Gaslight Squares
Sidney Street Shakers
Tommy Halloran's Guerrilla Swing

Metal
Fister
The Gorge
Lion's Daughter
Thor Axe
Van Buren

New Band
Baby Baby Dance With Me
Dangerbird
Dracla
Marble//Wall Duo
Swear Beam

Pop
3 of 5
Dropkick the Robot
The Educated Guess
Golden Curls
The Vanilla Beans

Post Hardcore
Blight Future
Jr. Clooney
LifeWithout
Lobby Boxer
Staghorn

Shoegaze/Psychedelic
Persh
Rip Rap
Summer Magic
Sunwyrm
Tone Rodent

Punk
Breakmouth Annie
Little Big Bangs
Skin Tags
Trauma Harness
Veil

R&B
Coultrain
Little Rachel
Love Jones "The Band"
The Provels
Roland Johnson & Soul Endeavor

Rock
Brother Lee & the Leather Jackals
Bruiser Queen
Bug Chaser
Old Souls Revival
Tok

Singer-Songwriter
Emily Wallace
Miss Molly Simms
Sharon Hazel Township
Suzie Cue
Zak Marmalefsky

Soul/Funk
Al Holliday and the East Side Rhythm Band
Funky Butt Brass Band
Hazard to ya Booty
Rhythm Section Road Show
Southern Exposure