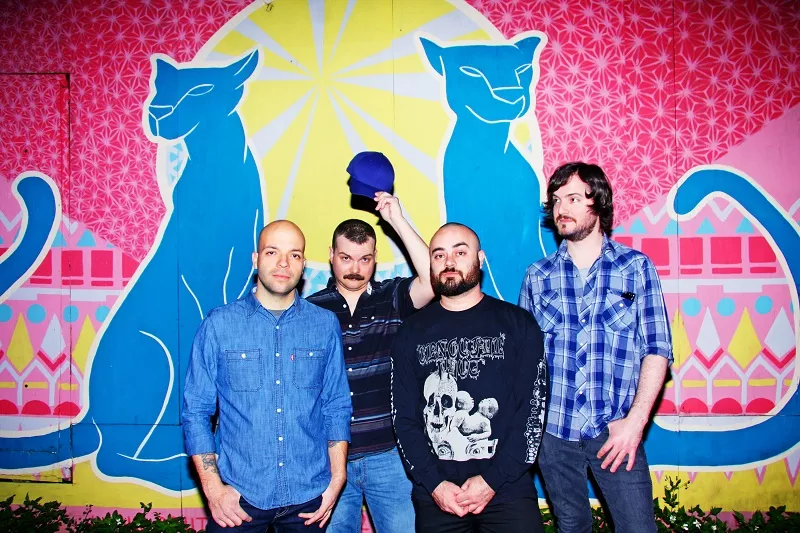 Photo by Janette Valentine
Torche will perform at the Ready Room on Monday, April 25.
Another gorgeous week of live music in spring-time St. Louis! The next seven days will bring stops from Torche — Monday at the Ready Room with Kvelertak — Joe Pug at the Sheldon on Wednesday, and Casey Prestwood at Off Broadway on Sunday. Check out our full picks below, and be sure to watch for our weekend post for more shows.


MONDAY, APRIL 25
Torche
w/ Kvelertak, Wild Throne
7 p.m., $18-$20. The Ready Room, 4195 Manchester Ave, St. Louis, 314-833-3929.
By Nathan Smith
For a decade now, Torche has more or less locked down the dubious title of World's Heaviest Band. Hard to blame it, really. Torche is its own trip. The proudly down-tuned outfit packs the same percussive wallop as sludge titans Mastodon and Neurosis, sure, but it also finds room for the pop songcraft and melodic vocals of heavier alternative acts like Nirvana and Failure. Though thoroughly crushing, the band's music defiantly retains a sunnier disposition and a lot more heart than that some of its hairier contemporaries.
TUESDAY, APRIL 26
Mount Moriah
w/ Margaret Glaspy
8 p.m., $12. Off Broadway, 3509 Lemp Ave., St. Louis, 314-773-3363.
By Christian Schaeffer
The state of North Carolina might as well contract Mount Moriah to operate as part of its board of tourism (and given the P.R. bashing the state has taken in light of recently passed anti-LGBTQ laws, it could use the boost). So much of the band's latest album, the magnificent
How to Dance
, traces a line through the Tar Heel state. Take the lead-off track "Calvander" and trace its route through small towns and little-seen sights: Bogue Banks, Carteret County, Jacksonville and the title town itself make up the landscape of the song, but it's a testament to the power of singer and guitarist Heather McEntire that her home state becomes the physical backdrop for her cosmic and spiritual quandaries, which her bandmates prop up with vibrant, country-flecked rock & roll.
WEDNESDAY, APRIL 27
Joe Pug
8 p.m., $22. The Sheldon, 3648 Washington Blvd., St. Louis, 314-533-9900.
By Roy Kasten
Joe Pug is not a hipster with a banjo, a smarty pants with a computer, a naïf with a fake British accent singing in a fake forest. What he is is a serious songwriter — with his harmonica rack, dreadnought guitar and busker's work ethic, he's a throwback to Phil Ochs and Woody Guthrie. Reaching even further back, he conjures role models such as Whitman and Thoreau, for whom the rhythms of the American vernacular formed the hard, sacred core of art and whose politics were not a preening front. His best songs are American jeremiads, composed with images both fiery and fragile, calling down simple truths on his country and himself in his search for "a narrative that was ours." Song by exceptional song, he's finding it.
THURSDAY, APRIL 28
Loudon Wainwright III
8 p.m., $32.50. Wildey Theatre, 254 N. Main St., Edwardsville, 618-692-7538.
By Roy Kasten
In the school of American musical satire, Loudon Wainwright III is the dean, less because he's written topical songs and more because he's turned his wit inward. Somehow, he's transformed his private foibles and joys into the hard-polished mirrors of songs. In them, we simply recognize ourselves, no matter how uncomfortable it may be to look. After more than 40 years of music, he hasn't lost the touch.
FRIDAY, APRIL 29
Al Holliday and the East Side Rhythm Band Vinyl Release
w/ Sophisticated Babies, Cooter and Hoss
8 p.m., $10. Off Broadway, 3509 Lemp Ave., St. Louis, 314-773-3363.
By Christian Schaeffer
Holliday and Co. have proven that they can make rollicking, party-starting music; his debut album, 2013's
Made It Through the Mill, Again
, was a startling debut from a 25-year old white guy singing like a sanctified soul shouter. He's a few years older now and well-traveled on local funk and soul stages; the resulting songs on
Natural Remedies
show both a tightening of the band's chops and a certain expansiveness to Holliday's approach to Delta-bred R&B music. His voice is still big and brusque, and at times his approach can threaten to overwhelm these songs, but he always approaches his performances from a soulful place. He and the band are more patient this time out, less inclined to barrel through a song and more comfortable in letting the mood marinate through your speakers.
SATURDAY, APRIL 30
7 Shot Screamers
9 p.m., $10. Off Broadway, 3509 Lemp Ave., St. Louis, 314-773-3363.
By Roy Kasten
If you're a punk, and you're going to go rockabilly (or vice versa), you might as well go all in. The 7 Shot Screamers has been immersing St. Louis audiences in sacrilegious swilling and psychobilly killing for more than a decade. The band took a pause for lead singer Mike Leahy's macabre tryout as Clownvis Presley on
America's Got Talent
. Speaking just for the Screamers' corner of the heartland, we know the band clearly has the talent to pull off its furious, uncouth and original blend of the Clash, the Stray Cats and the Pogues.
SUNDAY, MAY 1
Casey Prestwood & the Burning Angels
w/ Oak Steel & Lightning, Cree Rider Family Band
7 p.m., free. Off Broadway, 3509 Lemp Ave., St. Louis, 314-773-3363.
By Roy Kasten
Country music has always sown the seeds of its own satire. Johnny Cash and George Jones were great artists because they took their music and their audience seriously, but they also loved to mess with the conventions and laughed with, never at, those who knew the absurdity of country clichés when they heard them. Enter Casey James Prestwood & the Burning Angels, a young band of traditionalists who tweak and twist all the tropes you can name — murder, betrayal, work and drinking, lots of drinking. Think you've heard enough from the Nudie-suited alt-country set? Think again. Prestwood can sing rings around most of his peers, and his band deals ace after honky tonk ace. Fans of Dale Watson and Robbie Fulks take note.