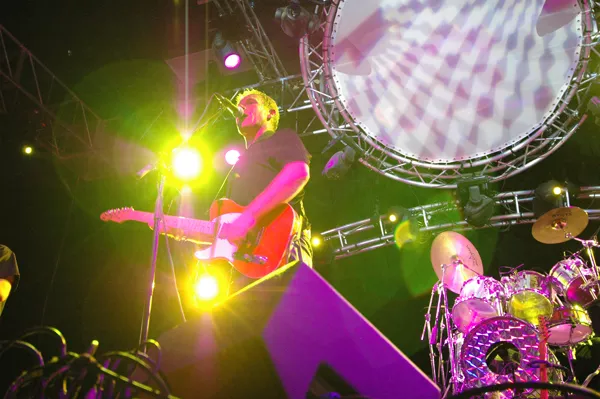 Photo by Eugene Iglesias
The English Beat will perform at the Duck Room at Blueberry Hill on Saturday, April 23.
Tired from all those Record Store Day festivities? Wallet light from new music purchases? TOO BAD CHUMP; THE SHOWS ROLL ON!
This week sees stops from Dave Rawlings Machine, Your Friend and Andrew Bird — and that is just the tip of the iceberg. See below for our complete show picks for the week, and remember to watch for our weekend post on Friday for even more.


MONDAY, APRIL 18
Dave Rawlings Machine
8 p.m., $38-$40. The Sheldon, 3648 Washington Blvd., St. Louis, 314-533-9900.
By Roy Kasten
As formidable a songwriter as Gillian Welch may be, her music simply would not be the same without her longtime partner David Rawlings. One of the rare acoustic guitarists to actually create his own sound — intricate, almost mandolin-esque notes blurring into rockabilly frenzy, all coaxed from a small 1930s archtop guitar — Rawlings' instrumental and harmonic talents don't just complement Welch's words, they bring the people, places and stories to life. The Dave Rawlings Machine began as a fun side project built for Nashville bar jamming; now it's a full-fledged band.
TUESDAY, APRIL 19
Your Friend
7:30 p.m., $10. The Stage at KDHX, 3524 Washington Ave, St. Louis, 314-664-3955.
By Mike Appelstein
From
this recent show preview
: Three-quarters of the way through
Gumption
, the debut full-length by the Lawrence, Kansas-based band Your Friend, Taryn Miller sings, "No one ever ages quite like they envision." It's a very clear, precise lyric on an album that's otherwise shrouded in an ethereal haze. "It's parallel to the changes I was going through mentally, physically, in relationships with family and friends," Miller says. "This record has established a shift that my life is taking now." For Miller, who was born and bred in southern Kansas and calls Lawrence home, it couldn't be a more apt statement of purpose. Over the past three years, she has ascended from a local home-recording artist to signing with the UK-based label Domino Recording Company.
WEDNESDAY, APRIL 20
The Bad Plus and Joshua Redman
April 19 and 20, 7:30 & 9:30 p.m., $40. Ferring Jazz Bistro, 3536 Washington Ave, St. Louis, 314-571-6000.
By Christian Schaeffer
St. Louis jazz fans are regularly blessed with yearly appearances by the avant-jazz trio the Bad Plus; Ethan Iverson, Dave King and Reid Anderson hunker down at Jazz at the Bistro every January and usher in the season with inventive, improvisational music. The trio has spent the last five years working off and on with Joshua Redman, the saxophonist who has spent the past 25 years moving in and out of traditional jazz, soul and funk scenes. Their collaboration culminated with last year's The Bad Plus Joshua Redman, and this two-night stand will show how this partnership between two restless entities evolves.
THURSDAY, APRIL 21
Trauma Harness
w/ La URSS
9 p.m., $7. CBGB, 3163 S. Grand Ave, St. Louis, 314-773-9743.
By Josh Levi
Trauma Harness may just be one of St. Louis' best-kept secrets. For years now the angular trio of Jenkins, Peterson and Birkner has produced an infectious brand of downer post-punk that would send any fan of the Fall or Wire running for the merch table. Through excellent musicianship and a crystallization of its power-pop and art-punk influences, Trauma Harness has proven to be one of the most interesting (if not overlooked) acts in the city. Whether ripping a virulent set of original songs or entering uncharted territory with an all-synth set, the band continue to set a new standard for creativity and sonic communion.
FRIDAY, APRIL 22
Andrew Bird
8 p.m., $33.50-$43.50. The Pageant, 6161 Delmar Blvd., St. Louis, 314-726-6161.
By Roy Kasten
Semi-popular music has never known a virtuoso quite like Andrew Bird. His sumptuous looping, arcane orchestrations, cerebral lyrics and voracious musical appetites sometimes veer into preciousness but are all almost always redeemed by a love of melody and obsessive commitment to making something new. His thirteenth and latest album
Are You Serious
marks Bird's fullest embrace of the rhythmic power of pop, getting downright funky within his usual metronomic precision — bassist Alan Hampton deserves a permanent contract — and letting his whistling take flight over squalls of guitars. And he even deconstructs melodramatic country pop with Fiona Apple at his side. There really is no one like him.
SATURDAY, APRIL 23
The English Beat
8 p.m., $27.50. The Duck Room at Blueberry Hill, 6504 Delmar Blvd., University City, 314-727-4444.
By Annie Zaleski
In a 2009 interview with the
RFT
, English Beat lyricist/vocalist Dave Wakeling tried his best to describe the band's kaleidoscopic genre collisions. "Ska was just one in a number of influences," he said. "Primarily we were a punk-reggae party band — that was the idea. Once we got our blend of punk and reggae together — really, we wanted to get a blend of Toots & the Maytals and the Velvet Underground. Once we got that down, we realized it was quite close to ska beats, and we incorporated some songs like that, too. But we were more influenced by Motown than ska." When the English Beat plays live, these influences continue to blend together in different ways — but they always form a danceable party atmosphere ideal for a Saturday night on the town.
SUNDAY, APRIL 24
Staghorn
w/ Timbre, the Resounding
7 p.m., $10. The Demo, 4191 Manchester Ave, St. Louis, 314-833-5532.
By Joseph Hess
"Staghorn ferns live in complete symbiosis with trees and need very little to live. They're completely self-sustaining, and a symbol of how mankind should be living with the rest of the world community," says Jared Scheurer, recent Florida transplant and founding member of Staghorn. His outspoken post-rock group takes an eco-friendly, DIY approach to every facet of its music. From its speaker cabinets, built from wood sourced in Missouri, to its hand-wired custom amps, the band pushes a holistic message through practice, not preaching. In fact, the group's music would lack lyrics entirely if not for disparate narration. Scheurer lends his voice to relay the band's mythology, a tale of time-traveling spectres who bring warnings of the end of days — unless mankind makes peace with nature, of course.