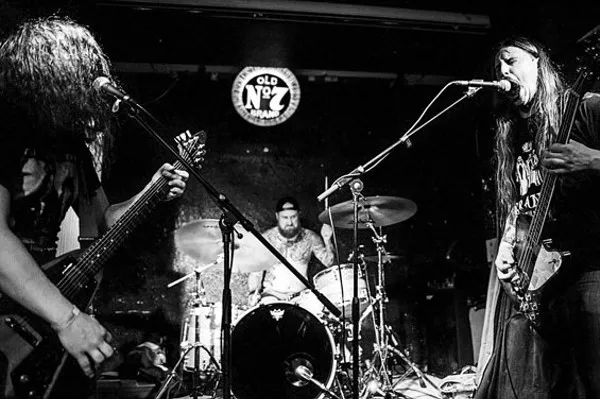 Photo courtesy of Fister
Fister will release its split with Everything Went Black this Saturday at the Demo.
With all the live entertainment this year's Record Store Day has to offer — full rundown on all of that here — it is almost a little surprising that there is room around town for anyone else to perform. But there is, including some acts getting in on the spirit of the event and releasing their own new records.
Former St. Louisan Javier Mendoza returns to the Old Rock House on Friday for his new release. Charlie Brumley and his Educated Guess will release their latest with a show at Off Broadway — read
our recent review
of the album here. Metal masters Fister and Everything Went Black will release their split EP at the Demo on Saturday, each covering the other's songs. Neat! Check out our full picks bellow:




FRIDAY, APRIL 15
David Sanborn
7:30 & 9:30 p.m. Friday and Saturday, $50. Ferring Jazz Bistro, 3536 Washington Ave, St. Louis, 314-571-6000.
By Dean C. Minderman
After more than 40 years in the music business, one might think that saxophonist David Sanborn has done it all. From playing at Woodstock with the Butterfield Blues Band, to performing on dozens of hit records with artists ranging from Stevie Wonder to David Bowie, to a successful solo career that has helped define contemporary fusion and funk, the Kirkwood native is one of the most recognizable instrumentalists on the planet, with a blues-drenched, razor-sharp tone on alto sax that has spawned legions of imitators.
Javier Mendoza CD Release Show
8 p.m., $15-$20. Old Rock House, 1200 S. 7th St., St. Louis, 314-588-0505.
By Joseph Hess
The smallest notches on Javier Mendoza's belt include awards from you, the loyal RFT readership. He has been named Best Male Vocalist, Best Solo Artist and Best Pop Artist in the past, owing to his work while living in the River City. He kickstarted what's become quite the music career after attending St. Louis University on a soccer scholarship and this show works as something of a homecoming for the Spanish singer-songwriter. The now-Nashville dweller has written tracks for several big names, including Ricky Martin and Enrique Iglesias. Pick up his latest CD at this show.
The Educated Guess CD Release Show
w/ Rough Shop
8 p.m., $10. Off Broadway, 3509 Lemp Ave., St. Louis, 314-773-3363.
By Christian Schaeffer
Very few artists still make records like Charlie Brumley does, and not just here in St. Louis. His records as writer, composer, singer and pianist of the Educated Guess often swell with more than 40 musicians — strings, brass, harmony vocalists — and harken to the big-budget recordings of grandiose 1960s pop songs. He rebooted the Educated Guess from what he calls "an Americana/Ennio Morricone hybrid" with last year's self-titled LP, and exactly one year later the band has yet another LP out. Even the title of
Another Educated Guess
is reminiscent of the strong streak of pop classicism that runs through Brumley's work, and the new album doubles down on the well-orchestrated sound of pre-Beatles pop and rock.
Dwight Yoakam
8 p.m., $57.50. River City Casino and Hotel, 777 River City Casino Blvd, St. Louis, 314-388-7777.
By Roy Kasten
Dwight Yoakam isn't one of country music's greatest of traditionalists just for his sound. In the '80s, the boom-twang reverberation of his Bakersfield-meets-rockabilly-meets-power-pop didn't just leap out of speakers tired of the likes of Anne Murray and the Oak Ridge Boys. In the tradition of Hank Williams and Johnny Cash, he created an iconic look: a sexy, urban cowboy with a mean streak and jeans not even Juice Newton would dare to wear. These days, just shy of 60, he still dares to don the outfit and rock the twang with his own version of the wall of sound. Last year's album Second Hand Heart struts and croons with classic Yoakam bravado and bittersweetness.
Freddie Gibbs
8 p.m., $18-$20. Fubar, 3108 Locust St, St. Louis, 314-289-9050.
By Tara Mahadevan
Freddie Gibbs' honesty ultimately makes him a more multidimensional rapper. He banks much of his career on being real, which is the spirit of his label, ESGN. His ability to work with Madlib — which he says was "like trying to piece together a puzzle" — is a testament to his adaptability, and it was a boost to his artistry. Madlib helped Gibbs become a sharper and more genuine lyricist. Gibbs has financed his career with zero backing from a major label and no radio singles. He's garnered endorsements from companies such as Adidas all on his own. And he considers it just another part of his growth.
SATURDAY, APRIL 16

The Cara Louise Band
w/ Adartis, Edgefield C. Johnston Duo
9 p.m., free. Schlafly Tap Room, 2100 Locust St., St. Louis, 314-241-2337.
By Christian Schaeffer
From
this 2015 album review
: What you'll hear on this album are the band's tightly constructed, classic-country-referencing songs given flight by Cara Wegener's strident and commanding vocals. Much like recent Nashville-via-New York export Nikki Lane, the Cara Louise Band creates a style of country-rock — with no trace of "alt-" signifiers — that showcases the alternating moods of strength and frailty in its singer's voice. Wegener surrounds herself with supportive musicians who add country color while cutting a clear path for her acoustic strums and flinty vocals. Guitarist Adam Donald offers some nice, lithe lines on the steel guitar for "You Make Me Happy" and lends a starlit mood to new track "Don't Look Back." That song in particular shows off mandolin player Nick Adamson, who uses well-placed plucks to chart a path throughout its stops and starts.
Mumford & Sons
7 p.m., $59.50. Scottrade Center, 1401 Clark Ave., St. Louis, 314-241-1888.
By Roy Kasten
Hollywood lies again: One can get to 5.4 million Facebook friends (or "likes" to be precise) without making a few enemies. The endlessly likable Mumford & Sons has done what its old-timey indie predecessors could not do. It has taken the sound of mountain-range Americana and repopularized it at a global level without alienating its fanatical UK base. And the band has done so without surrendering to facile jamming or abandoning the uncanny elation of gospel music and the snarling soul of primitive rock & roll.
Everything Went Black / Fister Record Release Show
w/ Hell Night, Alan Smithee
9 p.m., $8. The Demo, 4191 Manchester Ave, St. Louis, 314-833-5532.
By Daniel Hill
The new split release between Everything Went Black and Fister is, in a word, unsettling. As two of St. Louis' finest metal bands (in an increasingly cluttered field), each group is more than capable of creating a sense of impending doom with its music — a feeling of unstoppable dread. That ability is par for the course for a great metal band, but this particular release highlights these groups' absolute mastery of the form by allowing each to cover the other's music. Everything Went Black's rendition of Fister's "Suicide Hessian" displays the former's scorched-everything approach, its sound as-always slightly damaged by hardcore punk and even incorporating some black metal-style scissor beats into Fister's normally slowed-down approach. Fister, in turn, brutalizes Everything Went Black's "Card of Giants," stretching the formerly two-and-a-half minute track into seven minutes of gut-wrenching, anxiety-inducing suspense. The end result is heavier than Acme's entire line of anvils, and twice as destructive. Rounding out the bill are more of St. Louis' best metal acts: Hell Night brings a rock-heavy, lead-laden approach while Alan Smithee dazzles with its jazz-inspired tech-metal wizardry.
Orgone
9 p.m., $12-$15. The Ready Room, 4195 Manchester Ave, St. Louis, 314-833-3929.
By Roy Kasten
On the heels of the soul revival comes the funk revival, split between quasi-traditionalists like the Budos Band and the New Mastersounds and quasi-jammists like the Greyboy Allstars and Dumpstaphunk. What unites the factions is percussion, often with a heavy Latin influence. Seven-or-more-piece LA band Orgone lays the percussion on rich as molé poblano and twice as thick, with svelte lead singer Fanny Franklin sweetening the Afro-Latin rhythms with a surprisingly muscular and sensual delivery. The band is named after Willhelm Reich's quintessentially far-out theory of the universal life force. Orgone's sound will make you feel it.
SUNDAY, APRIL 17
Floetry
7 p.m., $49.50. The Pageant, 6161 Delmar Blvd., St. Louis, 314-726-6161.
By Jonathan Zwickel
In the cluttered, money-mad landscape of modern R&B and soul music, the figures that stand tallest stand alone. Prima donnas like Erykah Badu and Lauryn Hill have the creative vision and iron-fisted drive necessary to elevate themselves among their peers; Usher and R. Kelly work their mack-daddy game as lone wolves on the prowl. The point is trite but true: you can't be top dog if you're playing second fiddle. Unless you're Philadelphia neo-soul duo Floetry, that is. Between Natalie Stewart and Marsha Ambrosius, there are no dogs, no fiddles, no hierarchy, no competition. For these two, working in tandem is the only way to operate. And whether you put a hyphen, a slash or an ampersand in the genre title doesn't matter to either of them or change their outlook on their art.