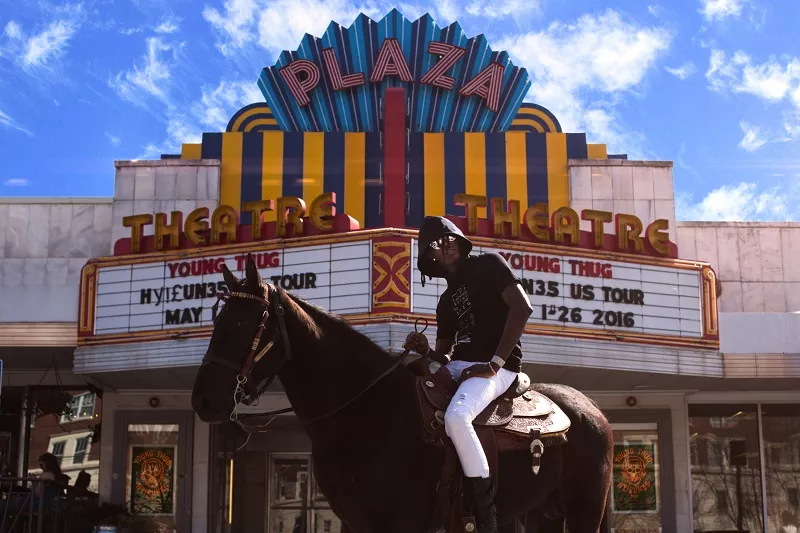 Photo by Garrett Coyte
Young Thug will perform at Lux on Saturday, April 9
This weekend marks the return of Lo-Fi Cherokee, an annual event helmed by local videographer Bill Streeter featuring performances by more than a dozen bands on Cherokee Street. Make sure you leave the house early — the day kicks off at 9 a.m. Even earlier than that, on Friday night, STL darling Foxing will take over the Luminary, also on Cherokee Street. Underoath brings its reunion tour to the Pageant on Sunday — if you're a fan it'd be best not to miss it, because lord only knows if the group will be able to keep it together. Check out our full list of picks below.


FRIDAY, APRIL 8
Foxing
w/ o'brother, Tancred, Adjy
6:30 p.m., $11-$14. The Luminary, 2701 Cherokee St, St. Louis.
By Daniel Hill
St. Louis' Foxing is officially taking over the world.
The Albatross
, the group's debut LP, landed with a massive thud in November of 2013 and quickly attracted the attention of New York's Triple Crown Records, perhaps best-known as the label that introduced the world to emo darling Brand New. With Triple Crown's backing, Foxing spent 2014 touring in support of bigger-name acts including Seahaven, the Hotelier, Modern Baseball and even the aforementioned Brand New, winning over legions of fans along the way. In October the group released
Dealer
, its second LP, to massive and universal critical acclaim. At this point the sky is the limit, and Foxing will soon be one of St. Louis' most well-known modern musical exports. Get on board the hype train now so you can brag to your friends later.
Savages
8 p.m., $22-$25. The Ready Room, 4195 Manchester Ave, St. Louis, 314-833-3929.
By Christian Schaeffer
"I need something new in my ears," sings Savages leader Jehnny Beth on her band's latest,
Adore Life
. When Beth and her London-based band landed stateside with 2013's
Silence Yourself
, that sentiment was shared by the band's devoted following of listeners looking for something new. But the trick with Savages wasn't so much that their sound was especially groundbreaking — that jagged, greyscale post-punk thrash has been a dependable go-to for some time. Credit, then, the delivery of the sound, controlled by four women in thrall of the life- giving brutality of their music.
SATURDAY, APRIL 9

Lo-Fi Cherokee 2016
w/ Baby Baby Dance With Me, We Party Portugal, Thelonius Kryptonite, Letter To Memphis, Madisen Ward and the Mama Bear, American Wrestlers, Adult Fur, Suzie Cue, Thee Fine Lines, Dubb Nubb, Tortuga
9 a.m., free. Cherokee Street (Iowa Ave. & Cherokee St.), Cherokee St. and Iowa Ave., St. Louis.
By Daniel Hill
St. Louis videographer Bill Streeter's Lo-Fi St. Louis is now entering its fifth year of producing the popular Lo-Fi Cherokee series. Each year more than a dozen bands take over an equal number of venues along Cherokee Street, playing brief sets while Streeter and Co. undertake the monumental process of capturing each performance. It is a task near-Sisyphean in nature, and the fact that the crew successfully pulls it off year after year stands as a testament to their immense talent.
Willie Nelson
7 p.m., $56.50-$122. Peabody Opera House, 1400 Market St, St. Louis, 314-241-1888.
By Julie Seabaugh
Willie Nelson, music's most prolific country outlaw, long ago said "pshaw" to the Nashville dream machine. Instead, he chose to forge a legacy of tangled-but-truthful hits — "Crazy," "On the Road Again" and "Always on My Mind," to name a few — that he delivered with a reedy, Whiskey-River-soaked twang in his tenor and a twinkle in his eye. All-American yet wholly original, the Red Headed Stranger also stands as an inspiration to environmentalists, pot smokers and income-tax evaders everywhere.
Young Thug
9 p.m., $43.19-$64.29. Lux, 2619 Washington Ave., St. Louis, 314-531-2920.
By Daniel Hill
Young Thug's unusual rap style has been compared to a "beautifully played but broken wind instrument," which is as apt a description as one could ever hope to describe his schizophrenic but wholly unique approach. Credit Lil Wayne for that — at least in part. Weezy's similarly off-kilter and damaged flow has had a tremendous impact on Thugger, who has long cited the rapper as his biggest influence. But a series of unfortunate events — not the least of which being a high-profile falling out with his long-standing label, Cash Money Records — has seen Wayne denouncing his protege and former labelmate, even going so far as to tell an audience not to listen to him anymore in April of last year. All told, though, Young Thug might get the last laugh: Weezy hasn't seen the top of the charts in some time, whereas Thugger is constantly on the rise.
Yonder Mountain String Band
w/ Horseshoes and Hand Grenades
7 p.m., $25-$30. The Pageant, 6161 Delmar Blvd., St. Louis, 314-726-6161.
By Daniel Durchholz
Just as Phish and countless other electric bands stepped up to claim the tripped-out-jam-band legacy bequeathed by the Grateful Dead, several acoustic bands have come along to remind us that Jerry was a bluegrass aficionado, too. Though the Yonder Mountain String Band is not expressly a jam band — it mostly plays straight-ahead bluegrass and mountain ballads — it's found success with the jam-band crowd, thanks to a penchant for occasional long instrumental excursions (and hey, dig that far-out merch table, man).

Miss Molly Simms
w/ Lara Hope and the Ark-Tones
9 p.m., free. Schlafly Tap Room, 2100 Locust St., St. Louis, 314-241-2337.
By Christian Schaeffer
Molly Simms' voice is too big to be contained by one mere band or project. The singer, songwriter and guitarist came to local prominence as the leader of the Bible Belt Sinners, and that band's 2014 EP,
Sunday Best
, paired Simms' strident delivery with the tried-and-true strains of punk and rockabilly. The songs were fun flashes of attitude and twangy discord, but Simms' solo work — first heard on 2013's
Revenants
and 2015's
One Way Ticket
— offer her a wider stylistic and emotional range.

Madisen Ward and the Mama Bear

7 p.m., $10-$14. Off Broadway, 3509 Lemp Ave., St. Louis, 314-773-3363.
By Roy Kasten
Cast your mind back three years: Madisen Ward and the Mama Bear played to a handful of folks on the top of the City Museum at KDHX's annual Midwest Mayhem bash. Perhaps the mother and son duo knew what was to come: a record deal with Glassnote, major festival slots and world tours. But they didn't play like it, and they still don't. Steeped in gospel and hillbilly music, the Kansas City-area musicians also love contemporary folk of the Simon and Garfunkel school. Together they unwind serpentine stories full of subtle details and back them with just enough stomp, strum and call-and-response to keep the front-porch feeling alive — no matter how big the stage gets.

SUNDAY, APRIL 10
Neon Indian
8 p.m., $15-$18. The Ready Room, 4195 Manchester Ave, St. Louis, 314-833-3929.
By Josh Levi
From the
RFT Music archives
: As the lights went out, signaling the start of Neon Indian, it was clear who the kids came out for. A notably young crowd exploded into cheers and applause as Alan Palomo hit the stage. Erupting in an instantaneous dance party at the first note of "Local Joke," the refreshingly active audience writhed with youthful abandon as Neon Indian plowed through a handful of songs. Palomo, like many his contemporaries (Toro Y Moi, Washed Out, et al) has transcended the (now) laughable "chillwave" label, giving a tangible heart to former bedroom recordings. Backed by a full-band of impressive musicians, Neon Indian's sound has rounded out with expansive sweeps of ethereal swashes married to frenetic bounces of rhythm.
Underoath
7:30 p.m., $25/$29. The Pageant, 6161 Delmar Blvd., St. Louis, 314-726-6161.
By Julie Seabaugh
Underoath has weathered dramatic storm after dramatic storm since its 1998 inception. And yet somehow the revolving door of personnel, breakups and substance abuse, and ongoing struggle to adhere to Christian tenets have infused its brand of hardcore histrionics with a raw intensity few other derivative punk bands share.