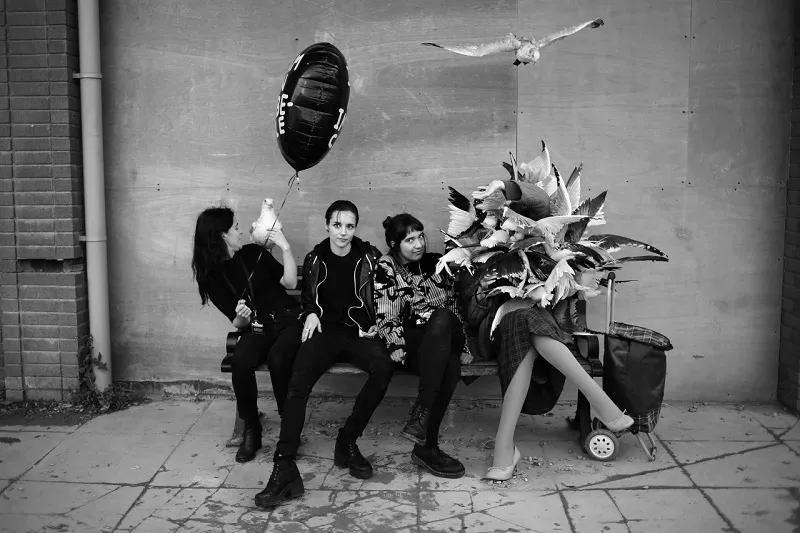 Press photo via official website
Savages will perform at the Ready Room on Friday, April 8.
Savages straddles the tightrope between art and edginess. The London four-piece of Jehnny Beth (vocals), Ayse Hassan (bass) Gemma Thompson (guitars) and Fay Milton (drums) formed in in 2011 and quickly caught the attention of critics with an amalgamation of furious post-punk and songs of smashed romance and individual strength, channeling the likes of the Slits, Birthday Party, Suicide, and Siouxsie and the Banshees.
The band's 2012 debut,
Silence Yourself
, was a prizefight of relentless jabs and punches. Bursting onto the finicky UK scene, Savages brought seismic charisma and sonic brutality, quickly establishing itself as a force to be reckoned with. Shortlisted for the Mercury Prize, the group scored a prime slot at Coachella, paving the way for a conquest of America.
Adore Life
— the band's second offering, released in January — is more relaxed and confident. Songs such as "The Answer," "Adore," "Evil" and "T.I.W.Y.G." find the four women refining their style while illustrating both their insistence to play by their own rules and the poise of a more established act.
"We went into it with a plan to make a bold-sounding record, as bold as the last record we made in 2012," says Milton in a March phone interview. "We wanted to continue along that same path that really pushed the extreme things that we had already done. When we were quiet we'd be even quieter, when we were loud we would be even louder. We took everything and pushed it in its original direction, and we aimed to make a record that was sonically more solid than
Silence Yourself
."
In the studio, Savages is not afraid to take chances or push the envelope, resulting in a dervish of sounds that comes from the heart while remaining effectual and exciting. Milton, who trained as a classical drummer, says the band's creative process is a collaborative one.
"We all write together," she says. "Our songs are written as pieces of music with poetry. In a sense it really starts with the music and the words, and then the song comes. It's where those two meet in the middle. When we're working, obviously I write with my drums parts, but we're discussing the nature of the songs, the structure of the songs. There is so much that goes into songwriting and writing what we do that everything is collaboration between the four of us."
Milton says her classical background affected her as she transitioned into the world of rock music.
"I grew up playing classical percussion and thinking of each drum as its own instrument, as it is in an orchestra, and I think that sense of everything being separate hasn't left me," she explains. "I still write in a way of seeing a drum kit as an orchestral percussion section put together in one space. At the same time, it is a rejection of that world as well. With classical music you read your music from a piece of paper, and it's prescribed to you, and there's so much expression you can put into that. Really it's a lot."
Despite its ongoing maturation, Savages is still being categorized as post-punk — something Milton is not entirely on board with.
"Before I was in the band I always hated the phrase 'post-punk.' It's an amazing set of different music to just be described as a non-entity, really," she says. "It's something after something else happened, post-punk. I've always rejected that label, even way before I was in Savages. So then it kind of made me laugh that when we started we were called post-punk. I guess it makes sense; that's kind of where we fit in the world of music. It's a very lame label for me. I wish there was a different way of describing this kind of music."
In a manifesto featured on its website, Savages says that its music is often written for the stage. Milton elaborates on how the quartet brings this facet to its live shows.
"I think there is definitely a theatrical element, particularly with Jehnny and myself," she says. "We like to put drama into what we are doing on stage. It's about the performance. What I'm playing on the drums isn't hugely technical, but it's about trying to communicate, rather than the technicality of it. For Jehnny as well, I know her expression is so important to what she's doing, in the same way. Musically we like the high contrast between light and dark, loud and quiet. We like that extremes play off of each other."
Although the band is in the early stages of its current American tour, Milton feels positive about the dynamic nature of the shows so far.
"I really hope the energy continues," she says. "It really makes a difference. When they're really great it makes us really great, and then we make them really great. It's a twisted flirtation that really builds something."
Savages
8 p.m., Friday, April 8. The Ready Room, 4195 Manchester Avenue. $22 to 25. 314-833-3929.