Dana Plonka
Kacey Musgraves at Spotify House
"This is what ISIS thinks America is like," joked Robbie Fulks from the stage at the Broken Spoke, the oldest standing honky tonk in the Austin area. The lanky giant — one of many veterans of alternative country hitting the showcase and party circuit of SXSW 2016 — could feel the crumbling ceiling of the Spoke on his head. The clearance was an inch, if that.
He was describing Austin's 6th Street on a spring break and St. Paddy's weekend. "You've got drunk privileged kids roaming around, music blasting everywhere, and hundreds of cops." ISIS isn't right, he admitted, but it isn't exactly wrong on this point either.
This year SXSW made its biggest symbolic play yet for some kind of American dominance. The headliners to end all headliners were POTUS and FLOTUS, two artists that (given security concerns) don't often make the music fest rounds. Barack Obama held an informal chat to kick off the SXSW 2016 week; Michelle Obama opened up the music portion of the 30th annual gathering with a freewheeling discussion led by Queen Latifah and also featuring Missy Elliot, Sophia Bush and Diane Warren.
I rarely make keynote addresses at SXSW; this one was different. Michelle Obama continues to be an extraordinary figure. From the stage at the Austin Convention Center, she championed education for girls, specifically the 62 million denied that right by poverty or beliefs that cripple societies. She spoke with a casual grace, free of cant or buzz words, and I, at least, believed her when she said she plans to do more outside the political arena than within it.
And no, she said, she won't be running for president — not that anyone is ever held to such promises. She closed her comments with a reflection on what she would miss most after leaving the White House: "All of you."
Dana Plonka
Girls Names at British Music Embassy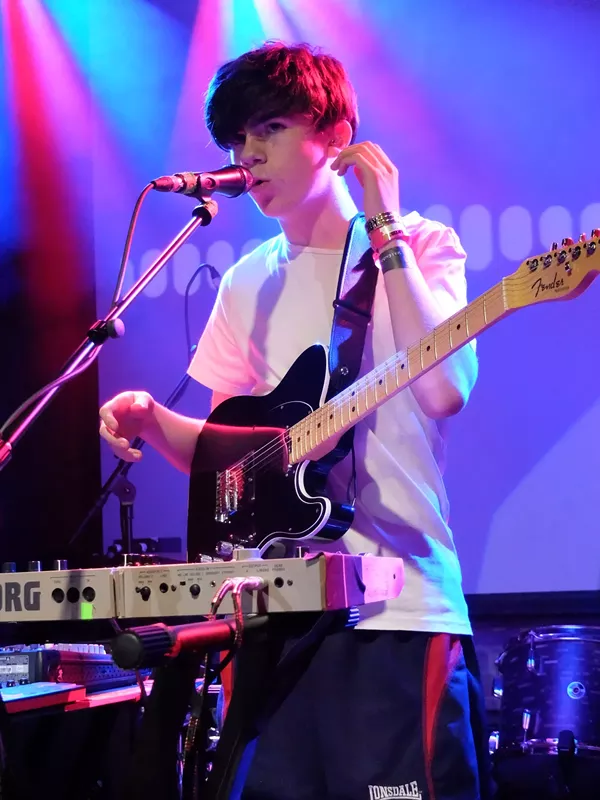 Dana Plonka
Declan McKenna at British Music Embassy
Prior to FLOTUS' Wednesday keynote, I took in the first evening of SXSW music with a Tuesday night showcase at the British Music Embassy just off 6th with Belfast band Girls Names. Cathal Cully is not a good singer, but he isn't in a good way: his bellow has venom in the vowels, and his band hurtles through Echo and the Bunnymen-esque soundscapes. When they jam, they jam without '80s nostalgia.
Young (as in 17) Declan McKenna followed, though some feared he'd never live to see voting age if he kept fiddling with pedal cables. Dressed as if he'd just skipped gym class, the Brit looped and crooned alone on stage, with songs and a voice some compared to an even younger Jake Bugg (more on him later), though I didn't hear it. Hard to discern why McKenna couldn't find four or five mates to flesh out his pimply pop at what should have been one of his most significant shows. He just seemed shy and disinterested despite his impressive command of electronic gadgets.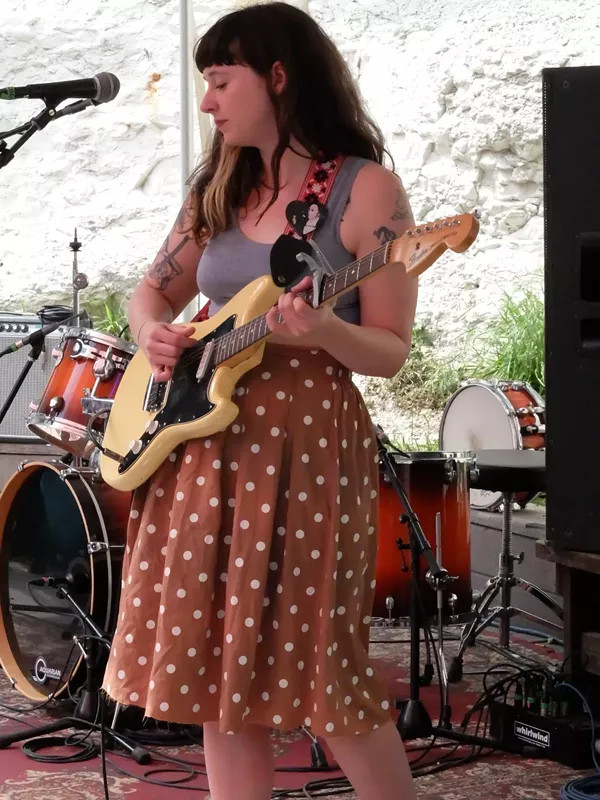 Dana Plonka
Waxahatchee at Cheer Up Charlie's
Dana Plonka
Rayland Baxter at Spotify House
Wednesday afternoon I made my way to Cheer Up Charlie's patio for a short solo set from Waxahatchee, a set that, while barely audible against the yammering of party-goers and the thump from a next door club, still made an impression. When Katie Crutchfield casually offers a few covers, including Lucinda Williams' imperishable Greenville, you can hear, really hear, why she is more than just the leader of a good indie-rock band. Her spirit and way with phrasing is pure. I wished to be seeing her (or anyone) some place, any place but this packed, soul-deadening tent, and so I walked a mile to the East Side for the Spotify House, probably the biggest of the "free" day party joints.
"Free" goes in quotation marks, as you'll pay dearly by standing in a 100+ line if you don't have a badge or wristband (Spotify is in league with SXSW, which has been absorbing as many parties as it can), though that payment applied not to me. I slipped easily inside, got my drink tickets and box of gluten-free crackers (dudes were passing around bean chips like spliffs) and witnessed the best possible set from Rayland Baxter, son of Bucky Baxter and doppelgänger of Matthew McConaughey. Leading a big, freewheeling Southern rock band, he blew his recorded output away, sounding like Phosphorescent on a very good day and winning over a thousand youths and old-timers who don't even know what a Spotify is.
Kacey Musgraves followed with an impressive entrance and a terrific band that brought songs like "Pageant Material" and "Merry Go 'Round" into full-color focus. Musgraves isn't a powerful singer; still she sings everything just right. Her songs are dark, even when singing about weed, and her covers are just as dark (notably Gnarls Barkley's "Crazy"), and yet she gets the whole crowd singing along to every line, even the Kappa Delta bros slugging back their fourth free brew. Whether Musgraves and the industry behind her will push for total country pop system dominance a la Taylor Swift in the future is anyone's guess. At SXSW we at least got to witness her talent in her prime.
Dana Plonka
Iggy Pop at Moody Theater
I ended Wednesday night with Iggy Pop. I wasn't planning on doing so; I was sure he would just be the start of a long night of showcases. His packed two-hour show at the Moody Theater changed all that. It blew everything else possible away. I was drained. I was bent. I was sweating. I was drunk. I was rocked and I was punked. And I'm not pushing 70. Iggy is, and he has no more fucks to give than he did when he invented punk as we still know it.
Backed by a wailing band led by Josh Homme of Queens of the Stone Age, he moved from "Lust For Life" to excellent new material to a demolishing take on "Sixteen." Iggy gave us what he knew we wanted: the mic stand flew, a chair flew, every corner was prowled, and so much spit was sprayed. And he sung brilliantly, especially on "China Girl," offered with no acknowledgement of his friend David Bowie, not that acknowledgement was needed. He dove into the audience and he made us feel alive. I would see no better rock show that night. I will likely never see such a show again.
Dana Plonka
The Waco Brothers at the Broken Spoke
I spent Thursday at the aforementioned Broken Spoke, helping out with the 17th Annual Twangfest Day Party (disclosure: I'm a Twangfest organizer), and will simply note that New Zealander Marlon Williams owned an afternoon that also included the likes of Jack Ingram, Pirates Canoe (a fantastic, young Japanese bluegrass-ish band), James McMurtry, the Waco Brothers and Robbie Fulks.
Williams sings like a young Gene Pitney and really understands, without mastering, old-time country and bluegrass. You will be hearing more about Marlon Williams soon.
Dana Plonka
Luke Winslow King at the Broken Spoke
Dana Plonka
James McMurtry at the Broken Spoke
Dana Plonka
Pirates Canoe at the Broken Spoke
Dana Plonka
Loretta Lynn at Stubb's
I began Thursday night where everyone should have: with Loretta Lynn at Stubb's. A late arrival turned out to be fortunate: her band took its time warming up, and when Lynn finally walked gingerly to the front of the stage, the crowd erupted as she sang the all-time classic opener "You're Looking at Country." We were, and we were looking at a blazing red sequined dress, and we were hearing one of the last of the great, truly great country singers and songwriters.
Lynn is 84 this year, with a new album topping UK and European charts. Lynn teased her band, stopping them before they got started on a new song, threatening to fire them all, and taking a few requests she was going to play anyway. It was all part of the show.
"When the Tingle Becomes a Chill" was majestic, "Fist City" was a delight, and "Coal Miner's Daughter" was the best way to close out a set that 1,000 people or more will never forget.
Dana Plonka
Sunflower Bean at Stubb's
Dana Plonka
Mitski at Barracuda's
Dana Plonka
Dion at the Victorian Room at the Driskill Hotel
I stuck around for a set by much-hyped New York trio Sunflower Bean, who fused Pixies and Breeders' intensity into a punchy thrall. In sum: A bad name for a band with lots of potential. A block away on Barracuda's patio (formerly known as Red 7) I caught part of a set from Mitski, who was mostly overwhelmed by a chattering crowd, though she did break through when she let her band bring up the noise.
Six blocks away, in the Victorian Room at the Driskill Hotel, Dion had no such concerns. Cool as the teenage kid who forged a New York street-smart version of rock & roll and doo-wop that still sounds fresh today, he had the whole room singing along to "Runaround Sue" and "The Wanderer." It was the heartbreaking story-song "Visionary Heart," though, that meant the most to me.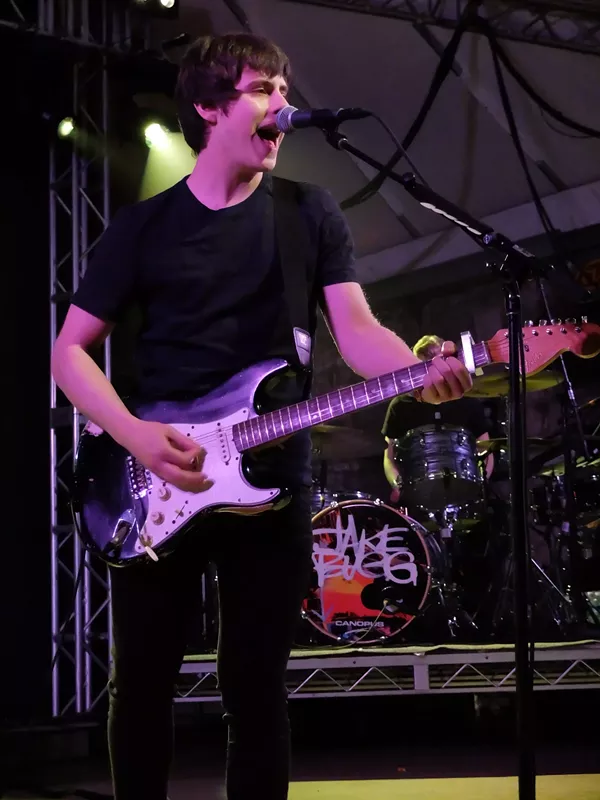 Dana Plonka
Jake Bugg at Stubb's
Back at Stubb's Thursday night ended with Jake Bugg, who first appeared at SXSW and on international radars in 2013. He was 19 then, 22 now, and yeah he really is good. Backed by a tight band, he didn't sound wiped out after his four shows that day.
His material may be wildly uneven, but when he gives his personal, Nottingham-raised take on R&B and acoustic blues he sounds like an artist that more than deserves all the love SXSW has given him.