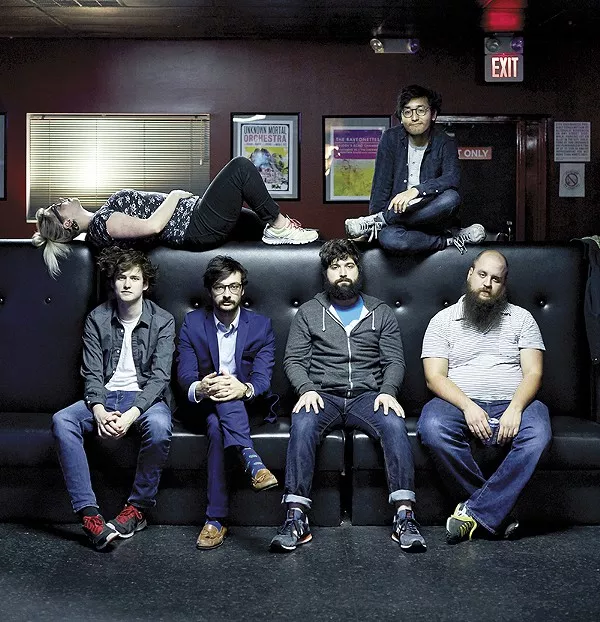 Photo by Theo Welling
Foxing. Member Ricky Sampson sits on the top of the couch.
Foxing, the St. Louis-based band that hit the big time with its fall release, Dealer, is grappling with questions about a member's past sexual conduct.
That's not unusual in and of itself — allegations of wrongdoing in musicians' private lives are as old as popular music (even Frank Sinatra faced criminal charges back in 1938, for no less than "seduction"). But what is unusual is the band's response to it: a lengthy, and extremely detailed, open letter on its website not only responds to the allegations, but also includes band leader Josh Coll's original email response to an anonymous emailer — a response Coll is now calling "sarcastic" and "snide" and also apologizing for.
According to the band's statement, the controversy began in 2012 with an incident involving member Ricky Sampson, then 17. Sampson writes that after dinner with a group of friends, he started "messing around" with a girl he was into in his car. That, he writes, "led to my taking off my pants and taking out my penis; she reciprocated for a moment but shortly after she stopped, looked at the clock on my dashboard, and told me she was going to be late for her curfew; I reluctantly obliged and took her home."
See also: From St. Louis, Foxing Is Taking Over the World
Sampson writes that he continued to text with the girl; it was only a few weeks later, after she'd gotten back together with an ex, that she told Sampson his actions had made her "uncomfortable."
After that, though, they continued to hang out. So when he later heard that she was still troubled by the incident, he writes, "I was surprised but also figured that someone was mistaken or just hadn't heard that we had already talked about it. I heard about it right after she had just left my house after watching a movie, so I immediately contacted her and asked her if she would clarify it for people, but she didn't feel comfortable saying anything. I felt embarrassed and ashamed of myself; a juvenile act had really affected someone I cared for."
In Foxing's telling, that's about all there is to the story — but somehow, the band says, the allegations have gotten increasingly ugly. Over time, the band writes, the incident "has amounted to Ricky now being accused of sexually assaulting a girl he was at one time seeing; some are going as far as calling him a rapist."
As the band writes,
When we first heard of the story, over three years ago, neither of those terms were attached to it, but the way of the world and the telephone game has created such a behemoth that has gone so far away from the original source. We take these secondhand statements just as seriously as when it was initially brought to our attention and the words and the language were of a completely different nature.

First off we would like to share with you the events; we would prefer to give you as much information as we have on this. Our hope is not to squash, but rather to share a view and open a dialogue. Secondly, this story is his side of the truth and with that we hope that the account is not viewed as, or in any way used as silencing behavior—if you choose to believe his account, please refrain from lashing out at those who do not; it only creates an environment wherein those affected by abuse fear coming forward.

Lastly, we have attempted to reach out to the other party involved in order to allow her to approve this statement and no we will not be naming her, so please respect her anonymity unless she desires to break it on her own accord.
When Coll initially got an anonymous email questioning the band about the incident, he acknowledges, he reacted badly.
He writes,
It is not a valid excuse to say I was on the wrong side of the bed, that I was depressed, that I was tired of writing long emails about the situation, or that I was put off by their attitude before we started emailing—none of that matters. I acted unfavorably and presented that information in a way that made it appear that I didn't take his inquiries seriously. When I learned that there was an email chain circling, my first thought was 'God, I hope it wasn't with that kid that I was really rude to.' I know that given the loftiness of everything stated above, this is probably such a small blip, but I just wanted to apologize to anyone who read my personal correspondence and was put off by the way I conducted myself.
You can read
Coll's original email exchange with "Anonymous
"; the band's
later statement is online here
.
In its statement, the band seems intent on showing how seriously they are taking the allegation, even as they suggest it has been badly mischaracterized.
To some this may seem overdue, all we can say is that from our end we believed this was a private matter and the only two individuals involved didn't want it to be broadcasted. If there is anything we haven't handled properly in this situation, we are committed to righting our actions and adjusting our behavior in order to make anyone and everyone feel safe.

We know that a lot of our fans are younger and we hope that our experience can serve as a lesson on how not to act. We encourage you to do your own research, I'm sure there are places where this is being talked about—we found a thread on Reddit, which we have linked below. We will be donating a portion of our profits from our current tour to RAINN (https://rainn.org).
We've reached out to Sampson. We'll update this story if we hear back.
In the mean time, feedback on the band's Facebook page has been strongly positive. "The handling of this situation is a Feminist's dream. Thank you for refusing to propagate a culture of sexual animosity, and thank you for understanding the emotions and thoughts of the woman involved," one fan wrote.
Added another, "It takes a lot of maturity to own up to something like that. Keep your head up guys. The bad publicity will soon fade out."
We welcome tips and feedback. Email the author at sarah.fenske@riverfronttimes.com