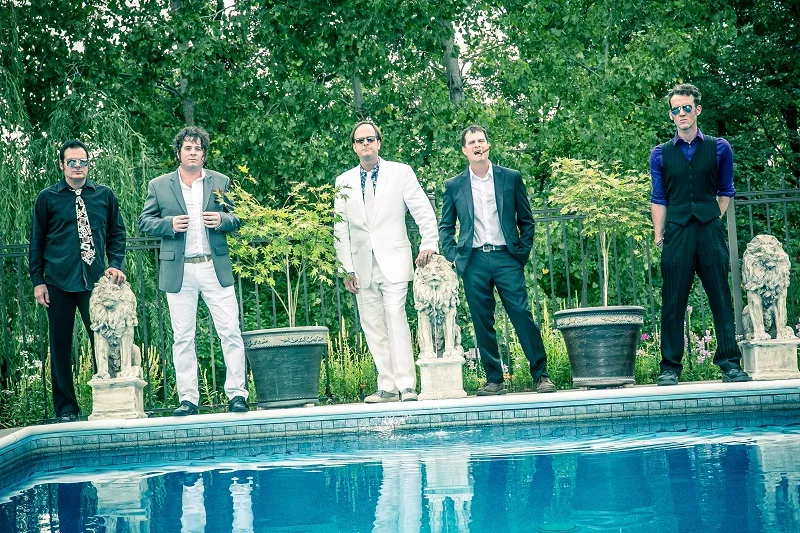 Photo via the Soroka Agency
Electric Six will perform at the Firebird on Monday night.
Plenty of noteworthy shows this week, so let's dive right in: A veritable army of axe-shredders will converge on the Fox Theatre on Tuesday night for the Experience Hendrix tour — Buddy Guy, Zakk Wylde and Dweezil Zappa among them — playing songs from all across the late guitar legend's career. Roger Clyne will perform his old band the Refreshments' breakout album
Fizzy, Fuzzy, Big & Buzzy
in it entirety at Blueberry Hill this Wednesday (we're betting you'll hear the King of the Hill theme song, which Clyne wrote, as well). Ontario's Weather Station will join Basia Bulat at Off Broadway on Saturday. And that's just three of them, because humans like when things are written in threes! Check out our full picks below:<!—EndFragment—>

MONDAY, MARCH 7
<!——StartFragment——>
Electric Six w/ Superfun Yeah Yeah Rocketship
8 p.m., $15. The Firebird, 2706 Olive St., St. Louis, 314-535-0353.
<!——EndFragment——>
By Bob McMahon
From the
RFT Music archives
: Electric Six's variety extends beyond song selection and into the group's voice. Frontman Dick Valentine's description of the Six's sound as Kiss meets Talking Heads is more or less accurate, but the band has never been afraid to take on different styles. This is a good thing. Whether trading in country grooves, glistening electro-pop beats or indulging in Latin-percussion breakdowns and dubby codas, Electric Six brings a lot to the table without biting off more than it can chew. The band expertly balances different influences with its own songwriting voice so that their genre flirtations, while notably different from their regular style, are still recognizably Electric Six songs. This all-encompassing approach keeps the party that is their show fresh.
TUESDAY, MARCH 8
<!—StartFragment—>
Experience Hendrix Tour
8 p.m., $30-$100. The Fox Theatre, 527 N. Grand Blvd., St. Louis, 314-534-1111.
<!—EndFragment—>
By Daniel Hill
Several of Earth's top living guitar wizards will gather this evening to pay homage to one of the most magical of them all, the late Jimi Hendrix. Buddy Guy, Zakk Wylde, Jonny Lang, Kenny Wayne Shepherd, Eric Johnson, Dweezil Zappa and Billy Cox will use their considerable talent to play songs from across Hendrix's catalog.
WEDNESDAY, MARCH 9
Roger Clyne
7 p.m., $25. Blueberry Hill, 6504 Delmar Blvd., University City, 314-727-4444.<!——EndFragment——>
By Jeremy Essig
<!——StartFragment——>From the
RFT Music archives
: After gaining a reputation as a must-see live act in the same Phoenix-area scene that produced renowned bands such as the Meat Puppets and the Gin Blossoms, Roger Clyne and his group the Refreshments broke into the national consciousness in 1996 with the release of its debut
Fizzy, Fuzzy, Big & Buzzy
. Buoyed by lyrics that featured Clyne's sharp wit, mixed with his hometown's Southwest flavor and goofball videos for the album's first two singles, "Banditos" and "Down Together," the album became a staple for anyone involved in college radio in the mid-'90s. This show will see the singer/songwriter performing the album in sequence and in its entirety.
THURSDAY, MARCH 10
<!—StartFragment—>
Kim Massie and the Solid Senders
9 p.m., $10. Beale on Broadway, 701 S. Broadway, St. Louis, 314-621-7880.
By RFT Staff
From the
RFT Music archives
: Although the word "diva" is so overused it's almost a useless descriptor, Kim Massie is one vocalist who deserves the honor. With its brash, gospel-influenced strains of vibrato, Massie's voice can be as big and broad as Aretha Franklin's, but it contains just enough Etta James-ian blues to undercut this strength with sorrow. When Massie sings the standard "At Last," you can close your eyes and imagine her voice as a vocal preacher, laying down the lyrics like audible commandments, just as easily as you can imagine the sound slinking down a smoky stage moonlit by a lonely spotlight. Massie is always — and effortlessly somehow — magical, spiritual and glowing.<!—EndFragment—>
FRIDAY, MARCH 11
Tortuga
w/ Big Shoals, Matt Woods
9 p.m., $7. The Heavy Anchor, 5226 Gravois Avenue. 314-352-5226.
By Jenn DeRose
From the
RFT Music archives
: Those familiar with Mike Leahy as the frontman for 7 Shot Screamers or as the man behind the face paint of Clownvis Presley might be surprised by his new project. Tortuga, a desolate take on country-rock as viewed through a psychedelic lens, is Leahy's first foray into solo songwriting instead of, as Leahy puts it, "having four guys involved in the writing process like we did in 7 Shot Screamers." While the dark, sparse tracks on Tortuga's first EP,
West of Eden
, were mostly written by Leahy, the album itself is far from a solo effort. Leahy is backed by an assembly of artists hand-picked from the local label Big Muddy Records, with members of Pokey LaFarge, Rum Drum Ramblers, Loot Rock Gang, the Hobosexuals, Arson for Candy and Jack Grelle's band all lending their talents.
SATURDAY, MARCH 12
<!——StartFragment——>
Weather Station w/ Basia Bulat
8 p.m., $12-$15. Off Broadway, 3509 Lemp Ave., St. Louis, 314-773-3363.
<!——EndFragment——>
By Roy Kasten
Tamara Lindeman has a voice that will stop you in your tracks — if perchance you're making tracks through some crystal-frosted dreamscape. So warm and husky and close to the soul, that voice could melt all the permafrost in the interior of Ontario, her native turf. As the voice behind Weather Station, Lindeman turned inward for last year's
Loyalty
, a sublimely acoustic, lightly jazzed song-cycle in the tradition of post-folkie Joni Mitchell. Lindeman's themes? Shadows and light, relationships that haunt and honesty that turns out to be the only grace. "You always tell me the truth," she sings. "When it hurts me it hurts you." And when she sings, somehow almost everything is almost healed. Weather Station opens for fellow Ontarian and autoharpist Basia Bulat, who recently teamed up with My Morning Jacket's Jim James for her fourth and finest album to date.
SUNDAY, MARCH 13

Maximum Effort
w/ Growwing Pains, Dracla
8 p.m., $5. Foam, 3359 S. Jefferson Ave. 314-772-2100.
By Jenn DeRose

From the
RFT Music archives
: Maximum Effort is a self-described "public awareness group," a collection of concerned citizens committed to helping their fellow earthlings understand the dangers that lurk behind the Shadow Government and the truth about the aliens among us.
Coast to Coast
influence is woven into every detail of the aesthetic; even the band's cryptic logo could easily be imagined as negative space in a corn field — a postcard left by visitors from another world. It would be a mistake to dismiss Maximum Effort's members as a bunch of obsessive-paranoid wackos, though. Guitarist Adam Hoskins and drummer Tom Valli shred their respective instruments harder than the government shredded memos about the Roswell Incident, and frontman Nick Zengerling is brilliant with a microphone — his hilarious onstage banter and fervent delivery make the ravings of Jello Biafra seem tepid and meek.<!—EndFragment—>