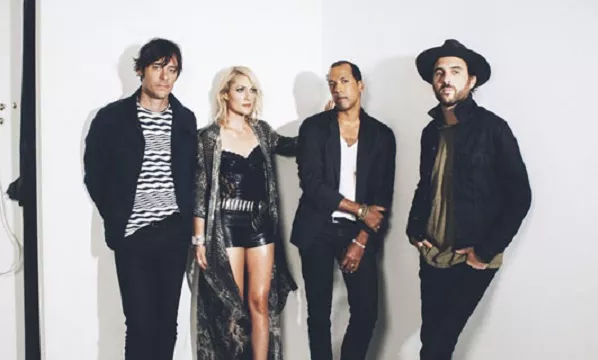 Photo by Alysse Gafkjen
Metric will perform at the Pageant on Friday.
This week sees stops from Metric, Seratones and even the Boss himself, Bruce Springsteen. James Carter holds court at Ferring Jazz Bistro for an eight-show run over four days and Santa Rosa's Acrylics bring "outer space hardcore" for the punks. Check out our full picks below:


MONDAY, FEBRUARY 29

Soulard Blues Band
9 p.m., $5. Broadway Oyster Bar, 736 S. Broadway, St. Louis, 314-621-8811.
By Roy Kasten

<!———EndFragment———>From the
RFT Music archives
: One day, dear reader, the Soulard Blues Band will be no more. It's just a fact. And one day you'll wonder why, despite all the opportunities every other day of the week, you never saw this St. Louis institution in its prime — and no, the band's prime ain't over. If somehow you've never danced your ass off when Art Dwyer lays down a bass line as smooth as crushed velvet, or when Marty Abdullah swings his phrasing on "Kansas City Blues" or "Dust My Broom," or when Tom Maloney plays a solo that would make his mentor (the late, great Benny Smith) smile, well you really should. Don't take this band for granted. Pay your respects soon; they've been earned.
TUESDAY, MARCH 1
<!———StartFragment———>
Acrylics w/ Brain Transplant, Bubble Heads, Catholic Guilt
8 p.m., $5. Foam Coffee & Beer, 3359 Jefferson Ave., St. Louis, 314-772-2100.
By Daniel Hill

<!———EndFragment———>Santa Rosa, California's Acrylics play "outer space hardcore," absolutely drenched in reverb and swimming in feedback squalls and lo-fi fits of punk fury. This show is an Acid Kat affair, if that helps you with context. Irreverent and unconventional and sure to get the kids dancing. Check out the band's music on
Bandcamp
.
WEDNESDAY, MARCH 2
<!———StartFragment———>
Seratones
8 p.m., $10. Blueberry Hill, 6504 Delmar Blvd., University City, 314-727-4444.
By Roy Kasten
<!———EndFragment———>The power of the gospel church runs through A.J. Haynes' voice, from the piercing highs to the moaning lows, from the rapid-fire unscripted phrasing to the inarticulate speech of the body and the soul. As lead singer of Shreveport, Louisiana band Seratones, Haynes has sacrificed her Sunday lessons on the altar of heavy garage-blues voodoo. Recently signed to the Fat Possum label and recorded by Southern swamp swami Jimbo Mathus, the band makes war not love, lays out the groove for the seduction and the fuzz and the punkish swagger, and commits the sin of rocking & rolling with no care for the 'morrow — let alone salvation.
THURSDAY, MARCH 3
<!———StartFragment———>
James Carter Organ Trio
March 2, 7:30 & 9:30 p.m.; March 3, 7:30 & 9:30 p.m.; March 4, 7:30 & 9:30 p.m.; March 5, 7:30 & 9:30 p.m., $35. Ferring Jazz Bistro, 3536 Washington Ave, St. Louis, 314-571-6000.
By Christian Schaeffer
<!———EndFragment———>In the jazz idiom, the organ trio setting has usually been a showcase for the fingers and feet behind the console. Maestros Smith, McGriff and McDuff would conjure a whole orchestra from their Hammond B3s, and their accomplices on drums and guitar were tasked with keeping out of the way. The James Carter Organ Trio flips the script by putting Carter's fiery, funky saxophone work front and center, but organist Gerard Gibbs and drummer Leonard King help keep the soul-jazz stew percolating by moving the mood from gospel to hip-hop and all points in between. Carter's STL roots run back to his time with Julius Hemphill, the co-founder of the Black Artists' Group. Carter played on Hemphill's secret records in the early '90s.
FRIDAY, MARCH 4

<!———StartFragment———>
Metric
w/ Joywave
8 p.m., $26-$28.50. The Pageant, 6161 Delmar Blvd., St. Louis, 314-726-6161.
By Christian Schaeffer
The last time that Metric played the Pageant, the quartet was basking in the neon glow of 2012's
Synthetica
, an album whose title only hinted at the musical and human elements at play. Emily Haines has never been shy about wielding brashy synths and patriarchy-challenging invective in equal measures, and her go-to topics — the commodification of youth, the value of female expression, the role of the artist — were backed by electro-pop muscle. This time the band is performing songs from its latest,
Pagans in Vegas
, which settles a bit more easily into its pattern of chirping synths and gridlike rhythms, but when the parts combine on lead single "The Shade," Metric proves itself every bit the anthemic rabble-rousers that modern pop radio deserves.
SATURDAY, MARCH 5
<!———StartFragment———>
Peter Bradley Adams
7 p.m., $15-$17. Blueberry Hill, 6504 Delmar Blvd., University City, 314-727-4444.
By Joseph Hess
<!———EndFragment———>Peter Bradley Adams is a songwriter with a backlog of songs that serve network TV shows such as
Smallville
and
Alias
. While the songs work well to help tell stories on screen, they each have a life of their own through deeply personal lyrics. He takes a mostly gentle approach, weaving simple melodies to prove just how essential (and effective) minimalism can be.
SUNDAY, MARCH 6

<!———StartFragment———>
Bruce Springsteen
7:30 p.m., $58-$153. Chaifetz Arena, 1 S. Compton Ave., St. Louis, 314-977-5000.
<!———EndFragment———>
By Jaime Lees
With Springsteen, you know what you're going to get. He'll take the stage in painted-on jeans. He'll be all rippling tendons, like a panther on the hunt. He'll tell stories between songs that sound like he's reading poetry. His leathery face will fluctuate between beaming and grimace. He'll grunt and growl and howl and then whisper like he's telling you a secret. He'll take charge of your emotions and crush you, but then he'll lift you up so high that you'll feel like you're flying. He'll skip taking an encore break and just continue to breeze across the stage like it ain't no thing. He will finally exit in a graceful blaze of glory. His marathon show will clock in at around three and a half hours in length. You will leave completely spent and feeling extra tired for him. More importantly, you will leave thinking that somehow, someway, he still fully believes every damn word that he sang.
<!———EndFragment———>