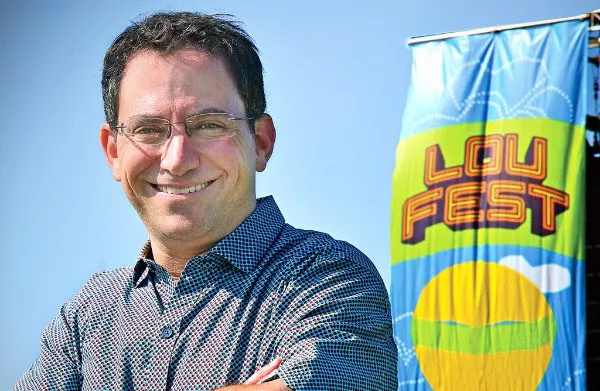 Press photo
Brian Cohen, LouFest founder and Murmuration co-founder, says the two events will be nothing alike.
"What happens when the force behind a large music festival meets the force behind a large innovation district — what's the result of that mashup?"

That is the question that LouFest founder Brian Cohen says he and Cortex President/CEO Dennis Lower sought to answer when they decided to join forces for a new event, announced last week. Murmuration Festival, by its founders' vision, will be a mufti-faceted three-day affair combining science, technology, art and music across multiple stages at the Cortex Innovation Community campus in Midtown St. Louis. The fest will feature presentations from speakers in the scientific and technological fields and a juried art competition in addition to musical performances.

The Cortex district is home to more than 160 bioscience and tech companies in St. Louis, serving as a hub for innovation and networking for both ambitious startups and more established firms. A festival showcasing the complex's finest work is just the next logical step.
Cohen spent seven years teaching media literacy and documentary film production at Washington University before breaking into the festival game. He recently sold his share of Listen Live Entertainment, the company he founded in 2010 to handle LouFest, in order to focus his full attention on the new event.
"Cortex was thinking about some kind of festival that could highlight all of the great stuff happening within their district and the region in general," Cohen says. "I was thinking about what my next move would be beyond LouFest, which was a mix of art and technology and music, and those two ideas seemed on track with each other. So we thought, 'Let's partner and take advantage of what each one of us brings to the table.' And the result was Murmuration."
Murmuration will take place on the Cortex campus, with stages outside on the grounds as well as in the Cortex and @4240 buildings. A park area known as the commons will host the event's food court and other activities, Cohen says. There will be a range of ticket options and price points, including some areas of the event that will be completely free to the public.
LouFest, meanwhile,
finally set dates for 2016's edition of the festival last week
, following an uncharacteristically protracted period of silence. Now helmed by Listen Live's Mike Van Hee and Rich Toma, LouFest 2016 will take place on September 10 and 11, while Murmuration will run from September 23 to 25.
See also: LouFest Will Return in September, With Expanded Local Involvement
But Cohen has no fear of festival fatigue, and says the events will not be in competition.
"We don't see any part of this event competing with LouFest," he says. "We see them as complimentary, and I think having two robust events is just good for the city. We're looking forward to both being successful. On the music side, we're looking at bands who integrate art and technology in new and interesting ways — either with their sound, their live show or their approach to music in general. That's a different criteria than LouFest used, at least when I was a part of it. So I think the lineups will be very different."
Cohen is cagey about the specifics of Murmuration's lineup, or even the hypotheticals, saying that it is considered bad practice to draw any association to an act who has not signed on for the festival, even in an illustrative fashion — managers and agents don't like it. He hopes that people will understand what kind of acts they will be seeking simply by considering the nature of the fest.
That nature will be unlike anything that has come before it, especially in the St. Louis region, according to Cohen.
"We're not modeling this specifically off of any other event," he insists. "But as with LouFest, you know, when I started that event I looked at all the music festivals I had been to and I thought, 'I really like this piece of this festival; I really like this piece of that festival.' And LouFest became a mix of the best that I saw in other people's events. Murmuration is following that pattern as well — we're looking at different elements from different events, but putting them together in a unique way to create a truly unique event for St. Louis."
More than anything, though, Cohen says Murmuration will not resemble LouFest in any substantial way. Aside from the fact that both will have food courts and stages with music, he says they are not comparable.
"I don't think there will be much similarity at all," he says. "They're two completely different concepts, so they'll be two completely different events. The people who want multiple days of music, bouncing from stage to stage, experiencing music throughout the whole day — that's the crowd that's gonna gravitate toward LouFest. Those people who are curious about other things, other than music — who are interested in the thought components of Murmuration and the art components, and the experience of being in a more urban setting — I think those are the people that we will resonate with.
"We're certainly gonna do everything that we can to support LouFest, and hopefully they'll feel the same way," he adds. "I think September is going to be an incredible month to be in St. Louis, and we're just happy to be a part of that."