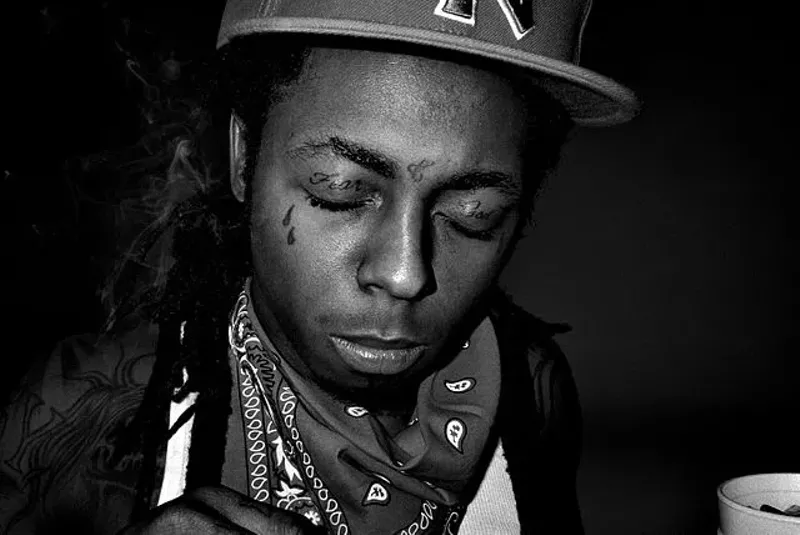 Photo by RJ Shaughnessy
Lil Wayne will perform at Chaifetz Arena this Sunday.
Another weekend packed with shows! Let me just say, whatever live music you may find yourself listening to this weekend, I can assure you it will be
better than this
.
This is the worst music
. The worst.
Below is a long list of things that are better than that. Go to a show!

<!—StartFragment—>FRIDAY, FEBRUARY 19
<!—StartFragment—>
Ruthie Foster W/ Bottoms Up Blues Gang
8 p.m., $35-$40. The Sheldon, 3648 Washington Blvd., St. Louis, 314-533-9900.
<!—EndFragment—>
By Roy Kasten
<!—StartFragment—>From the
RFT Music archives
: "You can't find it in a shout," Ruthie Foster wails on the fiery 2009 single "Truth!" Like the whole of her Grammy-nominated album
The Truth According to Ruthie Foster
, the performance has plenty of shouts and twists in a packed-to-the-rafters church, or maybe it's a juke joint full of the faithful who still have plenty of sinning to do. The Brazos Valley, Texas-born artist has spent a life singing her way inside the tradition of Sister Rosetta Tharpe and Aretha Franklin. It shows. Her body of work is deeply anchored in stone-cold gospel, soul and earn-it-to-burn-it singing.<!—EndFragment—>
<!—StartFragment—>
Hard Evidence W/ 1918, the Humanoids, Kenshiro's
9 p.m., $7. The Heavy Anchor, 5226 Gravois Ave., St. Louis, 314-352-5226.
By Daniel Hill
Get yer oi on, punk. Hard Evidence, better known as 'ard Ev' by those in a hurry, plays a relatively rare local show with similarly minded punks 1918. Don't forget your boots, or the struggle, or the streets. Argy bargy. In any case, Hard Evidence is a group of seasoned STL punk vets making a sometimes tired offshoot of punk vibrant again (Adidas shoes, too). Local favorites the Humanoids and Kenshiro's open.
<!—EndFragment—>
<!—StartFragment—>
Widespread Panic
7 p.m., $39-$55. Peabody Opera House, 1400 Market St, St. Louis, 314-241-1888.
<!—EndFragment—>
By Allison Babka
From the
RFT Music archives
: It's no secret that Widespread Panic and its fans share a special, supportive relationship. Devoted enthusiasts crisscross the country — and sometimes the world — to hear unique setlists at every show (seriously, WP has a system to ensure that no two gigs are alike, or are even that similar), and the band responds by live-streaming its concerts and offering limited-edition posters in each city. Widespread Panic and its fans also work together to aid food pantries in every town the band plays, donating tons of supplies to organizations like the St. Louis Area Foodbank. When we look around at fans during a WP show, we see smiling faces mouthing every word right along with John Bell. We see friends — and sometimes strangers — holding hands while a funky groove entrances them. And we see folks twirling around like music fuels their very existence. It's a beautiful thing.
<!—StartFragment—>
Search Parties W/ Traveling Sound Machine, Dropkick the Robot, Cracked Ceilings
8 p.m., $10. The Firebird, 2706 Olive St., St. Louis, 314-535-0353.
<!—EndFragment—>
By Blair Stiles
From the
RFT Music archives
: Elliott Pearson and Alex Petrone first landed on the scene in 2010 with their band Great Outdoors. That Best New Band nominee shed its leaves and left Pearson and Petrone to rake up the mess, bagging up what they could salvage to form Search Parties. Pearson rendered his wilted emotions unto Search Parties, and the music was weighed out on a grander scale. Search Parties' aural heft belies its indie-rock tag line. Pearson calls out with an arid vocal tone which can turn perceptively humid in the blink of a verse. Dylan Dougherty inputs staccato key arrangements that strike through the veil of Pearson's elastic vocal range. Danny Newgent's guitar tones manifest heady textures and coat the band in a drowsy haze of reverb. Petrone once again takes to a drumkit to coordinate fastidious rhythmic arrangements that keep pace with Chris Garner's bass and the band's live violinist, Gina Euygenhuysen. The final product is familiar and fresh at once, foreshadowing good things for the young group.<!—EndFragment—>
<!—StartFragment—>
Hey Marseilles
9 p.m., $12-$15. Off Broadway, 3509 Lemp Ave., St. Louis, 314-773-3363.
By Roy Kasten
<!—StartFragment—>From the
RFT Music archives
: "Go back where we started," begins Matt Bishop of Hey Marseilles on "Tides," the lush, ruminative opening track of 2013's
Lines We Trace
. The starting point for the Seattle band is plainly the Northeast, with its wide-open, cloud-spilled coastlines and its van after van of chamber-folkies retracing the paths of the Decemberists and Blind Pilots before and beside them. As bookish as any of his better-known peers, Bishop begins with laconic imagism and then gets out of the way as his band sweeps and swoons like a symphony of strings and reeds, eager and accomplished.<!—EndFragment—>
The Texas Room Album Release Show
w/ DJ Agile 1
8 p.m., $7. Blank Space, 2847 Cherokee St., St. Louis.
By Nick Horn
This Friday at Blank Space, producer Louis Wall will mark the culmination of two years of work by himself and a cast of more than 50 musicians hailing from fifteen different nations with the collaborative compilation album
Non-Fiction
. The release is the first tangible artifact of Wall's project, dubbed "The Texas Room," wherein the producer sought to pair immigrant and refugee musicians in the St. Louis area with other local musicians of both the native and transplant variety. In keeping with the ethos of the Texas Room, the show will be a thoroughly collaborative affair, featuring installations by the Clothesline and additional visual art by Basil Kincaid, who provided artwork for
Non-Fiction
, as well as live performances by some of the album's contributors. Read more about the project in
this week's print edition
.
SATURDAY, FEBRUARY 20
<!—StartFragment—>
Drummers Only Part Deux W/ Adam Rugo/Philip Zahnd, Melanie Meyer/Jason Potter, Cameron Rogers/Amber Kogut, Nick Durty/Matthew Reyland, Jessie Vendegna/Joe Rogers, Dre Ballard/Louis Wall, Kaleb Kirby/John Hams, Mike Herr/Patrick Boland, Hannah Costillo/Gabe Vines, Drew Gowran/Alberto Patino, Shelly Koesterer/Scott Alexander, Henry Claude/Joseph Hess
8 p.m., $7. The Luminary, 2701 Cherokee St, St. Louis.
<!—EndFragment—>Can a drummer get some? I'd like to apologize immediately for that Travis Barker joke: Sorry. This show is the second in a wild idea that pairs drummers with other drummers for free-improv percussive sets. Like, a whole lot of drummers — 24 in total. And your $7 dollars goes to some worthy causes: The money raised will be split evenly between the International Institute and the St. Louis Organization for Black Struggle.
AC/DC
7 p.m., $75-$139.50. Scottrade Center, 1401 Clark Ave., St. Louis, 314-241-1888.
By Annie Zaleski
From the
RFT Music archives
: AC/DC arguably perfected hard rock, but such a generic term seems almost insulting to use — especially because the band so earnestly honors and assimilates the deep boogie of the blues. But the band's songs feel preserved in amber, as sleazy and full of vigor as the day they were recorded. Perhaps that's why the entire show felt ageless. The legendary Australian band played for 100-plus minutes — including a two-song encore — and barely stopped to take a breath.
SUNDAY, FEBRUARY 21
<!—StartFragment—>
Town Cars W/ Joan of Dark, Milk Vetch
8 p.m., $5. CBGB, 3163 S. Grand Blvd., St. Louis.
<!—EndFragment—>
By Mike Appelstein
<!—StartFragment—>From the
RFT Music archives
: If you've been to a local show over the past few years, you've likely seen Melinda Cooper play. She's performed with the likes of Union Electric, Humdrum, Cassie Morgan & the Lonely Pine, Celia's Big Rock Band, and as an auxiliary member of Bruiser Queen. Despite this pedigree, Cooper has seldom performed her own material. With Town Cars, however, she has stepped into the lead. Over the past couple of years, Town Cars has played around the city with a revolving lineup, generally including drummer Corey Woodruff and keyboardist/vocalist Jenn Malzone (better known as the leader of Middle Class Fashion). It's a solid, to-the-point listen, with a sound steeped in everything from 1990s indie rock and 1970s singer-songwriters.<!—EndFragment—>
Lil Wayne
w/ Yo Gotti
7 p.m., $39-$159. Chaifetz Arena, 1 S. Compton Ave., St. Louis, 314-977-5000.
By Oliver Wang
From the
RFT Music archives
: When New Orleans' Hot Boys formed in 1997, few foresaw teenager Lil Wayne — the youngest of the four — as the group's eventual superstar. In a field of overbuilt masculinity, Wayne's punishingly scrawny frame projects a bizarre range of excitable flows, featuring slurred runs, overenunciated croaks and off-and-on faux-Jamaican patois. In body and voice, Wayne suggests a hip-hop Muppet. Yet in spite of (or because of) that, few contemporary rappers are more fun to listen to. Giddy fun. Giggling, "OMG, did he just say that?" fun. Wayne has a penchant for outrageous similes — on "Dr. Carter," for instance, he boasts, "Swagger tighter than a yeast infection/Fly/Go hard like geese erection." Even when not deliberately humorous, Wayne's myriad verbal "looks" and his joy of hyperbole convey a sense of play that's scarce among self-serious, scowling peers.<!—EndFragment—>