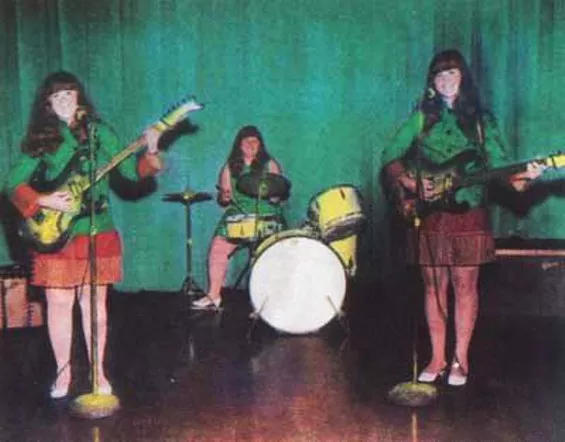 Ancient press photo from old-timey times.
The Shaggs
When last we checked in with the Shaggs, we were viewing
some ephemeral live footage
from the Fremont, New Hampshire Town Hall circa 1972. The music got yanked quickly, but it was still near-revelatory to see the Wiggin sisters in action in front of an audience of dancing kids. Now there's word of actual unreleased material about to see a release. On Record Store Day (April 16), the Seattle-based reissue label
Light in The Attic
will release a two-song seven-inch single featuring "Sweet Marie" and "The Missouri Waltz (Missouri State Song)."
For a tiny but fanatical portion of the music-buying public, this is huge news. However, this is not the first raiding of the Shaggs' library. In 1982, Red Rooster Records followed up its reissue of the Shaggs' 1969 album,
Philosophy of The World
, with
The Shaggs' Own Thing
. A collection of circa-1975 recordings, the LP mixed originals with period cover songs, such as Marie Osmond's "Paper Roses," the Carpenters' "Yesterday Once More" and the Pipkins' "Gimme Dat Ding." By this time, the Wiggin sisters had been playing together for six or seven years. By 1975, they had improved on their instruments to the point that they could perform in a more-or-less conventional style. It's up to the listener to decide whether or not this was "progress." Light In The Attic's website is vague regarding the time frame of these two songs, but it's quite possible that they too stem from the 1975 sessions.
None of which answers the big question at hand: Why did this provincial sister band from New Hampshire perform, let alone record, the Missouri state song? I'm a non-native, but in the thirteen years I've lived in St. Louis, I don't think I've knowingly heard "The Missouri Waltz" even once. (For the record, New Hampshire's official state song is "
Old New Hampshire
.")
Some simple Googling confirms that "The Missouri Waltz" was actually a popular track. It was originally published in 1914 as a minstrel song. One set of cleaned-up lyrics later, "The Missouri Waltz" became the state song in 1949. By then, it had become a national hit, selling up to six million copies by 1939. The Mizzou marching band still plays it before each home football game. As you'd imagine, the song was especially popular during the Truman administration, although Truman himself was
reportedly no fan
. By the 1960s, it became a country-music standard covered by the likes of Johnny Cash, Eddy Arnold, Gene Autry and the Collins Kids. It's likely the Shaggs heard one of those recordings in New Hampshire.
Supposedly these two songs are "the tip of the iceberg," setting the stage for a new
Philosophy of the World
reissue in 2017. However, Light in The Attic is pressing only 3,000 copies of this single. Then again, when you consider that
Philosophy of The World
originally came out in an edition of 100, it's a step up any way you look at it.